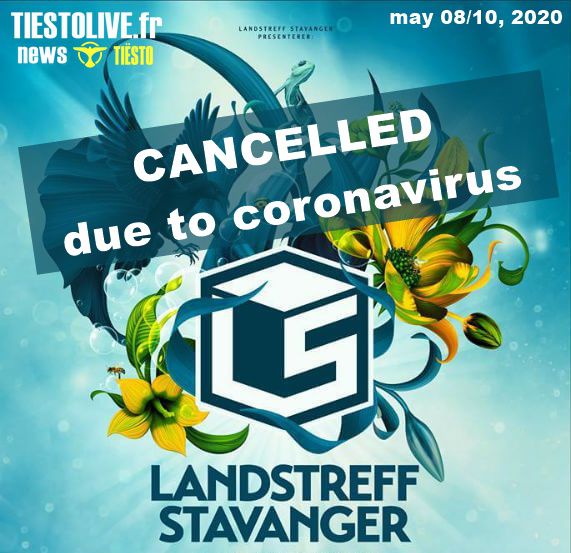 ⚠ Landstreff Stavanger Festival 2020,
cancelled due to coronavirus ⚠
LS2020 is canceled due to the coronary pandemic.
It is with heavy heart that we must announce that Landstreff Stavanger 2020, 8 - 10 May cannot be arranged as planned. Their security is weighing the most right now, and due to the worldwide coronary pandemic, it is impossible to arrange the Landslide as planned in a sound way. Gjesdal Municipality put a ban on the event on Wednesday, and we are 100% behind this decision.
For us, their safety is paramount, it has been our highest priority throughout this process. It is only two weeks until we start the rigging for the Landstreffet, and although we have long hoped for the situation to turn around, it is quite clear that it will not be justifiable to conduct such a large festival in view of the danger of infection that ravages country.
It is very sad that we have to cancel an event we know you have been looking forward to, which is part of the celebration of 13 years of schooling. We feel with all of you who now feel that you are losing Russian time. But this is an extraordinary situation, and we hope most people understand that together with Gjesdal municipality we have made this difficult decision. Covid-19 has hit hard, and our pity goes to everyone affected by the pandemic and their relatives.
We are now working diligently to look at possible compensation for the Russian who has purchased a ticket to Landstreff Stavanger, and will contact those affected directly by mail this coming Monday, March 30.

LS2020 avlyses grunnet koronapandemien.
Det er med tungt hjerte vi må meddele at Landstreff Stavanger 2020, 8. – 10. mai ikke kan arrangeres som planlagt. Sikkerheten deres veier tyngst akkurat nå, og grunnet den verdensomspennende koronapandemien, er det umulig å arrangere Landstreffet som planlagt på en forsvarlig måte. Gjesdal kommune la onsdag ned forbud mot arrangementet, og vi står 100% bak denne avgjørelsen.
For oss er sikkerheten deres det aller viktigste, den har gjennom hele denne prosessen vært vår aller høyeste prioritet. Det er kun to uker til vi skulle starte oppriggingen til Landstreffet, og selv om vi har håpet i det lengste på at situasjonen skulle snu, er det helt tydelig at det ikke vil være forsvarlig å gjennomføre en så stor festival med tanke på smittefaren som herjer landet.
Det er veldig trist at vi må avlyse et arrangement vi vet dere har gledet dere til, som er en del av feiringen av 13 års skolegang. Vi føler med alle dere som nå opplever at dere mister russetiden. Men dette er en ekstraordinær situasjon, og vi håper de fleste har forståelse for at vi sammen med Gjesdal kommune har tatt denne vanskelige avgjørelsen. Covid-19 har rammet hardt, og vår medlidenhet går til alle som er rammet av pandemien og deres pårørende.
Vi jobber nå iherdig med å se på mulig kompensasjon til russen som har kjøpt billett til Landstreff Stavanger, og vil kontakte de berørte direkte på mail førstkommende mandag, 30. mars.