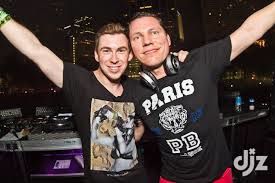 Tiësto and Hardwell,
2 tracks coming soon
While the producer is tight-lipped about his ghost productions, he can confirm those studio sessions with his mentor were not in vain. "The only thing I can say right now is that I finished two new tracks with Tiësto," he revealed. "I'm not allowed to say the singers who we collaborated with, but I will tell you that it's going to be huge. It's been three years since we released our last collab 'Zero 76′ and I have a certain feeling about this [new] track; me and Tijs are super happy."
Lors d'une petite interview paru dans "inthemix", Hardwell annonce que prochainement 2 titre
avec Tiësto et aussi qu'il ne peut pas donner le nom des chanteurs qui ont partoicipés
mais que ce sera énorme !!!
Hardwell:
«Je ne suis pas autorisé à dire qui sont les chanteurs avec
qui nous avons collaboré , mais je peux vous dire que ça va être énorme
interview à retrouver sur le site IntheMix
"I hope to play some at Ultra first:" Hardwell on making 40 new tracks
"At this point, I'm working on - seriously, I'm not even joking - like, 40 tracks," Hardwell told inthemix this week. The Dutch main stage star was sitting backstage at the Future Music Festival in
http://inthemix.com/news/i-hope-to-play-some-at-ultra-first-hardwell-on-making-40-new-tracks/18272