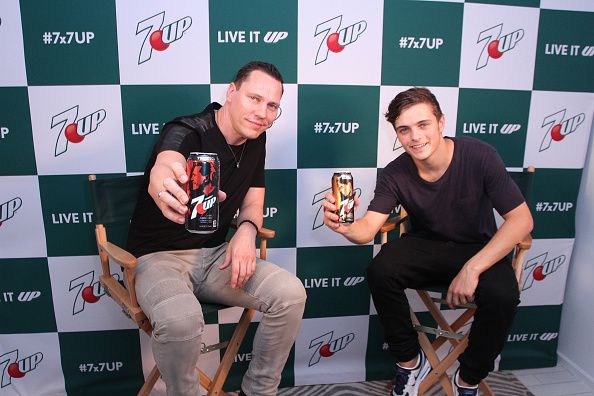 Tiësto & Martin Garrix
New Collaboration for 7up
PLANO, Texas--(BUSINESS WIRE)--7UP® is kicking off the second year of its #7x7UP program – which provides dance music fans access to unique and uplifting experiences at seven events throughout the year. 7UP will start by taking over the W Hotel South Beach and sponsor the 808 Music Lounge curated by SiriusXM and power 7 performances for 7 consecutive nights at the Wall Lounge with some of the industry's biggest names. The culminating event for 7UP will take place with an announcement event at Wall Lounge on March 26th. This announcement event will include the premiere of a new 7UP commercial featuring a musical collaboration from world-renowned DJs Tiësto and Martin Garrix, and includes the debut of their new song created specifically for 7UP and the fans.
PLANO, Texas - (BUSINESS WIRE) - 7UP® est le coup d'envoi de la deuxième année de son programme # 7x7UP - qui prévoit de la dance music et Uplifting expériences uniques et inspirantes dans sept événements tout au long de l'année. 7UP va commencer en prenant en charge l'Hôtel W South Beach et de parrainer la 808 Music Lounge organisée par SiriusXM et la puissance de sept spectacles pour 7 nuits consécutives dans le salon du mur avec certains des plus grands noms de l'industrie. Le point culminant de 7UP aura lieu avec un événement d'annonce au Wall Lounge le 26 Mars. Cet événement inclura la première d'une nouvelle publicité mettant en vedette 7UP une collaboration musicale de DJs de renommée mondiale Tiësto et Martin Garrix, et comprend le lancement de leur nouvelle chanson créée spécialement pour 7UP et les fans.
"We're extremely excited to premiere the music collaboration between Tiësto and Martin Garrix, as well as the limited edition 7UP cans they helped design."

«Nous sommes extrêmement heureux de la collaboration pour la première fois dans l'EDM entre Tiësto et Martin Garrix, ainsi que l'édition limitée 7UP boîtes qu'ils ont aidé à la conception."


In addition to unveiling this new partnership, 7UP will also debut three new limited edition 7UP cans featuring designs by Tiësto and Martin Garrix. The cans are part of a sweepstakes where fans will have the chance to win an all-expenses paid VIP trip to meet one of the two iconic DJs and watch them play live.
En plus de dévoiler ce nouveau partenariat, 7UP va également vendre trois nouvelles boîtes en édition limitée 7UP comportant des conceptions par Tiësto et Martin Garrix. Les boîtes font partie d'un concours où les fans auront la chance de gagner un tous frais payés voyage VIP pour retrouver à l'un des deux DJs emblématiques et les regarder jouer en live.

No purchase is necessary. For more details/full official rules continue to check www.7UP.com. Contest begins May 4, 2015, and entries must be received by and contest ends July 31, 2015. Subject to full Official Rules.
Aucun achat ne sera nécessaire. Pour plus de détails / règles officielles complètes continuent de vérifier www.7UP.com. Le concours débute le 4 mai 2015, et les entrées doit être reçu par concours et se termine le 31 Juillet, 2015. Sous réserve des règles officielles complètes.
"I'm excited to once again be working with 7UP and bringing music fans incredible experiences throughout the festival season," said Tiësto. "The brand has truly raised the bar this year and I can't wait for all of my fans to see and hear all of the new projects Martin and I have been working on."

«Je suis excité d'être à nouveau travailler avec 7UP et offrir aux amateurs de musique expériences incroyables tout au long de la saison des festivals», a déclaré Tiësto. «La marque a vraiment soulevé la barre cette année et je ne peux pas attendre pour tous mes fans à voir et à entendre tous les nouveaux projets avec Martin Garrix."

"7UP has gone above and beyond by bringing Tiësto and me together for this music collaboration, Tiësto is actually the reason why I became a DJ/Producer," said Martin Garrix. "The partnership with 7UP gave us the chance to put a lot of heart and creativity into this, and I'm excited to see how fans react to the music and creative spot."

"7UP est allé au-delà en réunissant Tiësto et moi pour cette collaboration de la musique, Tiësto est en fait la raison pour laquelle je suis devenu un DJ / Producteur», a déclaré Martin Garrix. «Le partenariat avec 7UP nous a donné la chance de mettre beaucoup de cœur et de la créativité dans ce, et je suis impatient de voir comment les fans réagissent à la musique et la tache créative."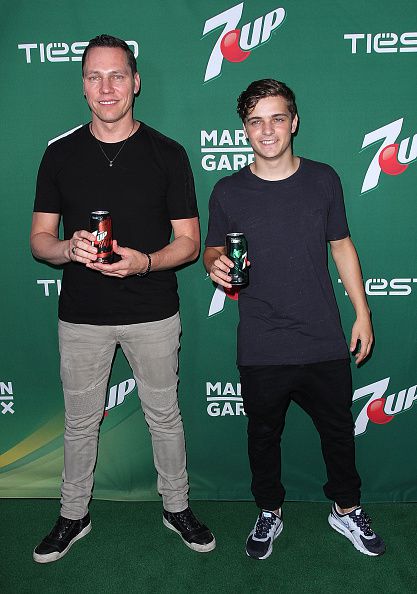 In 2015, 7UP will continue to help fans connect even more closely with dance music by providing them elevated experiences, including live streams, festival presence and the return of Stage 7, and the opportunity to attend some the nation's biggest and best festivals.
En 2015, 7UP continuera d'aider les fans de se connecter encore plus étroitement avec la dance music en leur offrant des expériences élevées, y compris les flux en direct, la présence du festival et le retour de l'étape 7, et la possibilité d'assister à des grands et meilleurs festivals de la nation.
#7x7UP experiences in 2015 will include:
1. Ultra Music Festival, Miami, FL
2. EDC New York, New York, NY
3. EDC Las Vegas, Las Vegas, NV
4. HARD Summer, Los Angeles, CA
5. HARD Day of the Dead, Los Angeles, CA
6. EDC Orlando, Orlando, FL
7. An exclusive "7th Event" to be announced
To learn more about 7UP in 2015, follow #7x7UP all year at
events across the country and online at 7UP.com.