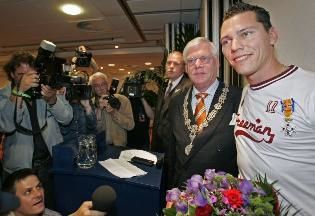 Vidéo: Tiësto
Officer of the Order of Orange-Nassau
May 20, 2004
BREDA - Dj Tiesto Thursday morning in his hometown Breda appointed
Officer in the Order of Orange-Nassau. Rutten mayor of Breda gave him the
award for the start of the promotional train of Tiësto's new album Just Be.
Tiesto le 20 mai 2004 à été nomé dans sa ville natale de Breda
Officier de l'Ordre d'Orange-Nassau. Rutten maire de Breda lui a remis le prix
pour le début du train de promotion du nouvel album de Tiësto Just Be.
L'ordre d'Orange-Nassau est un ordre honorifique civil et militaire des Pays-Bas
qui a été créé le 4 avril 1892 par la régente Emma de Waldeck-Pyrmont,
au nom de sa fille mineure, la future reine Wilhelmine des Pays-Bas.