Tiësto
Foro Alterno 
Guadalajara
Mexico
11 may 2013
15 may 2013
Album photos Guadalajara - click here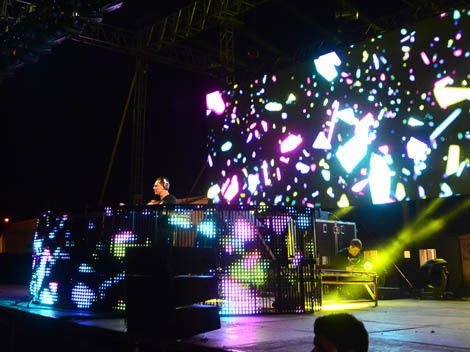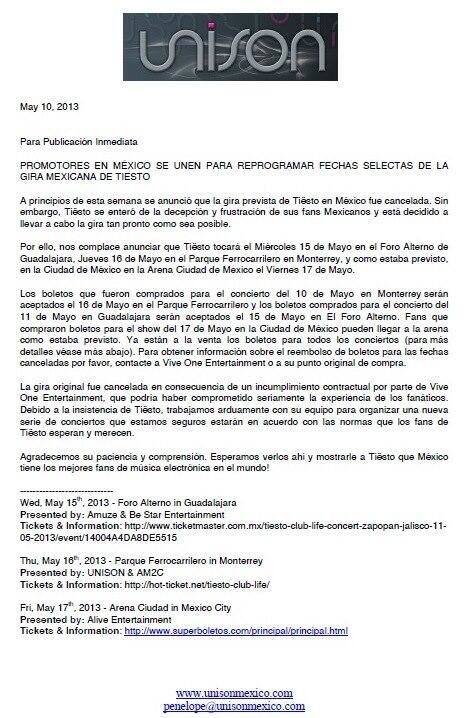 Tiësto on facebook 07 may 2013
We regret to announce that Tiësto's tour of Mexico has been cancelled.
Each Tiësto show is planned with the highest level of production in order
to make it an unforgettable experience for the fans. However, when it became
clear that these high standards could not be met we had no other
alternative than to cancel the tour.

"I can't say enough about my great fans in Mexico and how much I was
looking forward to playing in your great country. I appreciate the continued
support from my Mexican fans and look forward to returning to
Mexico as soon as possible,"
Tiësto Mexico Tour 2013
  Mayo 8 – León, Guanajuato – Polifórum here
Mayo 9 – Chihuahua, Chihuahua – Centro de Convenciones here

Mayo 10 – Monterrey, Nuevo León – Parque Fundidora here
NEW DATE FOR MONTEREY: 16 MAY 2013 here
Mayo 11 –Foro Alterno - Guadalajara / Mexico  here
NEW DATE FOR GUADALAJARA: 15 MAY 2013 here
 
Mayo 12 – Querétaro, Querétaro – Plaza de Toros Juriquilla here
Mayo 13 – Tuxtla Gutiérrez, Chiapas – Parque Feria here
Mayo 14 – Villahermosa, Tabasco – Parque Tabasco here
Mayo 15 – Mérida, Yucatán – Hacienda Chi Chi Suárez here
Mayo 16 – Puebla, Puebla – Pirámide de Cholula here

Mayo 17 – D.F., México – Arena Ciudad de México here
 DATE FOR MEXICO : 17 MAY 2013 (no cancelled and no change date)