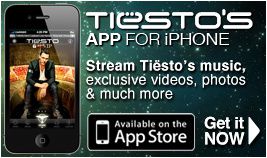 Cette article sera etendu a chaque
nouvelles videos posté par Tiësto
new 23.02.2012
Watch a video of Tiësto's set at Wet Republic in Las Vegas last
year on his new app and an extended version on InTheBooth! Download it here!
Visionnez une vidéo de jeu de Tiësto au Wet Republic à Las Vegas l'an
dernier sur son nouveau PPA et une version étendue sur InTheBooth ! Téléchargez-le ici
---
new 19.02.2012
Want to hear Tiësto's New Year's Eve 2011 set? Download his first ever app to listen!
Vous voulez entendre Eve 2011 du nouvel an de Tiësto à définir ?
Télécharger son premier jamais app pour écouter !
---
new 08.02.2012
lancement de l'application
Tiësto's first-ever App for your iPhone and iPod Touch is finally here!
Download it through the App Store to get exclusive content including
the video stream of Tiësto's record breaking LA concert, audio from
Tiësto's 2011 New Years Eve performance in Vancouver and a
Tiësto mobile app exclusive minimix! http://bit.ly/tiestoapp
Tiësto première App pour votre iPhone et iPod Touch est enfin là !
Le télécharger via l'App Store pour obtenir des contenus exclusifs, y
compris le concert de LA rupture record du flux vidéo de Tiësto,
audio aux performances de veille du nouvel ans 2011 de Tiësto à Vancouver
et un minimix exclusif de Tiësto app mobile