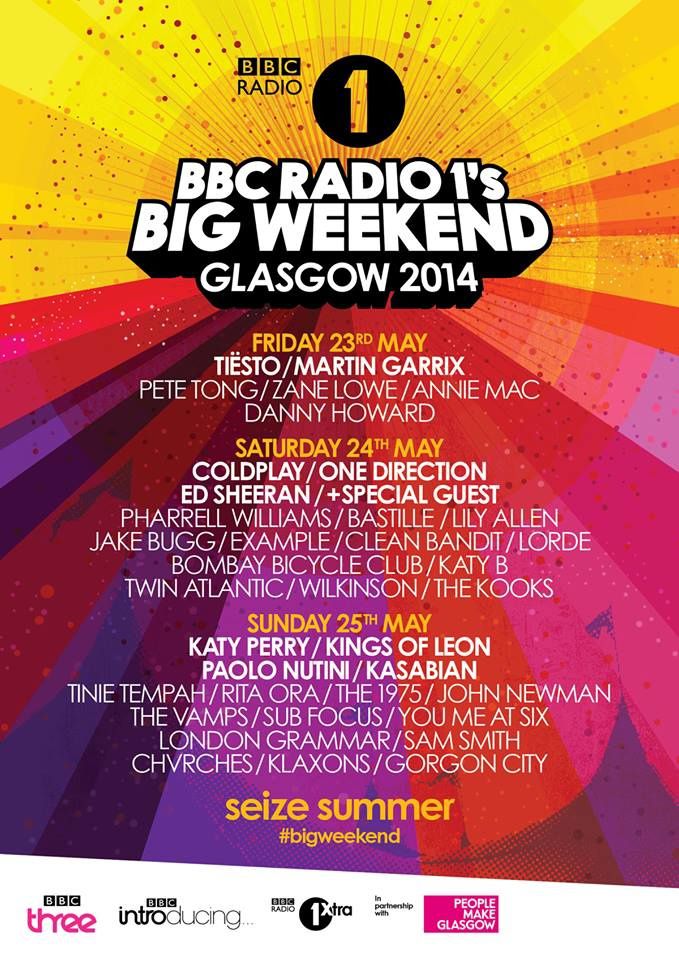 Tiësto at BBC Radio 1′s Big Weekend Festival
Glasgow, UK
23 may 2014
100% free concert - SOLD OUT
BBC Radio 1's Big Weekend is a music festival run by BBC Radio 1, who will
hold their annual free music festival for the first time at Glasgow Green,
in Glasgow, Scotland. This year the free festival will take place over
three days from Friday 23rd until Sunday 25th May 2014.
Tickets have all gone (50000) . Tickets were free and can be obtained through
a lottery. There was no charge for the concert itself, but a handling fee per
ticket will be applied to help cover all associated ticket handling costs.
The majority of the tickets for BBC Radio 1's Big Weekend 2014 were allocated
to people living in Glasgow and the surrounding boroughs.
BBC Radio 1's Big Weekend est un festival de musique gérée par la BBC Radio 1 ,
qui tiendront leur festival de musique annuel gratuit pour la première fois
à Glasgow Green , à Glasgow, en Ecosse . Cette année, le festival gratuit aura
lieu sur trois jours , du vendredi 23 au dimanche 25 mai 2014.
Plus de billets disponible (50 000). Billets sont libres et peuvent être obtenus par le biais d'une loterie . Il n'y a pas de frais pour le concert lui-même , mais des frais de traitement par billet sera appliqué pour aider à couvrir tous les coûts de manutention de billets associés . La plupart des billets pour Big Weekend de BBC Radio 1 2014 ont été
attribués à des personnes vivant à Glasgow et les arrondissements environnants.