Dj's footballgames 21 march 2012
And the winner is....... Holland 13-11
tweet joinred (26.03.2012)
@froggybroggy @robinhedberg Team @tiesto and the Dutch won!
Upon review the final score was Dutch 13 - Swedes 11.
Album photos (+120)  click here
ALe 21 mars à1re aura lieu Aun g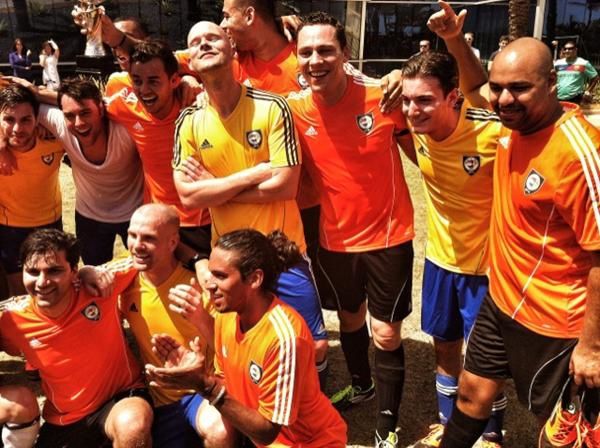 rand match de dj foot entre
la Hollande et la Suéde
Ce match est crée par Tiësto et Sebastian Ingrosso

http://www.youtube.com/joinred

Team Netherlands
Tiësto (Captain)
Afrojack
Nicky Romero
Quintino
Sidney Samson
R3HAB
Sunnery James
Ryan Marciano
Team Sweden
Sebastian Ingrosso (Captain)
Alesso
Adrian Lux
Dada Life (Olle and Stefan)
AN21
Otto Knows
Chaque équipe joura dans un maillot personnalisé fait
spécialement pour le match. A la fin du jeu, chaque tee-shirt sera signée
par chaque participant sera vendus aux enchères par (RED), et toutes les recettes
seront versées au Fonds mondial de lutte contre le sida en Afrique.  
Le jeu sera également filmé, avec des reflets et des entrevues avec les joueurs en
direct sur (RED) Youtube Channel la semaine suivante. (RED) est connue pour ses
partenariats de divertissement de grande envergure, y compris Apple,
Beats by Dr. Dre, Gap, Le Coca-Cola Company, et Starbucks.
---
This Miami Music Week, some of the world's biggest DJs are using their
talents to raise money for charity. But not the talents you might think.
On Wednesday, March 21, 14 DJs will take to the field at an undisclosed location
in Miami and play a soccer game - for bragging rights, and for (RED), a global
AIDS charity. Miami Music Week is an unofficial name given to a 10-day period made
up by industry confab Winter Music Conference (March 16-25) and EDM's
three-day Woodstock, Ultra Music Festival (March 23-25).
In addition to supporting the Global Fund to Fight AIDS in Africa, the game
will also settle a score: Who's got more game: The Dutch or the Swedes?
Team captains Tiësto (Team Netherlands) and Sebastian Ingrosso from
Swedish House Mafia (Team Sweden, of course) have fantasy rosters:
Afrojack, Nicky Romero, Quintino, Sidney Samson, R3HAB,
Sunnery James & Ryan Marciano for the Dutch,
against  Alesso, Adrian Lux, Olle Corneer and Stefan Engblom of
Dada Life, AN21, and Otto Knows for the Swedes.
The game will consist of two 30-minute periods with a ten-minute break in between.
The game will consist of two 30-minute periods with a ten-minute break in between.
Each team will play in a custom jersey made especially for the match. At the end
of the game, each jersey will be signed by each participant and auctioned off
by (RED), with all proceeds going to the Global Fund to fight AIDS in Africa.
The game will also be filmed, with highlights and interviews with the players
going live on (RED)'s Youtube Channel the following week. (RED) is known
for its high-profile entertainment partnerships, including Apple, Beats
by Dr. Dre, Gap, The Coca-Cola Company, and Starbucks.