Tiësto 
Lavo / New York
17.01.2012
Birthday Tiësto Celebration
album photos click here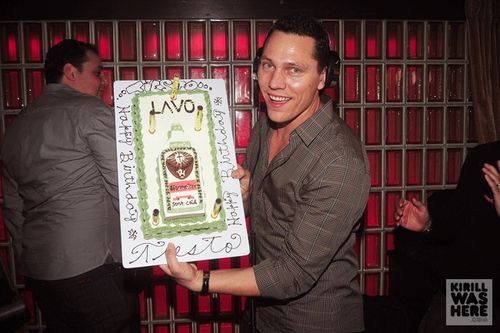 Nous venons de recevoir d'info que ce soir, mardi, Janvier 17th, 2012  
de renommée mondiale électroniques DJ et producteur Tiësto est
célèbre son anniversaire avec une fête impromptue et concert au LAVO New York.
Les portes ouvrent à 23 heures et de frais d'entrée est de 125$
LAVO New York est situé au 39, rue E.58th entre Park et Madison.
We've just received info that TONIGHT, Tuesday, January 17th, 2012
 globally renowned electronic DJ and producer Tiesto is celebrating
his birthday with an impromptu celebration and concert at LAVO New York.
  Tiesto has collaborated with musicians such as David Bowie, Moby, Tegan &
Sara and Sean Kingston, among many others, and was the first DJ to ever
play live on stage at the Olympics.  He regularly sells out solo tours around
the world and has chosen to celebrate his birthday at one of his
favorite clubs in New York City – LAVO New York.
Doors open at 11 PM and cover charge is $125 at the door.
LAVO New York is located at 39 E.58th Street between Park and Madison.