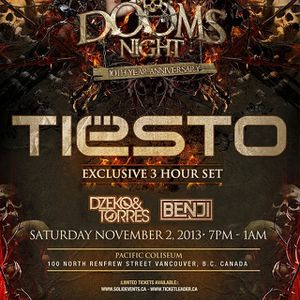 Tiësto
Dooms Night
Vancouver, Canada
02 novembre 2013
album photos Tiësto Dooms Night, click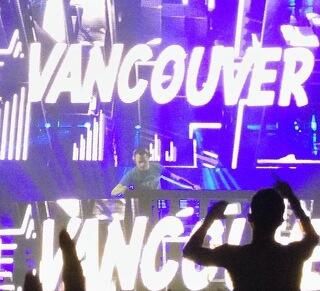 OFFICIAL ANNOUNCEMENT:
=======================

Greetings Everyone,

We would like to thank everyone who have been patient with us during
this unforeseen circumstance of the postponed DAY 2 event. Tiesto and his
management with Solid Events worked diligently together to put this reschedule event together
within 24 hours. Tiesto will be performing an "EXCLUSIVE 3 HOUR SET" as a special tribute
to all our loyal fans. He will also be doing a LIVE interview on Kid Carson's Morning
show tomorrow (Tuesday, October 29, 2013) on SONIC RADIO 104.3FM at 08:30 AM PST.

The unity from the artist, management team, venue and lights & sounds production
all contributed in making this possible.
#THANKYOU #BELIEVE #DOOMSNIGHT2013 #HISTORY
#10YEARANNIVERSARY #TIESTO #SOLIDEVENTS


Thank-you Vancouver! It's time to make history!!

LIMITED TICKETS available online
Tuesday, October 29, 2013
For further questions, please email us at info (at) solidevents (dot) ca

PS: Yes, you may take off your wristbands.
---
Info Tiësto:
Due to travel issues beyond our control, the event in
Vancouver tonight is postponed. We are working to reschedule as soon as possible
Thank you for your understanding and patience.
DOOMS NIGHT - Saturday October 26
New World Punx
DBSTF
Psyko Punkz
Qulinez

  Dooms Night - Sunday October 27
Tiesto
Danny Avila
Dzeko & Torres
Benji
Regular (SATURDAY PASS) - C$120.00

Regular (SUNDAY PASS) - C$120.00

Regular (TWO DAY PASS) - C$150.00


www.ticketleader.ca
www.ticketzone.com/ solidevents
www.solidevents.ca