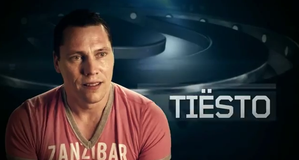 Tiësto interview : son jet sert aussi de discothéque...
avec Swedish House Mafia !
White : english
orange : français
1. New Times: You spend a ton of time in Miami.
Do you consider this city to be a second home?
 
1. Vous passez beaucoup de temps à Miami.  
Pensez-vous que cette ville est une résidence secondaire?
Tiësto: Yeah. There are several cities that I really like in America 
L.A., Chicago, New York, and Miami. But I spend the most time in Miami,
because the weather is amazing in the wintertime.
I know so many people there. And it's just a lovely place to relax.
Tiësto: Oui. Il ya plusieurs villes que j'aime vraiment en Amérique -
Los Angeles, Chicago, New York et Miami. Mais je passe le plus de temps à Miami,
parce que le temps est étonnant pendant l'hiver. Je connais beaucoup de gens là-bas.
Et c'est juste un endroit agréable pour se détendre.
---
2. As a constantly touring dance music superstar, how much time do you
spend traveling per year? Do you basically live out of the Tiësto jet?
En tant que superstar de la Dance Music constamment en tournée,  
combien de temps passez-vous à voyager par an?  
Vous êtes essentiellement dans votre jet signé Tiësto?
Yeah, I spend a lot of time on the road, especially last year. But for the first
couple of months in 2012, I've taken it pretty easy. There were barely any
bookings in January and February. So I've been in the studio.
In general, though, I spend at least 150 days per year on the road.
Ouais, je passe beaucoup de temps sur la route, en particulier l'année dernière.  
Mais pour les premiers mois de 2012,   Il y avait moins de concert 
  J'ai donc été plus souvent dans le studio.
En général, cependant, je passe au moins 150 jours par an sur la route.
---
3. The Tiësto jet is fascinating. It's awesome that you've
got a private plane with your personal logo slapped
on the fuselage. Have you ever hosted a full-blown party
aboard the jet? Or is it usually nap time on the plane?
Le jet Tiësto est fascinant. C'est génial que vous ayez un avion privé  
avec votre logo personnel inscrit sur le fuselage.
Avez-vous déjà organisé une fête à part entière à bord du jet?  
Ou est-ce généralement l'heure de la sieste dans l'avion?
Oh, we've had some very wild parties on the plane.
Just last year, I flew to Ibiza with my friends from Swedish House Mafia
and there was a big rave. We were drinking a lot. We had so much fun.
And then we totally crashed the plane. Well, not literally. [Laughs] Like,
inside. There was champagne on the walls. We were shooting corks
at the pilots. It was insane. And we passed out before we even landed.
Oh, nous avons eu quelques fêtes trés sauvage dans l'avion.  
Rien que l'an dernier, j'ai pris l'avion pour Ibiza avec mes amis SHM
et c'etait d' un grand délire. Nous buvions beaucoup. Nous avons
eut tellement de plaisir. Et puis on s'est effondré dans l'avion

 Eh bien, pas littéralement. [Rires] , à l'intérieur de l'avion il y avait du
champagne sur les murs. Nous tournions à bouchons tiré sur les pilotes.
Ils étaient fou. Et nous avons passé dehors avant que nous ayons même débarqué
---
4. So I guess the jet must come equipped with a killer sound system.
Donc je suppose que
le jet
doit
être équipé d'un
système de son
tueur.
Of course. The sound system is pretty good on the plane. It's purely for partying.
Bien sûr. Le système sonore est très bonne. C'est purement pour faire la fête.
---
5. Your next trip to Miami will be for Ultra Music Festival and
Miami Music Week. And you'll be throwing a
club bash at the Fontainebleau, right?
Votre prochain voyage à Miami sera pour Ultra Music Festival et
pour la Semaine de la Musique .
Et vous passerez au club de Fontainebleau, n'est-ce pas ? 
Yes, we're having a special label party at Arkadia, a small,
intimate place. Expect some artists from my label and maybe some
special guests. There's also a good chance that I'll show up, even
though I can't confirm it. It's going to be all about musical freedom and
hanging out with the people who released tracks on my label last year.
We'll have a little celebration. Everybody will play a few records.
And it'll be a fun night. But there won't be a headline billing or anything.
Just low key and casual.Night Arkadia here 23 march 2012

Oui

, nous allons avoir

une label party

spéciale

à

Arkadia

,

un petit

lieu intime

.
Attendez-vous à

certains

artistes de

mon label

et

peut-être quelques

invités spéciaux

.
Il ya aussi

une bonne chance

que je vais

y

monter,

même si

je ne peux pas

le confirmer

.
Il
va y avoir
des artistes de Musical freedom
.

Nous allons

avoir une

petite fête

.
Tout le monde

va jouer

quelques titres

.

Et

ça va être

une soirée amusante

.
Mais

il n'y aura pas

de facturation

de titre ou

quoi que ce soit

.