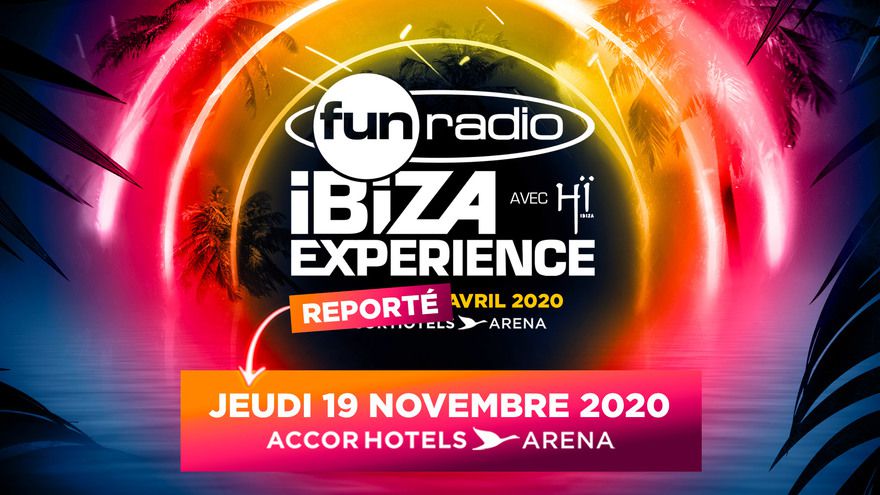 Fun Radio Ibiza Experience 2020
postponed to November 19, 2020
It is with great sadness and heavy heart that Fun Radio announces that in the current context we are forced to postpone our fifth edition of Fun Radio Ibiza Experience.
The Ministry of Solidarity and Health, in a judgment published today, took the decision to ban "any gathering bringing together more than 5,000 people in a closed environment on the national territory until May 31, 2020" .
Our flagship event, initially scheduled for April 3, 2020, in Paris, the AccorHotels Arena is therefore postponed to Thursday, November 19. In these exceptional circumstances, Fun radio and Hi Ibiza keep the same artistic ambitions for the show which will take place next November and would like to warmly thank the public and the artists for their loyalty and their enthusiasm on this fifth edition.
Practical information: all tickets for the initial date (3 April) remain valid for Thursday 19 November 2020. However, spectators who so wish can obtain a full refund of their ticket, until 3 July 2020, from the network or from the point of sale where they bought it.


En Français
c' est avec beaucoup de tristesse et le cœur lourd que Fun Radio vous annonce que dans le contexte actuel nous sommes contraints de reporter notre cinquième édition de Fun Radio Ibiza Experience.
Le Ministère des Solidarités et de la Santé, dans un arrêt publié ce jour, a pris la décision d'interdire "tout rassemblement mettant en présence de manière simultanée plus de 5.000 personnes en milieu clos sur le territoire national jusqu'au 31 mai 2020".
Notre événement phare, initialement prévue le 3 avril 2020, à Paris l'AccorHotels Arena est donc reporté au jeudi 19 novembre. Dans ces circonstances exceptionnelles, Fun radio et Hi Ibiza conservent les mêmes ambitions artistiques pour le show qui aura lieu en novembre prochain et tiennent à remercier chaleureusement le public et les artistes pour leur fidélité et leur enthousiasme sur cette cinquième édition.
Informations pratiques : tous les billets pour la date initiale (3 avril) restent valables pour le jeudi 19 novembre 2020. Toutefois, les spectateurs qui le souhaiteraient peuvent obtenir le remboursement intégral de leur billet, jusqu'au 3 juillet 2020, auprès du réseau ou du point de vente où ils l'ont acheté.
Venez fêter les 5 ans de Fun Radio Ibiza Experience !
Pour vous y rendre en métro il vous faudra sortir à la station Bercy qui est desservie sur les lignes 14, 6 et 1. Veuillez sortir à Gare de Bercy si vous comptez venir en bus. Les lignes 24, 87, 20