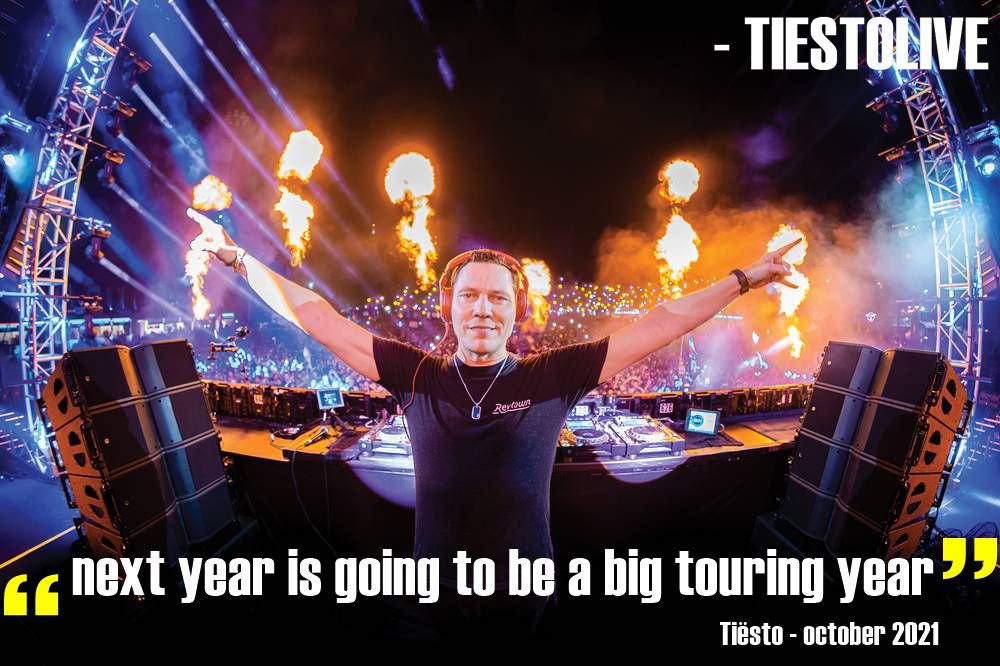 Tiësto Interview
Spécial EDC 2021
for Las Vegas Weekly
You've played so many important club venues in Las Vegas, and this year you helped open Resorts World and ushered in Ayu Dayclub and Zouk Nightclub. Where does that rank on your list of Vegas experiences?
It has been really cool. As much as I loved it at Hakkasan and MGM for so many years, it felt like it was time for a new challenge, and this was a really good opportunity. I've known the guys at the Zouk Group for years and played at the club in Singapore many times. They showed me all the plans [for Vegas], and I knew I wanted to be part of this.
What was it like becoming the first artist ever to perform Zouk Nightclub last month?
It was incredible, but my opening nights at both clubs were incredible. And it's been really busy, too. It seems like Vegas has been packed despite the pandemic; it was a great summer for all of us. And Zouk, I just love it there. It's a really comfortable club and has those big, high ceilings and amazing production. I'm very happy.
And now you get to perform at EDC Las Vegas for the 10th time.
I've done all of them, and it's been incredible. I really love EDC—it's definitely one of my favorite festivals in the world, with the whole setup in the desert. There's something about it that's really special. I love playing the main stage, and the crowd is always so energetic. I'm just happy they keep asking me back.
Do any specific past EDC sets stand out in your mind?
I just can't believe this is the 25th one already. Back when we celebrated the 20th year, I played all these tracks from the past and made a musical journey out of it. I loved the Avicii dedication we did back in 2018. I played five or six of his songs and made this whole section for him, and it was incredible to see the crowd's reaction to it. Normally everybody would be going off, but there were these waves of emotions going through the crowd and some people were crying. I've never experienced anything like that. I couldn't keep dry either, I had to step out of the booth for a minute and started crying, because it was such an emotional moment.
It seems like this year's fest could be very emotional, too, since people have been so looking forward to getting back there after the missed year.
I've already seen it this year with some of the first festivals opening up again. People are so happy and excited, and it just feels like you can go back to your life again, to meet other people and hug other people and just have a good time together. It's going to be very special. That's a huge part of why EDC calls the crowd the headliners. I always consider it a team play between me and the crowd, and they are there for that social experience with each other as much as the music. They're not there to see me.
What does 2022 look like for you?
Things are looking good. I have some European dates in December, and next year is going to be a big touring year. I think we've already booked the whole year with festivals lined up everywhere. I'm very lucky I live here in America, so I could do a lot of shows in Vegas [this year].
Vegas has been great to me and I'm very thankful for that, because I know a lot of my European colleagues are just starting up again as of September [due to travel restrictions], and I've been going at it since April. And I'm excited to be at Resorts World, because it's been a great experience in this first year and they have a lot of plans to open another hotel there and it just keeps growing. Next year when Europe is fully open again and everybody can fly to Vegas, it's going to be a really incredible summer.
source: https://lasvegasweekly.com/