Tiësto album - A Town Called Paradise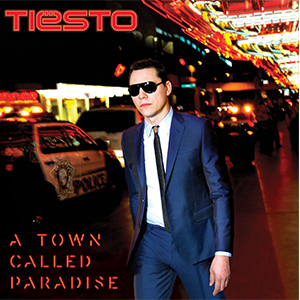 Tiësto album 2014
A Town Called Paradise
Tracklist album
+ 4 for edition deluxe
1. Tiësto - Red Lights listen here
2. Tiësto feat. Cruickshank - Footprints listen here
3. Tiësto feat. DBX - Light Years Away listen here
4. Tiësto feat. Zac Barnett from American Authors -
A Town Called Paradise listen here
5. Tiësto & Hardwell feat. Matthew Koma - Written In Reverse listen here
6. Tiësto feat. Andreas Moe - Echoes listen here
7. Tiësto & Firebeatz feat. Ladyhawke - Last Train listen here
8. Tiësto feat. Matthew Koma - Wasted listen here
9. Tiësto feat. Icona Pop - Let's Go listen here
10. Tiësto feat. Ou Est Le Swimming Pool - The Feeling listen here
11. Tiësto feat. Christian Burns - Shimmer listen here
12. Tiësto & Kaaze - Rocky listen here
13. Tiësto & Sultan & Shepard feat. Quilla - Close to Me listen here
14. Tiësto feat. Krewella - Set Yourself Free listen here

Deluxe Edition
Tiësto & MOTi feat. Denny White - Don't Hide Your Life listen here
Tiësto & Fred Falke feat. Elan Lea - Calling On Angels listen here
Tiësto & Dzeko & Torre - Can't Forget listen here
Tiësto feat. Kyler England - Take Me listen here
Bonnus Track
Tiësto - Bullet in the gun listen here
Tiësto - Say Something listen here
offre adhérent: 12.59€
Itunes (album) : 9.99$ click
Itunes (album deluxe) : 12.99$ click
On Tiësto Shop: click
Tiësto - A Town Called Paradise CD [US Customers Only] $15.99
Tiësto - A Town Called Paradise CD [NON-US Customers Only] $15.99
Tiësto - A Town Called Paradise MP3 Download [US Customers Only] $12.99
download now, here (zippyshare)
PRE-ORDER Tiësto A Town Called Paradise
T-Shirt $25.00 (Only US) click
Please note. This item is in pre-order status
and will ship on or around June 13, 2014.
According to tjis , this album reflects both sides of his work : half of the album is made
to " please the fans " ( apparently , the younger fans , just remember what he said about
leaving the trance here) , half to himself , who is always trying to innovate . From what
we saw of the singles so far , we have 2 songs aimed at the masses . " Red Lights " is a
middle ground between music and radio music festival, while Wasted pop is extremely probably
be a hit in the summer with the help of vocal and more relaxed melody. By the way the
developer of this track , Matthew Koma , mentioned in an interview that will not be present
only in Wasted - he actually participates in the production of half of the album .
Can we expect more guitar riffs and indie influences in A Town Called Paradise .
"It will simply make you smile , dance , want to leave ... is everything an album should be
of Tiësto , and is an album I always wanted to do ."Other tracks confirmed in the new project
of Tiësto is " Footprints" , he has been playing for some time in his sets ,
and "Set Yourself Free " , in partnership with Krewella .
Selon Tiësto , cet album reflète les deux côtés de son travail : la moitié de l'album est fait pour
" plaire aux fans de " (apparemment , les fans les plus jeunes , rappelez-vous juste ce qu'il a dit de
quitter la transe ici ) , la moitié à lui-même, qui cherche toujours à innover . D'après ce que nous
avons vu des singles à ce jour, nous avons deux chansons destinées aux masses . " Red Lights " est
un juste milieu entre la musique et le festival de musique de la radio , tout en très bon pop est très
probablement un coup dans l'été avec l'aide de la mélodie vocale et plus détendu . Par la façon dont
le développeur de cette piste , Matthew Koma , mentionné dans une entrevue qui ne sera pas
présente seulement dans très bon - il participe effectivement à la production de la moitié de l'album .