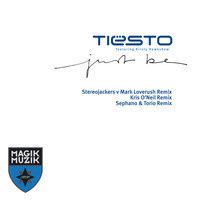 Tiësto featuring Kirsty Hawkshaw
Just Be (remixes)
Available on beatport: 12 may 2014
It's classic remix time again! Up for remixing is the Tiësto classic 'Just Be' with
the spine tingling vocals of Kirsty Hawkshaw. Duo Sephano & Torio stayed
close to the original, while adding their personal progressive house sound.
Stereojackers vs Mark Loverush stayed in the trance zone with their remix,
giving it a little more speed and an extra touch. Giving the original his personal sound,
while staying in the trance genre is Kris O'Neil, making the package complete.
Tiësto featuring Kirsty Hawkshaw - Just Be (remixes)
1. Sephano & Torio Remix
2. Stereojackers v Mark Loverush Remix
3. Kris O'Neil Remix
4. Stereojackers v Mark Loverush Radio Edit
Tiësto featuring Kirsty Hawkshaw - Just Be ( Sephano & Torio Remix )
Tiësto featuring Kirsty Hawkshaw - Just Be ( Stereojackers v Mark Loverush Remix )
Tiësto featuring Kirsty Hawkshaw - Just Be ( Kris O'Neil Remix )