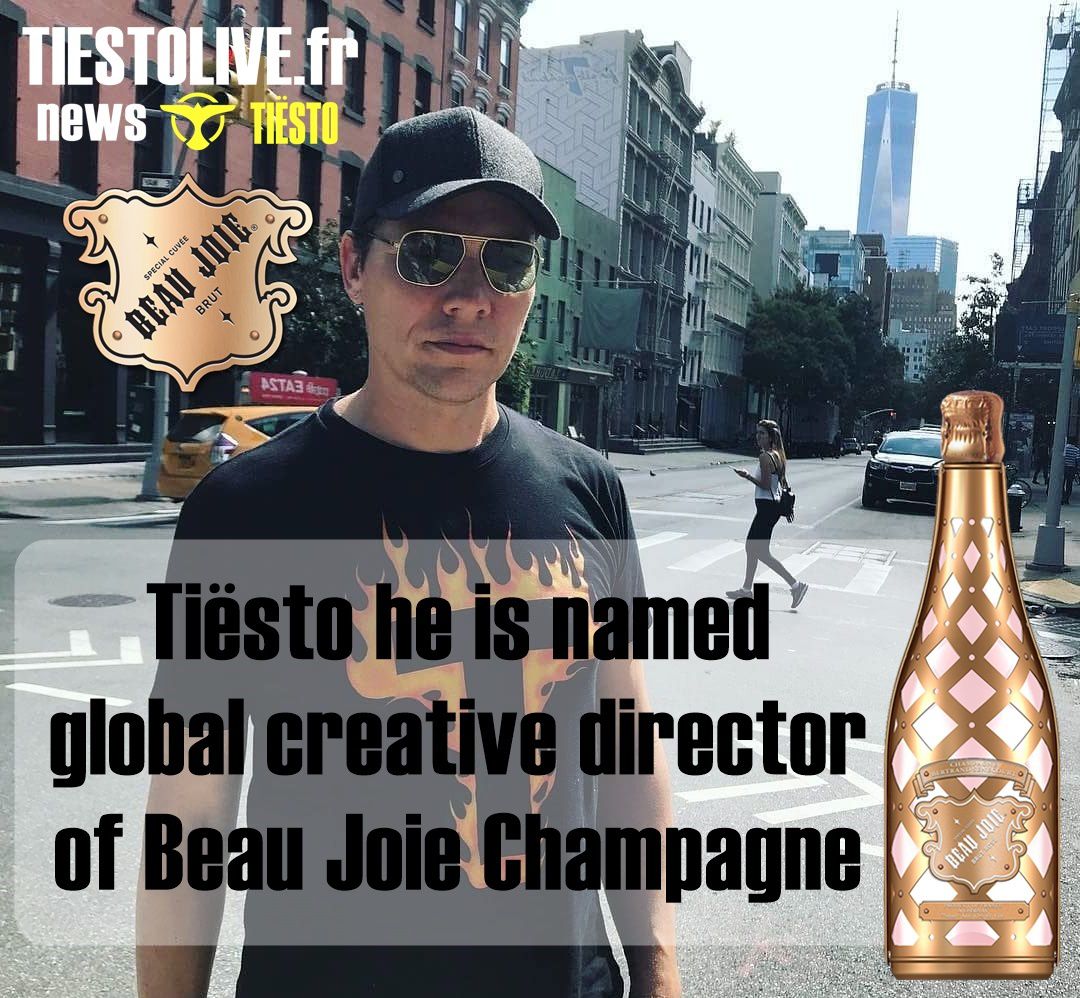 Tiësto he is named
global creative director
of Beau Joie Champagne
"I came to know BEAU JOIE through an encounter with the brand on a yacht during an incredible trip to Hong Kong and immediately knew I had to be a part of it," said Tiësto. "BEAU JOIE already possesses such a unique design aesthetic not to mention that the Rose' is the best champagne I have ever tasted! I am excited to help take this brand to the next level!"
Tiësto will be involved in all creative development of the brand including, but not limited to, brand strategy, social media campaigns and content generation, marketing partnerships and package ideation. In his first days with BEAU JOIE, he has already begun working with the brand's entryway into the Asian market with a focus on Hong Kong and China, two major areas of growth for the brand. Tiësto will work closely with the couple who created the brand, Jon Deitelbaum, President and CEO of Toast Spirits LLC and Brandis Deitelbaum, Co-Founder and Chief Marketing Officer, who have overseen the brand's progress in the U.S. to date.
"Tiësto is a great addition to the Management Team for BEAU JOIE. He will provide valuable insight into our audience and his understanding of global hospitality, entertainment and luxury culture will help guide the brand into 2019 as the champagne is now sold in 13 countries," said Jon Deitelbaum.
In addition to his role as Global Creative Director, Tiësto has made an equity investment in the company. His involvement comes at a time in which BEAU JOIE is experiencing triple digit growth both in the US and Internationally.
"I came to know BEAU JOIE through an encounter with the brand on a yacht during an incredible trip to Hong Kong and immediately knew I had to be a part of it," said Tiësto. "BEAU JOIE already possesses such a unique design aesthetic not to mention that the Rose' is the best champagne I have ever tasted! I am excited to help take this brand to the next level!"
BEAU JOIE Champagne combines supreme quality with impeccable, cutting-edge design, blending 60 % Pinot Noir and 40 % Chardonnay derived from grapes from Epernay, France. The unique patented bottle design features a copper casing and an innovative suit of armor that keeps the champagne colder longer and is created from second-generation copper scrap to eliminate unnecessary waste. The zero-dosage champagne is offered at luxury venues, hotels and retailers around the world, delivering crisp clean perfect taste from start to finish with none of the added sugars common in other champagnes.