Tiësto photos, vidéo, tracklist, mp3
| Grand Prix of Mexico |
october 27, 2019
01 Tiësto & The Chainsmokers - Split (Only U) (Intro Edit)

02 Tiësto - WOW

03 Tiësto & Sevenn - BOOM

04 Tiësto & Dzeko ft. Preme & Post Malone - Jackie Chan

05 Tiësto & Dzeko ft. Preme & Post Malone - Jackie Chan
(Tiësto Big Room Remix)

06 Tiësto & KSHMR ft. VASSY - Secrets

07 Tiësto & John Christian - Can You Feel It?

08 Tiësto & Jonas Blue & Rita Ora vs. Calvin Harris - Feel So Ritual
(Djs From Mars X Rudeejay & Da Brozz Club Bootleg)

09 Tiësto & Mabel - God Is A Dancer (Toby Green Remix)

10 Dzeko & Torres ft. Delaney Jane - L'amour Toujours (Tiësto Edit)

11 Billie Eilish vs. Benny Benassi vs. The White Stripes -
Satisfarmy Guy (Rudeejay & Da Brozz X ANGEMI Bootleg)
12 Dimitri Vegas & Like Mike & Martin Garrix vs. Benny Benassi
ft. Gary Go - Tremor In The Cinema (Cheyenne Giles & Knock2 Flip Festival)

13 Sandro Silva & Quintino - Epic (ID Remix)

14 Tiësto & DallasK - Show Me
w/ Green Velvet & Harvard Bass - Lazer Beams (Acappella)
w/The Chemical Brothers - Block Rockin Beats (Acappella)
w/ Skytech & Tommy Jayden - Looking At Me
15 WILL K - Peanut Butter
w/ Jamie Lewis ft. Michael Watford - For You
(Put Your Hands Up In The Air Acappella)
16 Major Lazer ft. J Balvin & El Alfa - Que Calor (Damien N-Drix Remix)
w/ Major Lazer ft. J Balvin & El Alfa - Que Calor (ID Remix)

17 Laidback Luke & Mark Bale - Party Starter

18 Tiësto & SWACQ vs. Kryder - Party Time vs. Crocodile Tears vs. Red Lights

19 Eurythmics - Sweet Dreams (James Hype Remix)

20 Gala vs. Tiësto & Mesto - Freed From Desire vs. Can't Get Enough (Mesto Mashup)

21 Kid Cudi vs. David Guetta - Kid Cudi's Happy Memories
(Cheyenne Giles & Knock2 Festival Flip)
22 Mesto vs. Tiësto & Don Diablo vs. ESH & Constantin -
Be Right Here vs. Chemicals vs. Carry You Home vs. 2U
23 Sebastian Ingrosso vs. Swedish House Mafia vs. Travis Scott -
Reload The Antidote (Knock2 Festival Flip)

24 BROHUG - DatDatDat

25 J Balvin & Willy William - Mi Gente (Cedric Gervais Remix)

26 Tiësto vs. The Weeknd ft. Daft Punk vs. DJ KUBA & NEITAN -
Lethal Industry vs. Starboy vs. Bring The House (DJ KUBA & NEITAN Edit)

27 Afrojack - It Goes Like

28 TUJAMO & Lukas Vane - Drop It

29 TUJAMO - Booty Bounce

30 Tones And I vs. Steve Aoki & Chris Lake & TUJAMO - Boneless Monkey
(Rudeejay & Da Brozz Mash-Boot)

31 Martin Solveig ft. Dragonette - Hello (PRINSH! & 2GETHER Remix)

32 Vintage Culture & Fancy Inc - My Girl

33 Tiësto & Sneaky Sound System vs. Martin Garrix -
I Will Be Here vs. The Only Way Is Up (Tiësto Mashup)

34 Avicii - Levels (W&W Bootleg)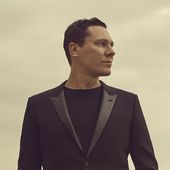 Tiësto @ Gran Premio De Mexico, Formula 1 Grand Prix Autodromo Hermanos Rodriguez, Mexico 2019-10-27
Tracklist / Playlist for Tiësto @ Gran Premio De Mexico, Formula 1 Grand Prix Autodromo Hermanos Rodriguez, Mexico 2019-10-27, 67 tracks, 0h56m, Big Room
https://www.1001tracklists.com/tracklist/1ymd1rgt/tiesto-gran-premio-de-mexico-formula-1-grand-prix-autodromo-hermanos-rodriguez-mexico-2019-10-27.html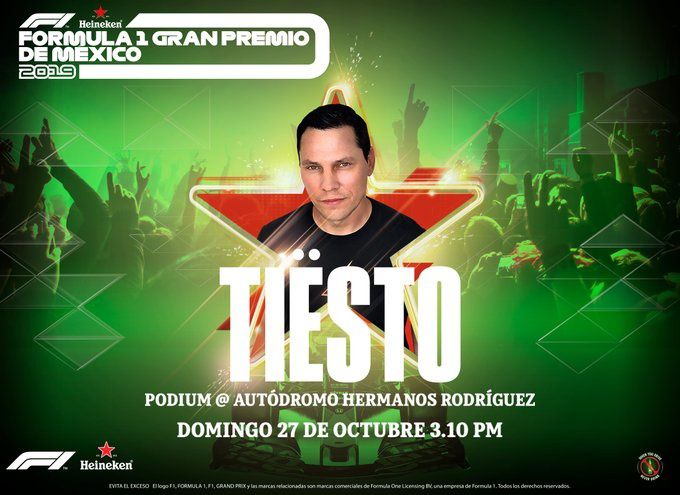 Tiësto date
| Grand Prix of Mexico |
october 27, 2019
Autódromo Hermanos Rodríguez
SOLD OUT
The countdown to the biggest sporting event in our country brings new surprises. Renowned DJ Tiësto will be in charge of setting the pace for the Mexican Formula 1 Grand Prix on October 27, the organization announced.
During the last three years, the organization behind the Mexican Formula 1 Grand Prix has stood out for having great DJ's on stage to close the event with a big party. In this, its fifth edition, will not be the exception.
The Dutch DJ will take the main stage on October 27 from 10:00 pm before more than 30 thousand attendees, where in 90 minutes he will raise the pace with his peculiar beats.