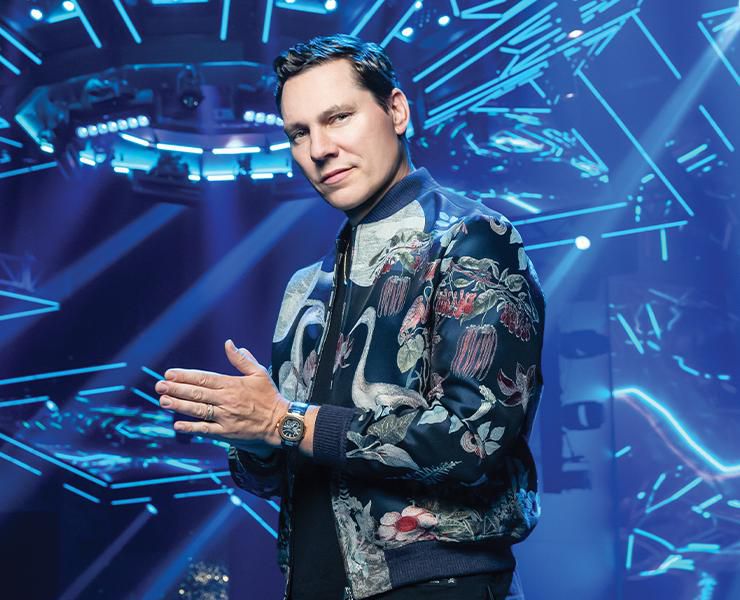 Tiësto, Las Vegas Magazine,
exclusive interview
may 2022
Step inside the world of Zouk Nightclub at Resorts World Las Vegas, a world that visually and audibly delights with its innovative design, state-of-the-art technology and impressive roster of performers.
Zouk Group, a pioneering nightlife institution in Singapore, traveled halfway around the globe to bring its concept to the party people of Las Vegas. The result is a 36,000-square-foot, multiroom nightclub that fully immerses clubgoers. There are multiple bars and lounge areas, each with their own stunning design, but the real magnet that will pull guests in is the main room. It's here that the stage is set for some of the world's most-recognized DJs and musical artists while technology dazzles the dancefloor with Zouk's unique lighting system known as the Mothership. Re-created from Zouk Nightclub in Singapore, the behemoth Mothership produces a kaleidoscope of LED colors and visuals as it floats above and around the dancefloor, moving to the music. Between the music pumping out of one of the most technologically advanced sound systems and the interactive lighting capabilities wired throughout, guests are in for a night of pure, out-of-this-world revelry.
Zouk has called upon top talent to bring the wicked beats to the nightclub, and that includes resident DJs and musical acts as well as special-event performances that include Zedd, DJ Snake, Nervo, Cash Cash, DJ Ruckus, Duke Dumont, G-Eazy, Jack Harlow, Madison Beer, Louis the Child and more. Leading the charge is resident superstar DJ and producer Tiësto (performing May 19), one of the godfathers of electronic dance music. With his decades-long success in the EDM world, he impressively commands the stage with his unique style and mash-up of beats flowing onto the dancefloor and keeping feet moving for hours. It's an unforgettable experience.
We recently sat down and talked with Tiësto about his residency, as well as his upcoming Electric Daisy Carnival performance this weekend and his thoughts on life and career. (And if you've ever wanted to know more about Tiësto, we had him answer some fun questions that'll help you get to know the man behind the name!)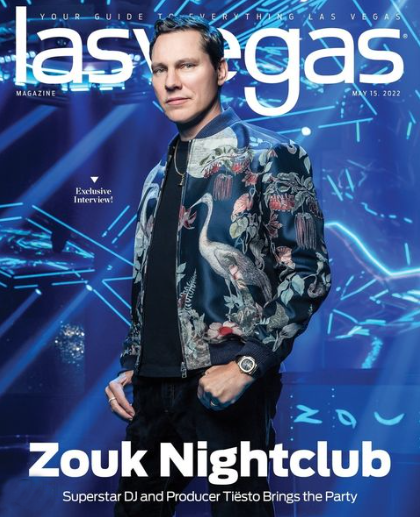 Tell us about your new residency at Zouk Nightclub.
It's been incredible. I was at Hakkasan for seven years—a long time. I was ready for a new challenge. I know Zouk from Singapore; I played that club many times. That's the original Zouk. So when they came here to Las Vegas, I was very excited. They showed me all the plans, of the resort, of the nightclub, the pool party. I was like, "This is fresh, new." The club has been booming. It's packed every week. It's incredible because Vegas in general—the (EDM) scene has grown so much.
Parlez-nous de votre nouvelle résidence au Zouk Nightclub.
C'était incroyable. Je suis resté à Hakkasan pendant sept ans, longtemps. J'étais prêt pour un nouveau défi. Je connais Zouk de Singapour; J'ai joué plusieurs fois dans ce club. C'est le Zouk original. Alors quand ils sont venus ici à Las Vegas, j'étais très excité. Ils m'ont montré tous les plans, du resort, de la discothèque, de la pool party. J'étais comme, "C'est frais, nouveau." Le club est en plein essor. C'est plein à craquer chaque semaine. C'est incroyable parce que Vegas en général, la scène (EDM) a tellement grandi.
Let's talk about the EDM scene. Did you ever expect it to explode the way it has?
No; never. I remember I was (in Las Vegas) in 2007. I would play like three times a year in Vegas, and I would tell the promoters, "Man, I really love Vegas. I wish I could have a residency here one day. That would be amazing." And they would say, "Yeah, that would be amazing, but that's never going to happen." And I was like, "Yeah, that's never gonna happen." Now it's the DJs' faces that are up on the outside of the hotel buildings. I never expected it. But I'm very happy that it happened.
Parlons de la scène EDM. Vous êtes-vous déjà attendu à ce qu'il explose comme il l'a fait ?
Non; jamais. Je me souviens que j'étais (à Las Vegas) en 2007. Je jouais environ trois fois par an à Vegas, et je disais aux promoteurs : « Mec, j'aime vraiment Vegas. J'aimerais pouvoir avoir une résidence ici un jour. Ce serait génial." Et ils disaient: "Ouais, ce serait incroyable, mais ça n'arrivera jamais." Et je me suis dit: "Ouais, ça n'arrivera jamais." Désormais, ce sont les visages des DJ qui se dressent à l'extérieur des bâtiments de l'hôtel. Je ne m'y attendais pas. Mais je suis très heureux que ce soit arrivé.
Tell me a little bit about your early career. When it all started in your home country, the Netherlands.
Dance music was always big in Holland. It was embraced right away. I lived in the south of Holland in Belgium, and the scene was really big. On the radio they played dance music. We had our own version of MTV called TMF, The Music Factory, and they played dance music all day. It was a very healthy scene. This was around 1992-'93. I was only 18-19 years old. I worked in the club; played for six hours and played everything from house, techno, trance—I always played all styles together. That's when I decided to go with trance because I felt that music was really hot around 1995 and really enjoyed it. And I was like, "OK, I have to pick a sound and a style, and that's why I moved to trance."
Parlez-moi un peu de votre début de carrière. Quand tout a commencé dans votre pays d'origine, les Pays-Bas.
La dance musique a toujours été importante en Hollande. Il a été adopté tout de suite. Je vivais dans le sud de la Hollande en Belgique, et la scène était vraiment grande. À la radio, ils ont joué de la musique de danse. Nous avions notre propre version de MTV appelée TMF, The Music Factory, et ils jouaient de la musique dance toute la journée. C'était une scène très saine. C'était vers 1992-1993. Je n'avais que 18-19 ans. J'ai travaillé dans le club; joué pendant six heures et joué de tout, de la house à la techno en passant par la trance, j'ai toujours joué tous les styles ensemble. C'est à ce moment-là que j'ai décidé d'opter pour la transe parce que je sentais que la musique était vraiment chaude vers 1995 et que j'aimais vraiment ça. Et je me disais "OK, je dois choisir un son et un style, et c'est pourquoi je suis passé à la transe."
You' ve always changed your style, changed with the times or been ahead of the game. Why do you think it's important to change up your musical style?
It's just a natural progress for me. When I left trance music, I was bored of it; it all started sounding the same to me. I saw all these young DJs coming up in Holland—Afrojack, David Guetta—it was fresh, the music they were making, and I wanted to be a part of that. I moved to Sweden in 2008 and met Avicii and some other guys, and they were just making such fun music. It worked out for me.
Vous avez toujours changé de style, changé avec le temps ou été en avance sur le jeu. Selon vous, pourquoi est-il important de changer de style musical ?
C'est juste un progrès naturel pour moi. Quand j'ai quitté la musique transe, j'en avais marre; tout a commencé à sonner pareil pour moi. J'ai vu tous ces jeunes DJ arriver en Hollande - Afrojack, David Guetta - c'était frais, la musique qu'ils faisaient, et je voulais en faire partie. J'ai déménagé en Suède en 2008 et j'ai rencontré Avicii et d'autres gars, et ils faisaient juste de la musique tellement amusante. Cela a fonctionné pour moi.
When did you decide you wanted to come to the U.S. and get involved in the scene here?
Around 2001. Paul Oakenfold was one of the biggest DJs here in like 1999-2000 and he really helped me a lot. He promoted my name a lot in the U.S. He told all the club owners, "You gotta book Tiësto; he's gonna be the next big thing." My first tour here was in 2000—it was my first club tour. Then in 2001, I did the big Area2 Tour with Moby, Carl Cox, John Digweed—that was a big tour for me. We played the whole country. And that's when I was like, "Man, I love it here!"
Quand avez-vous décidé de venir aux États-Unis et de vous impliquer dans la scène ici ?
Vers 2001. Paul Oakenfold était l'un des plus grands DJ ici en 1999-2000 et il m'a vraiment beaucoup aidé. Il a beaucoup promu mon nom aux États-Unis. Il a dit à tous les propriétaires de clubs : « Tu dois réserver Tiësto ; il va être la prochaine grande chose. Ma première tournée ici remonte à 2000, c'était ma première tournée en club. Puis en 2001, j'ai fait la grande tournée Area2 avec Moby, Carl Cox, John Digweed - c'était une grande tournée pour moi. Nous avons joué dans tout le pays. Et c'est à ce moment-là que je me suis dit: "Mec, j'adore ça ici!"
Any lessons you've learned being in the industry?
The biggest lesson I've learned is that you shouldn't stress about anything. Just really enjoy what you're doing; enjoy the moments. If you worry too much about what can happen, you can hold yourself back. And if you listen too much to the crowds you can get lost as well, so you have to go with your own gut feeling. Keep following your heart and what you want to do.
Avez-vous appris des leçons dans l'industrie ?
La plus grande leçon que j'ai apprise est qu'il ne faut pas stresser pour quoi que ce soit. Appréciez vraiment ce que vous faites; profiter des instants. Si vous vous inquiétez trop de ce qui peut arriver, vous pouvez vous retenir. Et si vous écoutez trop la foule, vous pouvez également vous perdre, vous devez donc suivre votre propre intuition. Continuez à suivre votre cœur et ce que vous voulez faire.
Any advice for the next generation?
Just love and embrace what you want to do and really don't do it because you think you're going to be famous. Just do what you love, then you become the biggest because you don't have any boundaries. If I look back at Avicii, the melodies he used and the sounds he used were so untraditional, but that made him special and I see this with new, upcoming DJs—they're coming up with stuff that's new and fresh, which they really love to do.
Un conseil pour la prochaine génération ?
Aimez et embrassez ce que vous voulez faire et ne le faites vraiment pas parce que vous pensez que vous allez être célèbre. Faites simplement ce que vous aimez, puis vous deviendrez le plus grand parce que vous n'avez pas de limites. Si je repense à Avicii, les mélodies qu'il utilisait et les sons qu'il utilisait n'étaient pas traditionnels, mais cela le rendait spécial et je le vois avec de nouveaux DJ à venir - ils proposent des trucs nouveaux et frais, qu'ils ont vraiment aime faire.
Any new projects in the works?
My next single is almost finished. I'm trying to finish my album to come out this year, around September/October. I'm going to release a couple nice real Tiësto bangers. I think one more big radio single.
De nouveaux projets en préparation ?
Mon prochain single est presque terminé. J'essaie de terminer mon album pour qu'il sorte cette année, vers septembre/octobre. Je vais sortir quelques bons vrais bangers Tiësto. Je pense à un autre gros single radio.
Tell us about your upcoming EDC performance.
EDC is always special to me. I've done it every year since it moved to Las Vegas; that was the start for me. It's been incredible. I love the stage there—it's so massive, but it still feels intimate in a way. Everyone's there appreciating the music. Because I've been in the business for so long, nowadays I'm going back to my roots, where before I was the trance DJ. I'm going back to how I used to play in the clubs for six hours, where I'm playing a little bit of everything. I've been doing that at Zouk, too. I play house, techno, trance, pop music in a Tiësto remix—it's really nice to play like that. My EDC set will be like that. Main stage, Saturday night, midnight—crowds want to hear a bit of everything. I'm going to play some old EDM classics, a couple of trance records, house records, big Tiësto bangers, remixes.
Parlez-nous de votre prochaine performance EDC.
EDC est toujours spécial pour moi. Je l'ai fait chaque année depuis qu'il a déménagé à Las Vegas; ce fut le début pour moi. C'était incroyable. J'adore la scène là-bas - c'est tellement massif, mais ça reste intime d'une certaine manière. Tout le monde est là pour apprécier la musique. Parce que je suis dans le métier depuis si longtemps, aujourd'hui je retourne à mes racines, où avant j'étais le DJ trance. Je reviens à la façon dont je jouais dans les clubs pendant six heures, où je joue un peu de tout. J'ai aussi fait ça au Zouk. Je joue de la house, de la techno, de la transe, de la pop dans un remix de Tiësto, c'est vraiment sympa de jouer comme ça. Mon ensemble EDC sera comme ça. Scène principale, samedi soir, minuit, les foules veulent entendre un peu de tout. Je vais jouer quelques vieux classiques de l'EDM, quelques disques de trance, des disques house, des gros bangers de Tiësto, des remixes.
After all these years, do you still get butterflies when you step onstage?
Yeah. And I think the year off with COVID, it humbled me in the sense that I really missed DJing, when you go onstage, and the crowd appreciates what you do. You play your first track, and the crowd goes crazy. It's a feeling that you can never replace with anything else. I'm addicted to that feeling. It never gets old.
Après toutes ces années, as-tu encore des papillons quand tu montes sur scène ?
Ouais. Et je pense que l'année sabbatique avec COVID, ça m'a rendu humble dans le sens où le DJing me manquait vraiment, quand tu montes sur scène, et que la foule apprécie ce que tu fais. Vous jouez votre premier morceau et la foule devient folle. C'est un sentiment que vous ne pouvez jamais remplacer par autre chose. Je suis accro à ce sentiment. Ça ne vieillit jamais.
source Las Vegas magazine - may 2022