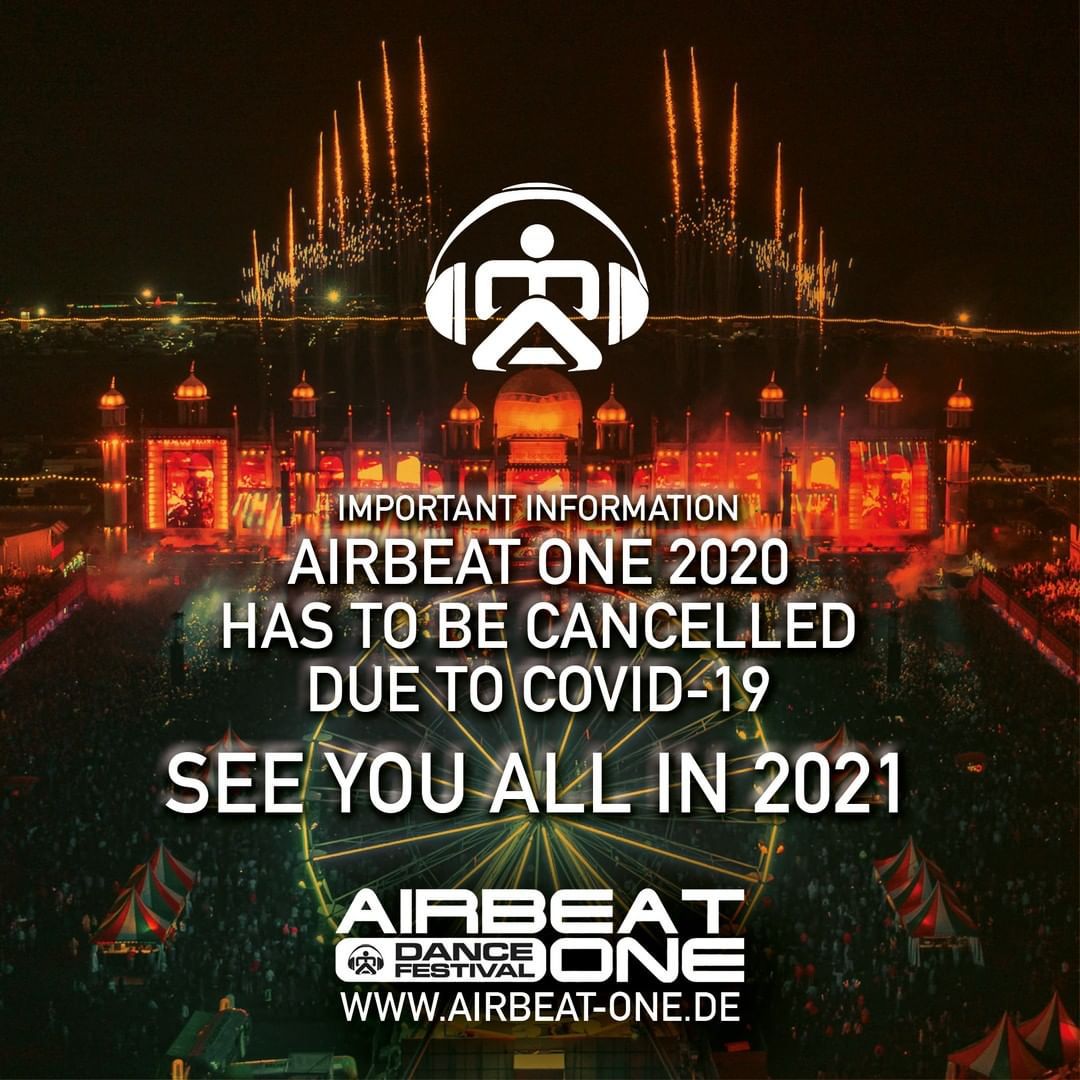 ⚠ Airbeat One Festival 2020, Germany,
cancelled due to coronavirus ⚠
Dear friends of Airbeat-One,
unfortunately, we were given the sad certainty yesterday by the German government that Airbeat-One will not be able to take place this year, as all major events have been banned until August 31st.
Many positive thoughts have carried you and us through this difficult time during the last weeks. Until the last minutes we hoped that the situation would improve by July and that we could celebrate a sunny and joyful Airbeat-One Festival with you.
The news moves everyone of us and doesn´t leave anyone without a trace, because in the last months all the stage-designs, lights, lasers and pyrotechnics have already imagined our fantasy as real backdrops and have become unforgettable moments cause of the artists and you, milestones in life, which will never be forgotten like all our common destinations in the previous years.
This year, Airbeat-One would have achieved new records of attendance through your recognition, which we would not have even dreamed of years ago. So let´s look forward to 2021 with even greater anticipation when you will be able to fill out our campfields with emotions again, make new friends, and bring Airbeat-One back to life together out of its sleeping beauty with our world-class-artists from its involuntary one year-long slumber with all your breath and energy to celebrate its twentieth anniversary.
It will be more powerful than ever before!
For more info please visit our homepage on www.airbeat-one.de or our Facebook page.
Your Airbeat One crew
French
Chers amis d'Airbeat-One,
malheureusement, le gouvernement allemand nous a donné la triste certitude hier qu'Airbeat-One ne pourra pas avoir lieu cette année, car tous les événements majeurs ont été interdits jusqu'au 31 août.
De nombreuses pensées positives vous ont conduits, nous et nous, à traverser cette période difficile au cours des dernières semaines. Jusqu'à la dernière minute, nous espérions que la situation s'améliorerait en juillet et que nous pourrions célébrer avec vous un festival Airbeat-One ensoleillé et joyeux.
Les nouvelles émeuvent chacun de nous et ne laissent personne sans trace, car au cours des derniers mois, tous les scénographies, lumières, lasers et pyrotechnies ont déjà imaginé notre fantaisie comme de véritables décors et sont devenus des moments inoubliables à cause des artistes et vous, jalons de la vie, qui ne seront jamais oubliés comme toutes nos destinations communes des années précédentes.
Cette année, Airbeat-One aurait atteint de nouveaux records de fréquentation grâce à votre reconnaissance, dont nous n'aurions même pas rêvé il y a des années. Alors, attendons 2021 avec encore plus d'anticipation lorsque vous pourrez à nouveau remplir nos campings avec des émotions, vous faire de nouveaux amis et redonner vie à Airbeat-One grâce à notre beauté endormie grâce à notre classe mondiale- artistes de son sommeil involontaire d'un an avec tout votre souffle et votre énergie pour célébrer son vingtième anniversaire.
Il sera plus puissant que jamais!
Pour plus d'informations, veuillez visiter notre page d'accueil sur www.airbeat-one.de ou notre page Facebook.
Votre équipage Airbeat One

Airbeat-One Festival - Norddeutschland größtes Dance Festival
Airbeat One Festival 2020 | 08.- 12. JULY 2020 | Airfield Neustadt-Glewe | Germany