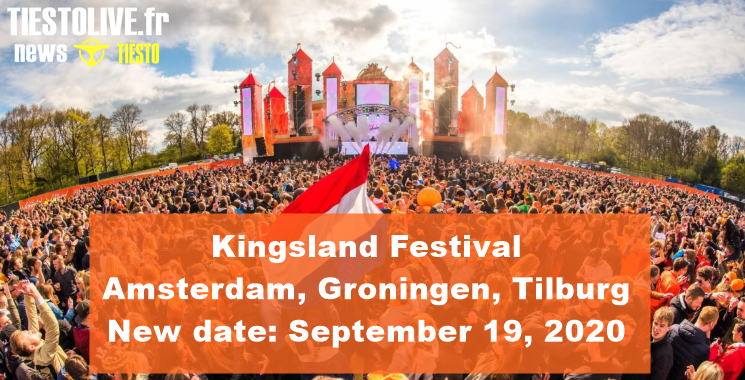 Kingsland Festival,
Amsterdam, Groningen and Tilburg
New date: September 19, 2020
September 19 replaces April 27, due to coronavirus
line up and info, coming soon...
Dear compatriots,
First of all, we would like to thank you for all the sweet messages we received during this difficult time. It is good for us to see that we are all really orange together. We have been working hard on a solution for the past few weeks and there is good news: Kingsland Festival has moved to Saturday September 19 in Amsterdam, Groningen and Tilburg !! Despite the uncertain weather, we are still sitting in the coming months, we keep hope and hope and we want to make the most of this summer festival if possible. Let's have a drink together this year on our king's birthday!
In Amsterdam, the festival moves to the Olympic stadium once due to limited availability at RAI. The edition in Rotterdam will be postponed, due to other events in the city that day, to 2021. Of course, we are making every effort to keep the programming in the three cities intact as much as possible. An update on this will follow soon.
Do you already have a ticket? So this is also valid for the new edition. All ticket buyers have received an email from us personally with all the information on this. Tickets for the new date are for sale from Friday, April 17 at 12 p.m.
If you have more questions after reading the email, you can visit the special FAQ page on our website. In addition, the first episode of the Kingcast online, the podcast on Kingsland Festival with more explanation of the movement in this first episode: https://bit.ly/Kingcast1
Together we are orange and together we are strong. For 7 years it has been our motto and more than ever this is what our beautiful Netherlands must hang on to now. The day we are together Orange will therefore return and we hope that everyone, including dressed in orange, will celebrate this moment with us. And for now: take a look 🧡
Love,
Kingsland Festival
French
Chers compatriotes,
Tout d'abord, nous tenons à vous remercier pour tous les doux messages que nous avons reçus pendant cette période difficile. C ' est bon pour nous de voir que nous sommes tous vraiment orange ensemble. Nous avons travaillé dur sur une solution ces dernières semaines et il y a une bonne nouvelle : Kingsland Festival est déplacé au samedi 19 septembre à Amsterdam, Groningen et Tilburg !! Malgré le temps incertain, nous sommes toujours Assis dans les mois à venir, nous gardons espoir et espoir et nous voulons faire le maximum de ce festival été si possible. Trinquons ensemble cette année à l'anniversaire de notre roi !
À Amsterdam, le festival déménage au stade olympique une fois en raison de la disponibilité limitée à la RAI. L ' édition à Rotterdam sera reportée, en raison d'autres événements dans la ville ce jour-là, à 2021. Bien sûr, nous mettons tout en œuvre pour garder la programmation dans les trois villes intacte autant que possible. Une mise à jour à ce sujet suivra bientôt.
Êtes-vous déjà en possession d'un billet ? Alors celle-ci est aussi valable pour la nouvelle édition. Tous les acheteurs de billets ont reçu un mail de notre part personnellement avec toutes les informations à ce sujet. Les billets pour la nouvelle date sont à vendre à partir du vendredi 17 avril 12.00 h.
Si vous avez plus de questions après avoir lu l'e-mail, vous pouvez visiter la page spéciale FAQ sur notre site web. De plus, le premier épisode du Kingcast en ligne, le podcast sur Kingsland Festival avec plus d'explication sur le mouvement dans ce premier épisode : https://bit.ly/Kingcast1
Ensemble nous sommes orange et ensemble nous sommes forts. Depuis 7 ans c'est notre devise et plus que jamais c'est ce à quoi nos beaux Pays-Bas doivent s'accrocher maintenant. Le jour où nous sommes ensemble Orange reviendra donc et nous espérons que tout le monde, y compris habillé en orange, célébrera ce moment avec nous. Et pour l'instant : regardez-vous un peu 🧡
L ' amour,
Festival de Kingsland
Als eerste op de hoogte van al het nieuws rondom het grootste Koningsdag festival van Nederland en verzekerd zijn van een ticket? Pre-registreer je dan nu!