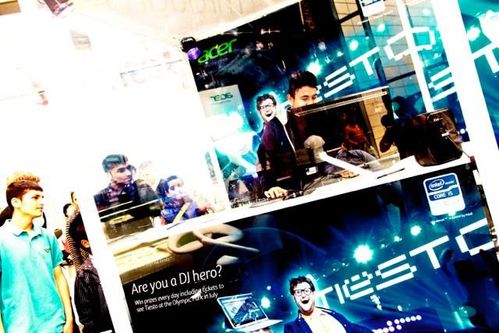 Tiësto and Acer 
competition
" Explore Beyond Limits "
From Sunday, May 27 to Sunday, June 2, 2013
 TIESTO et  ACER organise une competition
du 27 mai au  2 juin 2013
" Explore Beyond Limits "
au Centre commercial Westfield Stratford de Londres.
 
EXPLORE BEYOND LIMITS AT WESTFIELD THIS HALF TERM -
WITH ACER'S ULTIMATE TIESTO DJ OPPORTUNITY

From Sunday, May 27 to Sunday, June 2 Acer UK will be hosting a major
"Explore Beyond Limits" promotional event at the
Westfield Shopping Centre in Stratford, London.
In addition to showing off the company's latest touch tablets, notebooks and ultrabooks,
Acer will be running a Tiesto DJ Hero 2 competition. There's a range of thrilling daily prizes
 including tickets to see Tiesto - the world's most popular electronic and dance music
Tiësto at Eletric Daisy Carnival London 20 july 2013

En plus de montrer les dernières tablettes tactiles de la société,
des carnets et des ultrabooks, Acer exécutera un concours Tiesto DJ Hero 2.
Il existe une gamme de palpitante de prix quotidiens dont des billets pour voir
Tiesto  au Parc Olympique de Londres lors du Electric Daisy carnival London le 20 juillet 2013)

Acer has just joined forces with Tiesto to promote the Aspire P3 ultrabook.
The P3 has all the benefits of an ultrabook with a unique design that allows it to
easily transform into tablet-mode. Weighing just 1.39kg and just 19.75mm thin,
the P3 is perfect for full on computing power as well as mobile entertainment on the go.

Other fantastic thrill-seeking prizes on offer during the promotion include
sky diving courses, bungee jumps and sky walks.
Everyone visiting the Acer stand – located on the Upper Floor close to John Lewis
will also receive a 10% discount voucher which can be redeemed on all Acer products
in Currys PC World during half-term.

Autres prix fantastiques, des sensations forteavec des saut à l'elastique, des saut en parachute...
Chaque visiteur qui se rendront au stand Acer situé à l'étage à proximité de John Lewis
recevra également un bon de réduction de 10 % qui peut être échangé sur tous les produits
Acer en Currys PC World au cours de la mi-parcours.