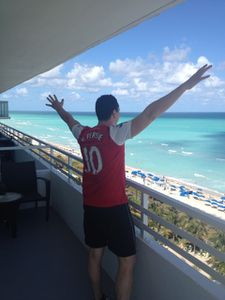 Tiësto and Calvin Harris,
new track coming soon ?
TIESTO and Calvin Harris are hoping to create a new track together in the
studio during their trip to Scotland on December 22 and 23, when they play the SSE Hydro.
THEY'RE two of the world's top DJs – and good pals as well. Now Tiesto
and Calvin Harris aim to celebrate their friendship with a new collaboration.
Tiësto: "I've known Calvin before most people outside the UK knew him. I'm not one of those
guys who think you have to work with someone because they are at the top and Calvin
and I have become friends since we worked in 2009 on my album Kaleidoscope.
"His career is phenomenal and I think everyone in Scotland is so proud of him. I'm a big fan
of his and we are similar people as well. We were both born on July 17, are both Capricorns
and have the same humour. We have a lot in common and that shows.
We are going to have a joint birthday in Vegas together."
He said: "When I'm here in Stockholm on the street, once in a while someone asks for a picture,
but not all the time. I can still have my normal life and go to the grocery store and buy my vegetables.

Modest he might be, but Tiesto can't resist telling us he recently took his mum
to Vegas to show her the fruits of his success.
"My mum raised me well and DJing was always my hobby. I worked hard and made money and invested in equipment. I never felt that this is what I was going to do with the rest of life but then I started to make money with my own record label and it was crazy, right time, right place.
"Of course, I buy my mum whatever she wants, any time.
"The best part was when I brought my mum to Las Vegas in the summer
for a week and she saw how I lived and how people see me.
"She said 'You can have all the money in the world but what makes me the most proud is to see you happy and successful in life and that is the best present a son can give to his mum.' That made me really happy."
---
Tiësto et Calvin Harris qui vont se retrouver pour la tournée
Greater Than Tour du 18 au 23 décembre aimeraient en profiter pour
se rendre dans un studio en Ecosse et faire un single ensemble.
Tiësto ajoute ne pas profiter de Calvin à un moment où il est plus célébre mais
c'est une amitié qui dure depuis l'album Kaleidoscope et Tiësto veut bien la poursuivre.
Tiësto:  La beauté de travailler ensemble  c'est que nous avons tous les deux notre
propre style de musique et nos propres sons et pour le public , c' est aussi intéressant.

Et Tiësto indique:  Nous étions tous les deux nés un 17 Juillet , nous sommes  Capricornes
et on a le même humour ... Nous avons beaucoup en commun et que des spectacles .
Nous allons avoir ensemble un anniversaire en commun à Las Vegas  » .
Prépare t-il aussi un show à Las Vegas en duo ?!
Tiësto: Quand je suis ici, à Stockholm dans la rue , de temps en temps quelqu'un demande pour une photo,
mais pas tout le temps . Je peux encore avoir une vie normale et aller à l'épicerie et acheter mes légumes .

Tiesto ne peut résister à nous dire qu'il a récemment pris sa maman à Las Vegas
pour lui montrer les fruits de son succès .
Maman Tiësto: vous pouvez avoir tout l'argent dans le monde, mais ce qui me rend
le plus fier , c'est de le voir heureux et réussir dans la vie, c'est le plus beau
cadeau d'un fils peut donner à sa maman . " Cela m'a fait vraiment plaisir . "