L'application est uniquement pour iphone et ipod 
en vente depuis le 09.02.2012
pas d'autre support prévu pour le moment
Price 0.99$
Language: English
Application pour:
- écouter les musics de Tiësto
- regarder les photos de Tiëstos et vidéos
- posté, partager vos photos et commentaire
avec Fan Connect
- écouter la 1ére heure du pocast de Tiësto: Club Life
- Suivez la Tournée et acheter des billets
- Stream Tiësto songs from a customized Tiësto music interface
- View Tiësto photos, videos and news straight from the source
- Post, upload photos and add comments on the Fan Connect wall,
where fans share their Tiësto experiences
- Stream hour 1 of Tiësto's Club Life podcast directly from the app
- Follow Tiësto's tour closely and even buy tickets to shows
---
ARTICLE DU 27 AOÛT 2011:
Tiësto en collaboration avec Penté Group (article origine )
va lancer courant l'automne 2011 une nouvelle application pour mobile.
Cette application offrira aux fans des contenus exclusif
dans un premier temps puis va s'elargir et offrir un lecteur
radio personnalisé en streaming.
L'application va offrir la possibilité de composer une playlist
et incluant aussi chaque semaine 2 heures de club life.
De même que inthebooth et Tiësto.com sont en pleine
réorganisation, les sites vont offrir des possibilités de
télécharger de la musique et de partager les photos et vidéos
des fans a travers le monde intitulé "Fan Connect"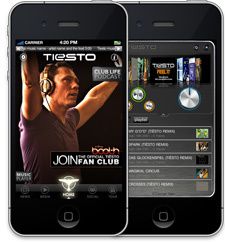 In conjunction with the Penté Group, the first app of many
to come will be the official fan app which will provide users with access
to exclusive content before wider general release and a custom-streaming radio player.
Users will also have the ability to create their own streaming library
within the application while also being able to listen to the weekly,
two hour episode of 'Club life'.
Tiesto.com and inthebooth.com are also being revamped and
will offer fans the chance to stream Tiësto's entire music
catalogue and also offer uploading capabilities where fans will be
able to upload and share pictures and videos from  
Tiësto events around the world.
The app will be available this Autumn.
---
Tiëstolive l'info Tiësto
mis a jour le 06.12.2011 à 09h20
Voila le nouveau site de Tiësto et inthebooth (membre)
Decouvrez les nouveauté, les club life qu'on peut ecouter,
la 1ére heure pour les non membre, la 2éme pour membre, les photos,
la nouvelle section fan connect pour que chacun puisse
partager sa passion avec les fans de Tiësto ( a venir avec l'app iphone)
On y retrouve tout ce qu'il y avait avant, les dates de concert,
l'achat de musique, billets, la section store...
Pour inthebooth on peut donc avoir accés a tout,
photos, vidéos... bien que pour le moment rien de plus.
Par contre on peut ecouter ses albums en entier mais aussi toutes
ses compil's tel que les Magik, ISOS ...et en entier !!!
Donc pour le moment rien de vraiment plus qu'avant
on attend l'application qui va vraiment donner plus de
sens à Fan connect qui sera de reunir chacun des
fans à travers des photos et video personnel
pour les deposer sur le site...Mais à venir !!!

---
  Mise a jour le 05/12/2011 à 20h05 sur Tiëstolive
Tiësto vient de l'annoncer, son site tiesto.com,
inthebooth et l'application iphone seront en place à partir
de la journée du 06.12.2011
voici son tweet:
Within the next 24 h my new http://www.tiesto.com and
http://www.inthebooth.com will be on line!
Dans les prochaines 24 h et de mon nouveau http://www.tiesto.com
http://www.inthebooth.com sera en ligne!
et de remercier le groupe "Pente" pour leur travaille
---
MISE A JOUR LE 09.11.2011:
Tiësto l'a annoncé le 09.11.2011
Le site Tiësto.com et inthebooth ainsi que son application
iphone et ipod touch seront disponible à partir du
21 novembre 2011, lire l' article ci-dessous qui date
du 27 août 2011 pour connaitre les nouveautés et l'application.
Le site à pris un peu de retard, mais ça va venir...
Want Tiësto at your fingertips? The first ever Tiësto
app is coming to an iPhone and iPod Touch near
you on November 21st along with a brand new
www.Tiesto.com and members-only www.InTheBooth.com!