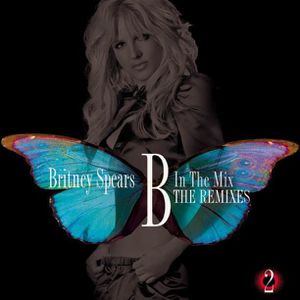 L'annonce est faite depuis sony le 06 septembre 2011
Britney Spears va sortir le 27 septembre 2011
un album remix intitulé: B in the mix the remixed vol.2
Sony à indiqué que Tiësto sera de la partie mais aussi
 Benny Benassi et Alex Suarez.et bien d'autres...
est ce des titres deja connu remixé?? !!

info sur l'album:
L'album de remixes devrait contenir 12 remixes pour 13 chansons.
Il ne contiendrait donc que 1 titre bonus ?..
- Le remix de 'Criminal' serait bien réel et sera lancé
sur les ondes très prochainement!
Les sites de Brithney et fan club n'en savent pas plus,
le suspens bat son plein !!!!
 ˜˜˜˜˜˜˜˜˜˜˜˜˜˜˜˜˜˜˜˜˜˜˜˜˜˜˜˜˜˜˜˜˜˜˜˜˜˜˜˜˜˜˜˜˜˜˜˜˜˜˜˜˜˜˜˜˜
mise a jour le 13 septembre 2011:
voici les titres prévus: il en manque 3
et on parle maintenant pour la pologne du 10 octobre
mais pas d'autre dates pour le reste du monde

1 Gimme More (Kaskade Club Mix) 6:08
2 Piece Of Me (Tiesto Club Remix) 7:53
3 Radar (Tonal Club Remix) 4:55
4 Womanizer (Benny Benassi Extended) 6:17
5 Circus (Linus Loves Remix) 4:39
6 If U Seek Amy (U-Tern Remix) 6:10
7 3 (Manhattan Clique Remix Club) 5:42
8 Till The World Ends (Alex Suarez Club Remix) 5:18
9 I Wanna Go (Gareth Emery Remix) 5:26
10 Criminal (Varsity Team Remix) 4:00
Bon pour Tiësto se sera pas un nouveau remix
tout comme les 7 premiers titres qui on tous
au moins 1 ans d'existence...c'est plus un best of remix !