Tiësto 
Mumbai
India
29 march 2013
album photos Mumbai click here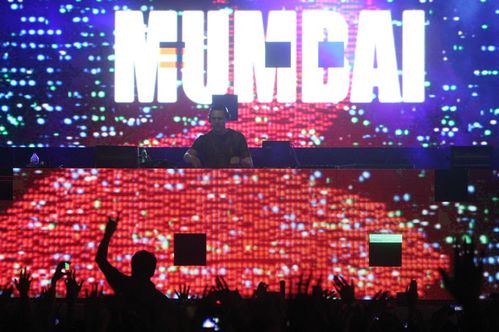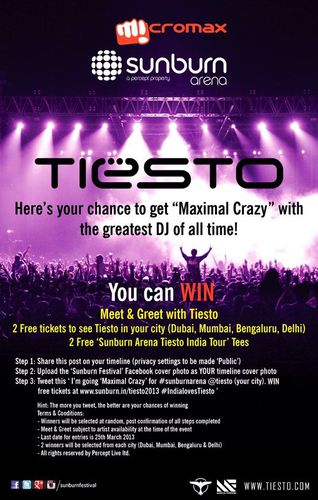 LAST CHANCE to meet 'The Greatest DJ of all time -
Tiësto' in your city. Contest ends today at 6PM (IST). (25 march 2013)
All you have to do is get 'Maximal Crazy' & follow some simple
steps to WIN BIG! #sunburnarena #IndiaLovesTiesto #sunburndubai
Tiësto 
Mumbai
India
29 march 2013
Ticket Price 
Early bird Rs.2035 SOLD OUT
Regular Rs 2500
VIP Rs 4950
Ticket Price 
Early bird Rs.2500 SOLD OUT
Regular Rs 2950
VIP Rs 6250

#ALERT - We have found several fraudulent entities selling fake tickets for
'Sunburn Arena: Tiësto India Tour' at different rates.

We recommend you NOT to buy tickets from any unauthorised ticket sellers.
You can either buy tickets from BookMyShow or from our authorised onground
ticketing partners. (You can check the full list in the
'Ticketing' tab here: http://sunburn.in/tiesto2013/ )

We are in process of taking action against all such individuals who
are engaged in the sale of any fake tickets. People who are found with
fake tickets will not be allowed to enter the 'Sunburn Arena'.

Our tickets have certain symbols & identification that shall deem it to
be an 'Official Sunburn ticket' issued by Percept and/or its ticketing agents.
If you have been a victim to the above, please report the same to Sunburn at info@sunburn.in

Thanks for your continued support and trust. See you at Sunburn Arena!