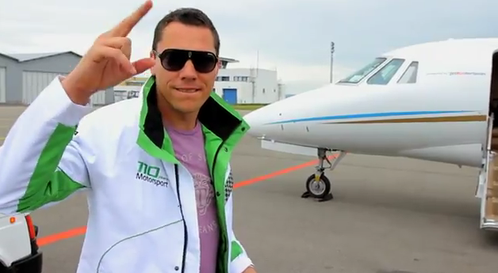 Tiësto interview for Cosmopolitan
"my new artist album in June"
On South African audiences…
Sur le public de l'Afrique du Sud...
It's been a while since I was last in South Africa but I remember it being a really great experience.
All cultures are different yet I feel like there's a common bond among dance music fans around the world.
Ca fait deja un bon que je suis dernier en Afrique du Sud , mais je me souviens que c'était une très
belle expérience . Toutes les cultures sont différentes, mais je sens qu' il ya un lien commun parmi
les fans de musique de danse du monde entier .

On his favourite festival…
Sur son festival préféré ...
I really like performing at Ultra in Miami – it's one of the key music events of the year in the US.
Most of the dance industry and so many fans come to Miami, so Ultra provides quite a stage.
That's why I'm so excited to see what the South African event will be like!
J'aime vraiment être à  Ultra de Miami - c'est l'un des événements musicaux marquants de l'année
aux États-Unis . La plupart de l' industrie dance et de nombreux fans viennent à Miami...
 C'est pourquoi je suis tellement excité de voir ce que va être l'événement Ultra de L'afrique du Sud


On staying sane before a show…
De rester sain d'esprit avant un spectacle ...
I often have close friends backstage with me at festivals, so we're always having
fun and cracking jokes. It's a good way to relax.
J'ai souvent des amis proches dans les coulisses avec moi lors de festivals , de sorte que nous
sommes toujours à s'amuser et se faire des blagues . C'est une bonne façon de se détendre .

On the track that never fails to work up a crowd…
Sur le single qu'il ne faut jamais oublier de mettre pour le public
There are the obvious tracks, the classics; but right now I'm happy that audiences are
going crazy for my latest single, Red Lights.
Il ya des pistes évidentes , les classiques , mais en ce moment je suis heureux
que le public devient fou pour mon dernier simple, Red Lights
 
On what makes a good party…
Sur ce qui fait une bonne partie ...
Great music, great fans, a great venue and a great sound system/production.
My residency at Hakkasan Las Vegas is the best party – I love it.
La grande musique, des fans, un endroit idéal et un excellent système de son / production .  
Mon séjour à Hakkasan Las Vegas est la meilleure partie - je l'aime.

On the perfect set length…
Sur la parfaite longueur d' ensemble ...
It depends on the crowd, the size of the venue, the context. I don't really have
a favourite set length because I play in many different situations.
Cela dépend de la foule , la taille de la salle , le contexte . Je n'ai pas vraiment une longueur
d' ensemble préféré parce que je joue dans de nombreuses situations différentes .

On melody vs beat…
Sur la mélodie contre le rythme ...
I'll always choose melody because in dance music a beat is pretty
much a given. There's nothing like a great melody.
Je vais toujours choisir la mélodie , car la dance music est un rythme à
peu près une donnée . Il n'y a rien comme une grande mélodie .

On what he listens to in his downtime…
Sur ce qu'il écoute en ce moment...
Lately, I've been listening to Sigur Rós, Icona Pop and Kanye.
Dernièrement, j'ai écouté Sigur Rós , Icona Pop et Kanye .

On the one thing he truly dislikes…
Sur la seule chose qu'il n'aime vraiment pas...
Bad sound. I'm really particular when it comes to the quality of my headphones –
so much so that I designed my own range [AKG by Tiësto].
Le mauvais son . Je suis vraiment particulier quand il s'agit de la qualité de mes écouteurs -
tant et si bien que j'ai conçu ma propre gamme [ AKG par Tiësto ] .
 
On the typical Tiësto fan…
Sur la fan typique Tiësto ...
Tiësto fans are brilliant people and, overall, fans of great music. Obviously. [Laughs]
Les fans de Tiësto sont des gens brillants et, dans l'ensemble ,
les fans de la grande musique . Évidemment . [Rires ]
 
On the direction EDM is taking…
Sur la direction EDM prend ...
It seems that EDM will keep getting bigger and better. I think it's all about evolution – you'll see that if you look at my career over the years. I strongly believe that you can't stay the same for too long in this industry.
Il semble que l' EDM va rester, s'agrandir et de meilleur qualité . Je pense qu'il est au sujet de l'évolution,
vous verrez que si vous regardez ma carrière au fil des ans, Je crois fermement que vous
ne pouvez pas rester longtemps le même dans l'industrie de la musique.


On what's next for him…
Sur ce qui est à côté de lui ...
I'm looking forward to playing lots of shows and releasing my new artist album in June.
Je suis impatient de jouer beaucoup de spectacles et de libérer mon nouvel album solo en Juin.

Catch Tiësto's headline spot at Ultra South Africa in Cape Town and Jo'burg this weekend.
 Tiësto sera à L'utra en Afrique du Sud - Cape Town et Johannesburg ce week-end .

source cosmopolitan.co.za