Tiësto Meet Tour 2012 and Skoda
Lancement de La skoda Citigo Rally
avec à l'arriére possibilité de mettre une platine dj
et un son de 100 000 watts stéréo system ...
As well as the Citigo Rally, Skoda will be taking the Skoda DJ car,
which gets a 100,000-watt stereo system, and will be used in the
evening on the centre stage show.

Dates Meet Tour 
Austria & Germany 17.05.2012
UK - Birmingham 01.06.2012 
France - Paris 03.06.2012
Italy 20.06.2012
Czech Republic 20.07.2012
no info for the moment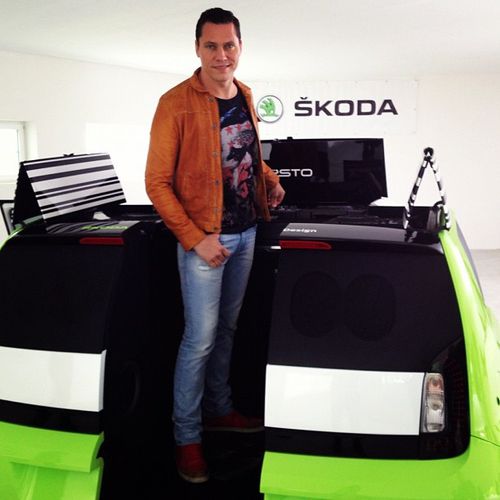 Voici ce qu'on peut voir depuis aujourd'hui !
Aucune précision sur le lieu, à quoi cela correspond,
la journée, un concert .. pour le moement rien de plus !!!!

juste que Tiësto à indiqué à la suite d'une video de Skoda
et d'un lien qui raméne à une photo avec:
Hey everyone. You know, I'm working on this exciting new project but
somehow something is missing. Like it just needs a little sound
tweaking. Anyone know somebody who can help?
Salut tout le monde. Vous savez, je travaille sur ce nouveau projet passionnant, mais
en quelque sorte quelque chose manque. Comme il faut juste un peu de bruit
peaufinage. Tout le monde connaît quelqu'un qui peut m'aider?

Et à Tiësto de répondre:
Tout ceci est une bonne dose de publicité mais que va t'il y avoir ??
La video (pub) de Skoda avec une poupée en forme de Tiësto à la fin!!!