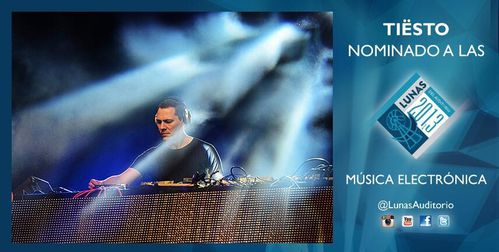 Tiësto nominated for
Las Lunas del Auditorio 2013
Ceremony: october 30, 2013

Nominees for  Música Electrónica 2013
Tiësto
Armin Van Buuren
David Guetta
Skrillex
LMFAO
Results Las Lunas del Auditorio 2013, click
Lunas del Auditorio est une reconnaissance par l'Auditorium National au meilleur
  des spectacles au Mexique, la médaille est une réplique de la Lune sculpture du sculpteur
Juan Soriano qui est hors de l'enceinte. Ce prix est transmise par Televisa,
TV canal 22 Conaculta aztèque et une fois Institut National Polytechnique TV.
Le prix a été créé en 2002 avec le 50e anniversaire de l'Auditorium National.
Il est destiné à récompenser des groupes ou solistes entreprises au Mexique.
Lunas del Auditorio es un reconocimiento otorgado por el Auditorio Nacional
a los mejores espectáculos en vivo en México, la presea es una replica de la
escultura de la Luna del escultor Juan Soriano que se encuentra afuera de ese recinto.
Este premio es transmitido por Televisa, Tv azteca canal 22 de Conaculta y Once TV
del Instituto Politécnico Nacional.
El premio fue creado en 2002, con la celebración del 50 aniversario del Auditorio Nacional
. Está destinado a premiar a grupos, compañías o solistas que actúan en México.
Lunas del Auditorio is a recognition by the National Auditorium at the best live
shows in Mexico, the medal is a replica of the Moon sculpture by sculptor Juan Soriano  
who is out of the enclosure. This award is transmitted by Televisa, TV channel 22  
Conaculta Aztec and Once TV National Polytechnic Institute.
The award was created in 2002 with the 50th anniversary of the National Auditorium.
It is intended to reward groups or soloists performing companies in Mexico.