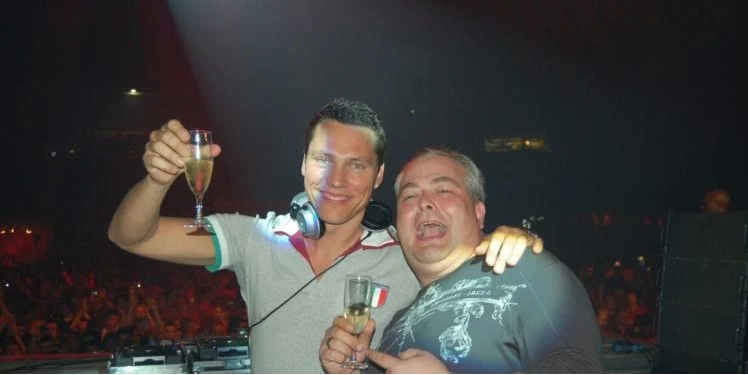 Dimitri de Wit, Former Manager of Tiësto
in the early 2000s, is Dead at 51
blackholerecordings: Dimitri de Wit, 1969 - 2020. †
After a short and heavy battle with cancer, we've lost our colleague and dear friend Dimitri de Wit on Thursday, August 6th. 💔
Dimitri was diagnosed with pancreatic cancer in the first week of June, and despite his best attempts and incredibly positive attitude, his cancer was sadly enough way too agressive to give him any kind of fighting chance. And so it is with heavy hearts, that all of us at Black Hole extend our sincere condolences to Dimitri's girlfriend, family and friends, and those colleagues from the music industry who have been in his life.
Those that knew him well, know that he always lived life to the fullest, and that he could light up a room or in his case backstage area simply by entering.
He was always up for a party, and even if he didn't show up on time, he was usually the last one to leave.
He could make almost everyone smile with his great sense of humor. He could be loud. He was quite unique.
On a personal note, Dimitri has been a close and loyal friend for a very long time, and we've shared many adventures together.
I will miss him terribly, but I will mostly remember him with a smile on my face, and I hope so will you.
The last time we spoke, he told me he'd be prepping the VIP room up above, and knowing Dimi, he's invited some more people to that event already.
Goodbye my friend, I hope you rest in peace!
This is the one party you left way too early…😢
Arny Bink,
Black Hole Recordings
Thanks for all the great memories and for your friendship @Dimitridewit 💔 RIP pic.twitter.com/WLHS1xMFQ7

— Tiësto (@tiesto) August 7, 2020
Dimitri de Wit, Tiësto's ex manager, on building Tiësto,
DJing and the trance scene.