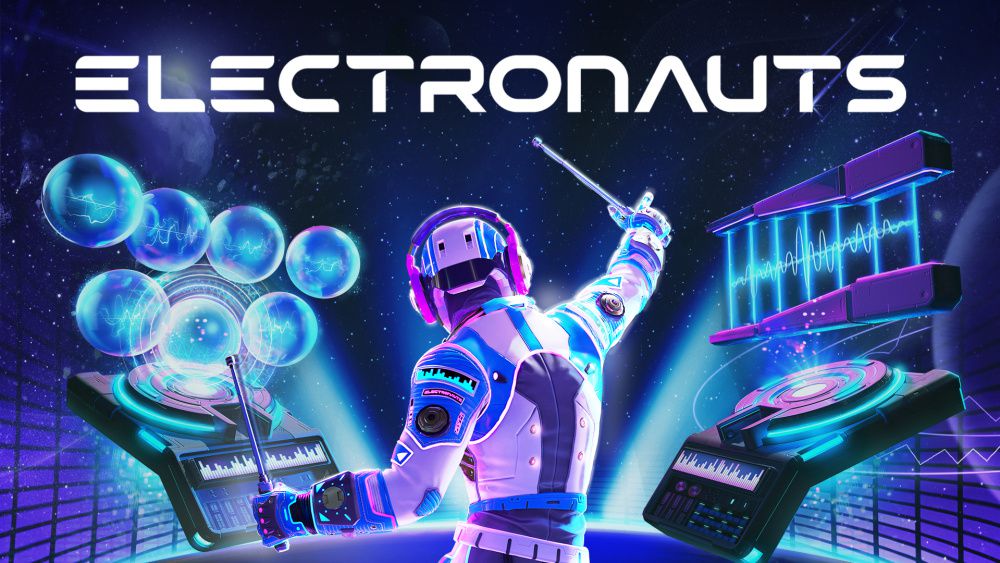 Electronauts VR Music App Launches
With Tiësto, The Chainsmokers, Tiesto,
Steve Aoki and more...
Los Angeles-based virtual reality startup Survious is getting ready to launch Electronauts, a new virtual reality (VR) app that allows users to playfully mix and remix songs in real-time. Electronauts will launch on HTC Vive, Oculus Rift and PlayStation VR headsets on August 7, and come with remixable tracks from musicians including The Chainsmokers, ODESZA, Steve Aoki, Tiesto and DJ Shadow.
Survios first announced Electronauts late last year, and then demonstrated it at CES in Las Vegas this past January. The app sits somewhere between a game and a music production tool: It allows players jam with the individual elements of a track, and arrange them on the fly. Users can also team up with their online friends to jam together, and the music is accompanied by trippy 3D visuals.

Electronauts will be available on Oculus Rift and HTC Vive via Steam, where it will sell for $19.99. PlayStation VR users will have access to it via the PlayStation Store for $17.99.Survios is also launching Electronauts in VR arcades in 38 countries. The startup has long been a pioneer in the location-based VR business, primarily distributing titles to independently operated arcade partners, but also operating its own VR arcade in Torrance, Calif.
Survios CEO Seth Gerson recently told Variety that the company plans to open additional owned-and-operated arcades in the coming months as well, and compared these efforts to Google producing its own phones. "We are creating inspirational flagships," he said.
Here's the complete list of tracks available to remix with Electronauts at launch:

The Chainsmokers – Roses (ft. ROZES)

ODESZA – Say My Name (ft. Zyra)

Steve Aoki & Boehm – Back 2 You (ft. WALK THE MOON)

Tiesto & John Christian – I Like It Loud (ft. Marshall Masters & The Ultimate MC)

ZHU & Tame Impala – My Life

ZHU & NERO – Dreams

ZHU – Intoxicate

12th Planet – Let Me Help You (ft. Taylr Renee)

Netsky – Nobody

Dada Life – B Side Boogie, Higher Than The Sun, We Want Your Soul

Keys N Krates – Dum Dee Dum [Dim Mak Records]

Krewella & Yellow Claw – New World (ft. Vava)

Krewella – Alibi

Amp Live & Del The Funky Homosapien – Get Some of Dis

DJ Shadow – Bergshrund (ft. Nils Frahm)

3LAU – Touch (ft. Carly Paige)

Machinedrum – Angel Speak (ft. Melo-X), Do It 4 U (ft. Dawn Richard)

People Under The Stairs – Feels Good

Tipper – Lattice

TOKiMONSTA – Don't Call Me (ft. Yuna), I Wish I Could (ft. Selah Sue)

Reid Speed & Frank Royal – Get Wet

AHEE – Liftoff

BIJOU – Gotta Shine (ft. Germ) [Dim Mak Records]

Anevo – Can't Stop (ft. Heather Sommer) [Dim Mak Records]

KRANE & QUIX – Next World [Dim Mak Records]

B-Sides & SWAGE – On The Floor [Dim Mak Records]

Gerald Le Funk vs. Subshock & Evangelos – 2BAE [Dim Mak Records]

Max Styler – Heartache (Taiki Nulight Remix), All Your Love [Dim Mak Records]

Riot Ten & Sirenz – Scream! [Dim Mak Records]

Fawks – Say You Like It (ft. Medicienne) [Dim Mak Records]

Taiki Nulight – Savvy [Dim Mak Records]

Jovian – ERRBODY

Madnap – Heat

MIKNNA – Trinity Ave, Us

5AM – Peel Back (ft. Wax Future)

Jamie Prado & Gregory Doveman – Young (Club Mix)

Coral Fusion – Klip [Survios original]

GOODHENRY – Wonder Wobble [Survios original]

Starbuck – Mist [Survios original]