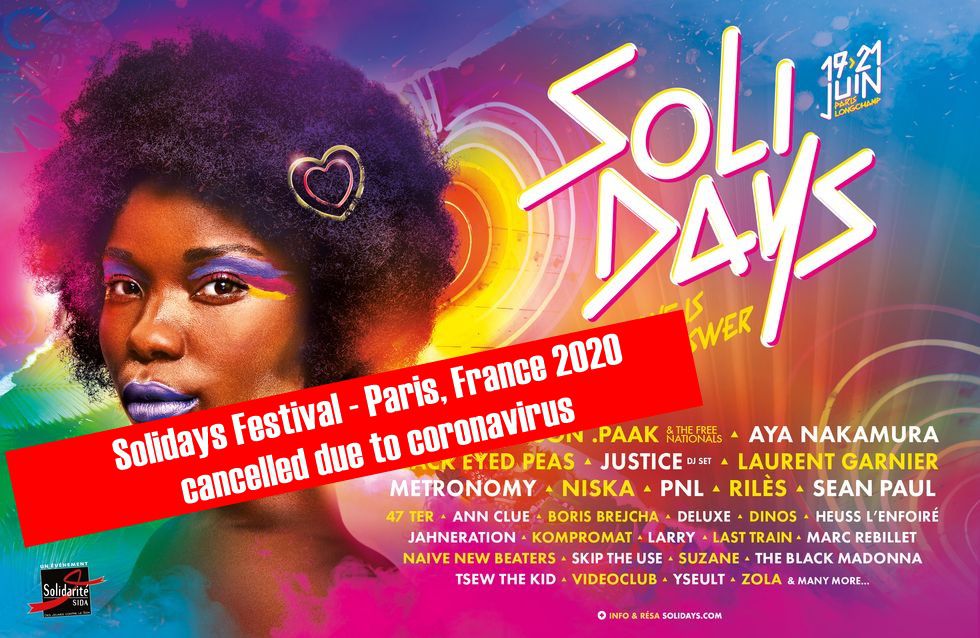 ⚠ Solidays Festival - Paris, France 2020,
cancelled due to coronavirus ⚠
It is with a heavy heart that we share this sad news with you. Solidays will not (re) enchant the world this year. And yet everything was going so well. The poster was beautiful and the attendance record was about to be broken. But lo and behold, the curtain dropped, showering our last hopes. Without forgetting the 3 million euros expected result that will disappear.
We were all looking forward to this event to share the "pleasure of being useful" and the "pleasure of being together".
This is why, even though scattered and confined, the Solidarité Sida team was more active than ever in dealing with this unprecedented crisis and finding solutions. The idea of ​​the postponement at the beginning of September, initially privileged, had to be abandoned in the face of too many uncertainties that remained.
One of the most difficult decisions we had to make was to cancel the festival. It immerses Solidarité Sida in a brutal reality. 3 million euros of expected profit will disappear. So how do you finance the many patient assistance and prevention programs run or supported through Solidays?
The call for mobilization is launched in particular with loyal public and private partners of the festival. From the beginning of May, of course, those who wish to be reimbursed will be able to request it. Faced with the situation, perhaps some will choose not to do so.
At Solidarité Sida, urgency and adversity are part of our daily lives. We are used to it. But there, today, tomorrow, we are going to need your help if we are to hope for a happier and more united tomorrow.
More than ever, "Love is the answer".
Français
C'est le cœur lourd que nous vous partageons cette triste nouvelle. Solidays ne (ré)enchantera pas le monde cette année. Et pourtant, tout allait si bien. L'affiche était belle et le record de fréquentation sur le point d'être battu. Mais voilà, le rideau s'est baissé, douchant nos derniers espoirs. Sans oublier les 3 millions d'euros de résultat attendus qui vont disparaître.
Cet événement, nous l'attendions tous avec impatience pour partager le « plaisir d'être utile » et le « plaisir d'être ensemble ».
C'est pourquoi, même éparpillée et confinée, l'équipe de Solidarité Sida s'est montrée plus active que jamais pour faire face à cette crise inédite et trouver des solutions. L'idée du report début septembre dans un premier temps privilégié a dû être abandonnée devant les trop nombreuses incertitudes qui subsistaient.
La décision d'annuler le festival est l'une des plus difficiles que nous ayons eue à prendre. Elle plonge Solidarité Sida dans une réalité brutale. 3 millions d'euros de résultat attendus vont disparaître. Dès lors, comment financer les nombreux programmes d'aide aux malades et de prévention menés ou soutenus grâce à Solidays ?
L'appel à la mobilisation est lancé notamment auprès des fidèles partenaires publics et privés du festival. Dès début mai, bien sûr, ceux qui souhaiteront se faire rembourser pourront en faire la demande. Face à la situation, peut-être que certains choisiront de ne pas le faire.
À Solidarité Sida, l'urgence et l'adversité font partie de notre quotidien. Nous en avons l'habitude. Mais là, aujourd'hui, demain, nous allons avoir besoin de votre aide si l'on veut espérer des lendemains plus joyeux et solidaires.
Plus que jamais, « Love is the answer ».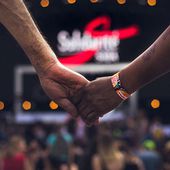 Festival Solidays 19>21 Juin 2020 Paris-Longchamp - Solidays
SOLIDAYS ANNULÉ. SOLIDAYS EN DANGER Solidays ne (ré)enchantera pas le monde cette année. Un coup dur pour notre communauté joyeuse et solidaire. En savoir + Toute la programmation News Sous le ...