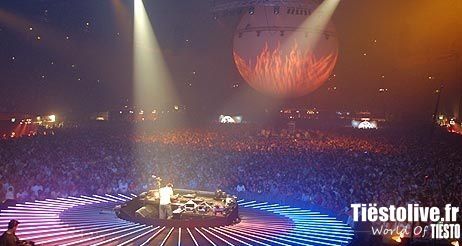 Tiësto video

| Gelredome |

Arnhem, Netherlands

DVD in concert 2004
Once again in 2004, Tiësto has left his mark on the history of dance music when he returned with a new series of Tiësto In Concert. This time he has outdone himself by doing 2 shows in Arnhem, Holland (October 29th and 30th) and a show in Hasselt, Belgium (November 6th), sharing his music and vision with over 70,000 fans.

The theme of the 2004 shows is Magik, a word which has become sort of a trademark for the 3-time-in-a-row winner of DJ Magazines Top 100 list. All sorts of 'Magik' were incorporated into the shows, complimenting Tiësto's sounds with visual entertainment and grandeur. Also several guest performers showcased their talents by performing with and alongside Tiësto during the night, such as Matt Hales from Aqualung and violin player DJ Mason to name a few, not forgetting the unique images of Micha Klein, the Bulgarian Children of Orpheus choir, loads of fireworks and more...

This 3-hour registration shows you Tiësto In Concert 2004 in a way a dance-event never before has been captured, showing you the event from all corners of the stadium, and let's you relive as if you're a part of the audience. It's simply Magik!
Tracklist: Tiësto - in Concert 2004


01. Way Out West - Killa (Original Mix)
02. Portishead - Roads (Sultan & Tone Depth Remix)
03. The Ambush - Everlast
04. Christian Smith & John Selway - Bahamas
05. Interstate - I Found You (Original Mix)
06. Oliver Moldan - Beauty In L.A. (DJ Montana Instrumental Edit)
07. Sienna - La Differenza

VIDEO START HERE

08. Tiesto - Forever Today
09. Tiesto - Olympic Flame
10. Kyau vs. Albert - Made Of Sun (KvA Hard Dub)
11. Inbox - Freelancer
12. Fred Baker vs. Nyram - Confirmation
13. Armin vs. M.I.K.E. - Pound
14. Mannix - Mercury (Original Mix)
15. Salt Lake - Sunset Highway (Mark Norman Remix)
16. Passiva - Serenity (Filo & Peri Remix)
17. Fred Baker estotal Blackout
18. Photon Project - Illusions
19. Tiesto - Breda 8PM (DJ Montana Edit)
20. Michael Burns - Forwards
21. Mojado - El Matador (Original Mix)
22. Tiesto - Walking On Clouds (Original Mix)
23. Tiesto - Sweet Misery
24. Gareth Emery & Mark Dedross Present Wirefly esthe Verdict (Original Mix)
25. Thomas Datt - 2v2 (Robert Nickson Remix)
26. DJ Ernesto - Stop 9.5 (Phynn Salvation Remix)
27. Primer - Everlast (Original Mix)
28. Ridgewalkers feat. El - Find (Andy Moor Remix)
29. Fractal Structure - Lost Sequence (Original Mix)
30. Primo Lux esthe Wall
31. Tiesto - Euphoria
32. Whirlpool & Octagen - Alaska (Filo & Peri Mix)
33. Electrovoya - Effervesce
34. Tiesto - Athena
35. Odysee - Evolution
36. Ferry Corsten - Sweet Sorrow (Thrillseekers Remix)
37. Aqualung - Easier To Lie
38. Tiesto feat. Matt Hales - UR (Original Mix)
39. Tiesto Presents Allure - Eastern Magik
40. Pyhnn - Lucid
41. Tiesto Presents Allure esthe Loves We Lost (Original Mix)
42. Remy & Roland Klinkenberg estil Ya Drop
43. Rob Rolefes - Mel Percuetek
44. Tiesto feat. BT - Love Comes Again (Original Mix)
45. DJ Danjo & Rob Styles - Duende (Signum Remix)
46. Miller & Fijneman - San Andreas
47. Rank 1 - Beats@Rank1.com
48. Re:Locate estyphoon
49. The Children Of Orpheus Choir - Open Your Heart
50. DJ Tiesto - Suburban Train (The Children Of Orpheus Choir Vocal Mix)
51. Push vs. Globe estranceformation
52. Nephilim - Synchronized
53. Tiesto - Just Be (Antillas Club Mix)
54. Tiesto - Adagio For Strings (Original Mix)
55. DJ Tiesto - Lethal Industry 2004
56. Tiesto Presents Allure - Spastik
57. Tiesto - Heroes
58. Tiesto - Magikal Circus
59. Tiesto - Goldrush (DJ Montana Remix)
60. Tiesto estraffic (DJ Montana's 12′ Edit)
61. Kay D. Smith & Marc Tall Present Passive Resistance - Praiseworthy Tunes (Hoipolloi Mix)
62. Jesselyn - Omnia (Tech-trance Mix)
63. Joop esthe World
64. Marcos - Cosmic String (Original Mix)
65. Matti Laamanen - Live (Original Mix)
66. Vadik - Fate
67. Riley & Durrant - Home
68. Darren Tate - Prayer For A God
69. Nu NRG feat. Gate 4 - Astralis
70. M.I.D.O.R. & Six4Eight - No Mans Land
71. Paul Vernon - Mind Decay (Original Mix)
72. ATN - Miss A Day
73. Avanto esthe Flute (Airbase Remix)
74. Tiesto - Coming Home
75. Dark Alliance - Vibration
76. Push - Universal Nation
77. Gouryella - Gouryella (Original Mix)
78. Oakenfold - Southern Sun (DJ Tiesto Remix)
79. Kamaya Painters - Endless Wave (Original Mix)
80. Yahel & Eyal Barkan - Voyage (Original Mix)
81. BT - Mercury & Solace (12′ Mastermix)
82. Veracocha - Carte Blanche (Original Mix)
83. Delerium - Silence (DJ Tiesto In Search Of Sunrise Remix)