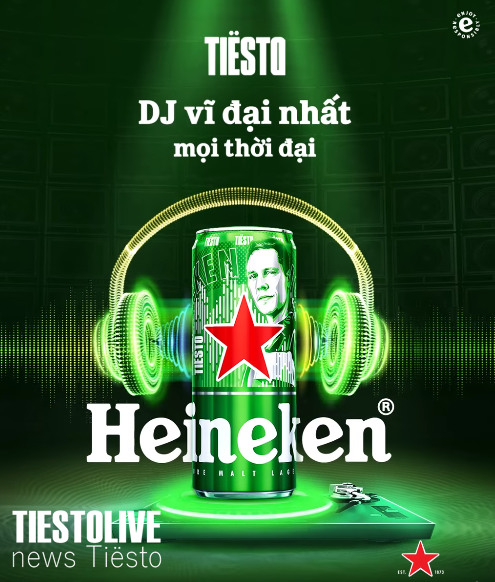 Tiësto & Heineken,
new collab in Vietnam for 2021
These limited edition large box models will come with a special QR code that will allow consumers to activate a virtual reality (AR) music experience. EDM fans can even mix and match their own music by visiting the official campaign website at http://heinekendjs.com.vn/. From May 17 at 11:59 p.m. on June 13, 2021 (the virtual reality music experience will run from May 24 to June 20, 2021 at 11:59 p.m.), consumers will have the opportunity to own one of more than 3,000 prizes from value, including a limited edition Heineken ® T-shirts, premium Harman Kardon speakers, Spotify 12 month premium plan and iPhone 12 Pro Max mobile phone.
The famous beer brand excites netizens by announcing a cooperation campaign with many international DJs, promising to surprise Vietnamese fans in the near future.
After "openly" about shaking hands with the world's greatest DJs carrying the message "Waiting for new heights", Heineken officially announced a list of collaborating DJs including: Tiësto, duo Dimitri Vegas and Like Mike, KSHMR and Quintino.
"Look forward to world famous DJs who will bring you a whole new musical experience, created for you, coming out soon," the international beer brand said on social media.
Facebook (may 10, 2021)
TOP DJs, MUSIC IN YOUR HANDS!
No more waiting, the top DJs teaming up with Heineken in Heineken x Top DJs Version for Vietnam has appeared! Tiësto, Dimitri Vegas & Like Mike, KSHMR and Quintino - world famous DJs will bring you exclusive tracks on the Spotify Heineken Playlist. In particular, a brand new music experience created for you will be released soon. Let's wait!
La célèbre marque de bière excite les internautes en annonçant une campagne de coopération avec de nombreux DJ internationaux, promettant de surprendre les fans vietnamiens dans un proche avenir. Après avoir "ouvertement ouvert" à propos de serrer la main des plus grands DJ du monde portant le message "En attendant de nouveaux sommets", Heineken a officiellement annoncé une liste de DJ collaborateurs comprenant: Tiësto, le duo Dimitri Vegas et Like Mike, KSHMR et Quintino.
"Attendons avec impatience les DJ de renommée mondiale qui vous apporteront une toute nouvelle expérience musicale, créée pour vous, qui sortira bientôt", a déclaré la marque de bière internationale sur les réseaux sociaux.
Facebook (le 10 mai 2021)
TOP DJs, LA MUSIQUE ENTRE VOS MAINS!
Plus besoin d'attendre, les meilleurs DJ qui font équipe avec Heineken dans Heineken x Top DJs version Vietnam sont apparus! Tiësto, Dimitri Vegas & Like Mike, KSHMR et Quintino - des DJ de renommée mondiale vous proposeront des morceaux exclusifs sur la playlist Spotify Heineken. En particulier, une toute nouvelle expérience musicale créée pour vous sera bientôt disponible. Attendons!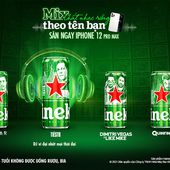 Phiên bản lon cao Heineken® x Top DJs độc đáo cho người dùng Việt
Tháng 5 này, nhãn hiệu Heineken® hợp tác cùng các huyền thoại âm nhạc điện tử (EDM) bao gồm Tiësto, Dimitri Vegas & Like Mike, KSHMR và Quintino, chính thức ra mắt p...
https://congngheviet.com/phien-ban-lon-cao-heineken-x-top-djs/