"I wanted to make an album that's more song-based," the producer, born Tijs Michiel Verwest, says over the phone from Stockholm, a place he calls "his home base when he's in Europe" and also where he recorded parts of A Town Called Paradise; the rest was done in his Las Vegas studio. When he talks about the album, he stays committed to that idea, making sure to refer to the album's "songs" rather than tracks. "I never wrote songs before; I only did DJ sets," he explains. "So to really write songs, I had to listen to guitar melodies and think about how to express myself in the lyrics. It reflects who I am, what I stand for, and my lifestyle. It's closer to me than any other album I've done before."

«Je voulais faire un album qui est plus basée sur la chanson", le producteur, né Tijs Michiel Verwest, dit par téléphone de Stockholm, un endroit qu'il appelle «son port d'attache quand il est en Europe" et aussi où il a enregistré des parties de A Town Called Paradise; le reste a été fait dans son studio de Las Vegas. Quand il parle de l'album, il reste déterminé à cette idée, en veillant à se référer aux «chansons» de l'album plutôt que des pistes. «Je n'ai jamais écrit des chansons avant, je n'ai fait que des ensembles DJ," explique t-il. "Donc, pour vraiment écrire des chansons, je devais écouter les mélodies de guitare et de réfléchir à la façon de m'exprimer dans les paroles. Elle reflète qui je suis, ce que je suis pour, et mon style de vie. C'est plus près de moi que n'importe quel autre album je avez fait avant. "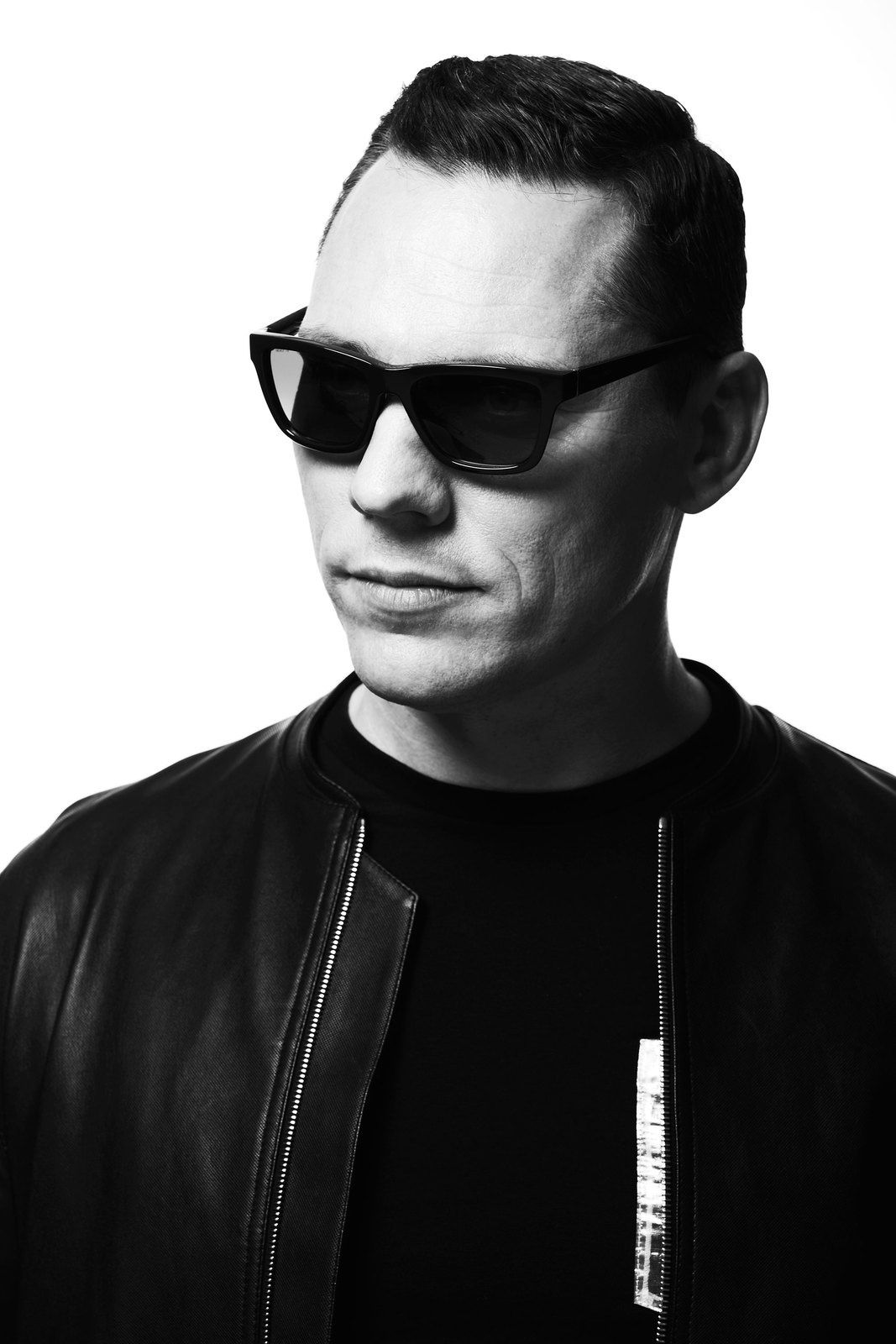 Tiësto wears a jacket by Alexander Wang, t-shirt by Mugler, jeans by Balmain, sunglasses by Giorgio Armani
It's not unexpected that Verwest veered more towards indie rock on this album. Not only did his last one have streaks of the genre but also in his down time, Verwest likes to unwind with the soothing melodies of indie kingpin Bon Iver. "It's so relaxing because my own music is so high energy and hard and wild," he says. "For me to chill out, I want to listen to the opposite like Bon Iver, a little bit of Drake, Sigur Rós, Jose Gonzales, those kinds of artists." I ask him if he's considered going in that direction with his own material. "In the far far future I would love to make a chill out album," he says. "I'm going to do that one day when I have enough time. But for now, I still love the energy in my songs, love to party and travel, and that's the sound I want to be making."

Il n'est pas surprenant que VTiësto à t viré plus vers le rock indie sur cet album. Non seulement son dernier est le reflet du genre, mais aussi dans son temps d'arrêt, Verwest aime se détendre avec les mélodies apaisantes de pivot indie Bon Iver. "C'est tellement relaxant parce que ma propre musique est si haute d' énergie, dur et sauvage», dit-il. «Pour moi, Chill Out, je veux écouter le contraire comme Bon Iver, un peu de Drake, Sigur Rós, Jose Gonzales, ces sortes d'artistes." Je lui demande si il est considéré comme allant dans cette direction avec son propre matériel. "Dans le futur lointain loin J'aimerais faire un album chill-out», dit-il. «Je vais le faire un jour, quand j'ai le temps. Mais pour l'instant, j'aime encore l'énergie dans mes chansons, l'amour de la fête et Voyage, et c'est le son que je veux être prise."
Tiësto has managed to keep the party alive for nearly two decades -- to the point where he's seen a completely new generation latch onto his souped-up dance music. "Some people grew with me and others just checked out and I got new fans to replace them," he says, alluding to the moment his trance sound evolved into more rock and pop-based club music with his 2007 album Elements of Life. "I would say 50% of my fans like the older stuff and 50% like the newer stuff. It's nice to see that I can influence older fans and newer ones. I have fans who are 12 years old and I have fans who are 60. It's funny to see them together partying at one of my shows."

Like his audiences, Tiësto's dance peers span across multiple decades as well. Now he's mentoring a younger generation of dance producers, resurrecting the Dutch house music he grew up around. "It's absolutely amazing to see Martin Garrix and Oliver Heldens have number one hits," Tiësto says. "Oliver Heldens came to me with some songs and I told him, 'Do you have anything special?' And he said, 'I made this one for my dad because he's a big '90s house fan.' I heard the song, 'Gecko,' and was like, 'That's it. I want to sign that one.' Those guys call me for advice. I love to be in that world because they're the future of dance music."

Tiësto a réussi à garder le groupe en vie pendant près de deux décennies - au point où il a vu un tout nouveau verrou de génération sur sa musique de danse gonflée. "Certaines personnes ont augmenté avec moi et d'autres juste vérifié et j'ai eu de nouveaux fans à les remplacer», dit-il, faisant allusion à l'instant le son de sa transe évolué en plus rock et musique de club en fonction de pop-avec ses 2007 album Elements of Life. «Je dirais que 50% de mes fans aime le Tiësto d'avant et 50% aime la plus récente. C'est agréable de voir que je peux influencer les fans plus âgés et les plus récents. J'ai des fans qui sont âgés de 12 ans et j'ai des fans qui sont 60 . C'est drôle de les voir ensemble faire la fête à un de mes spectacles. "

Comme son public, de ses pairs de danse de Tiësto s'étendent sur plusieurs décennies ainsi. Maintenant, il manage une jeune génération de producteurs de danse, de ressusciter la maison de la musique néerlandaise il a grandi autour. «C'est absolument incroyable de voir Martin Garrix et Oliver Heldens ont Number One Hits», dit Tiësto. "Oliver Heldens venu à moi avec quelques chansons et je lui ai dit,« Avez-vous quelque chose de spécial? Et il dit: «J'ai fait celui de mon père parce qu'il est un grand fan des années 90 de la maison." J'ai entendu la chanson, «Gecko», et j'étais comme, 'C'est tout. Je veux signer celui-là. " Ces gars m'appellent pour des conseils. J'aime être dans ce monde, car ils sont l'avenir de la musique de danse ".

source and than you for big photos