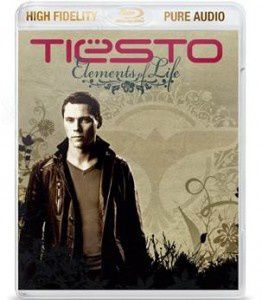 Tiësto, album Elements of Life
dans un nouveau format: Auro-3D


Mol, en Belgique, le 28 Octobre 2014 - le L'album séminal "Eléments de la vie" de
Tiësto sera publié en un mélange Auro-3D®, apportant un son naturel et
immersif à cet album de dance classique. Le DJ et producteur néerlandais
a été salué comme le meilleur DJ du monde pendant trois années consécutives.
Troisième album studio de Tiësto "Eléments of Life" a été nominé aux
Grammy Awards pour le meilleur album Electronic / Dance lors de la remise
des Grammy Awards 50e en 2008 et certifié disque d'or dans de nombreux pays.
Mol, Belgium, 28 October 2014 – The seminal album "Elements of Life" of Tiësto
will be released in an Auro-3D® mix, bringing a natural and immersive sound to
this classic dance album. The Dutch DJ and producer has been hailed as the
world's best DJ for three consecutive years. Tiësto's third studio album
"Elements of Life" was Grammy nominated for Best Electronic/Dance album
during the 50th annual Grammy awards in 2008 and gold certified in numerous countries.

"Elements of Life" en DTS-HD MA 5.1 et Auro-3D® seront disponibles sur
"Audio Blu-ray pure» (24 bits / 96 kHz) par Magik Muzik / Black Hole Recordings.
L'album a été mixé par Ronald Prent, ingénieur en chef et son co-fondateur
de Wisseloord Studios, basé aux Pays-Bas, et masterisé par trois fois aux
Grammy primé ingénieur de mastering, Darcy Proper.
"Elements of Life" in DTS-HD MA 5.1 and Auro-3D® will become available on
'Pure Audio Blu-ray' (24 bit/96kHz) through Magik Muzik/Black Hole Recordings.
The album has been mixed by Ronald Prent, Chief Sound Engineer and
Co-Founder of Wisseloord Studios, based in the Netherlands, and mastered
by three-time Grammy award-winning Mastering Engineer, Darcy Proper.
l'album sera disponible pour le mois de décembre 2014
album available in the world, december 2014
Dennis Waakop Reijers-Fraaij, le producteur avec Tiësto de "Elements of Life», a commenté:
"Enfin, je pouvais entendre tous les détails subtiles en termes d'espace et de profondeur dans le mélange Auro-3D®, que je ne pouvais pas obtenir de la stereo Mix. Auro-3D® et la dance music font une combinaison fantastique car ils sont à la fois tout au sujet de l'expérience. Auro-3D® est enfin le plus grand pas vers réellement en trois dimensions audio, comme cela est la façon dont nous faisons l'expérience du son dans le monde réel. Qu'il suffise de dire, je suis très impatient de poursuivre la coopération dans un avenir proche ".

Dennis Waakop Reijers-Fraaij, the producer together with Tiësto of "Elements of Life" commented, "Finally I could hear all the subtle details in terms of space and depth within the Auro-3D® mix, which I couldn't get from the stereo mix. Auro-3D® and dance music make a fantastic combination as they are both all about the experience. Auro-3D® is finally the largest step towards truly three dimensional audio, as this is the way we experience sound in the real world. Suffice to say, I'm very much looking forward to further cooperation in the near future".


Wilfried Van Baelen, chef de la direction de Technologies Auro, a déclaré que «nous sommes ravis de sortir cet album en Auro-3D®. Le mélange d'un album par un artiste prestigieux comme Tiësto - le numéro 1 DJ dans le monde trois années d'affilée - montre qu'il ya une prise de conscience croissante pour le son 3D immersif développé par Auro Technologies. Nous sommes très heureux de donner une nouvelle dimension à cet album de danse classique. "L'album sortira dans le monde entier à partir de Décembre 2014 et tous les principaux canaux de distribution physique incl. Amazon.com, Amazon.co.uk et Bol.com.

Wilfried Van Baelen, CEO of Auro Technologies, said that "we are delighted to release this album in Auro-3D®. Mixing an album by such a prestigious artist as Tiësto – the number 1 DJ in the world 3 years in a row – shows that there's a growing appreciation for the immersive 3D sound developed by Auro Technologies. We are very happy to give a new dimension to this classic dance album." The album will be released worldwide as of December 2014 through all major physical retail channels incl. Amazon.com, Amazon.co.uk and Bol.com.