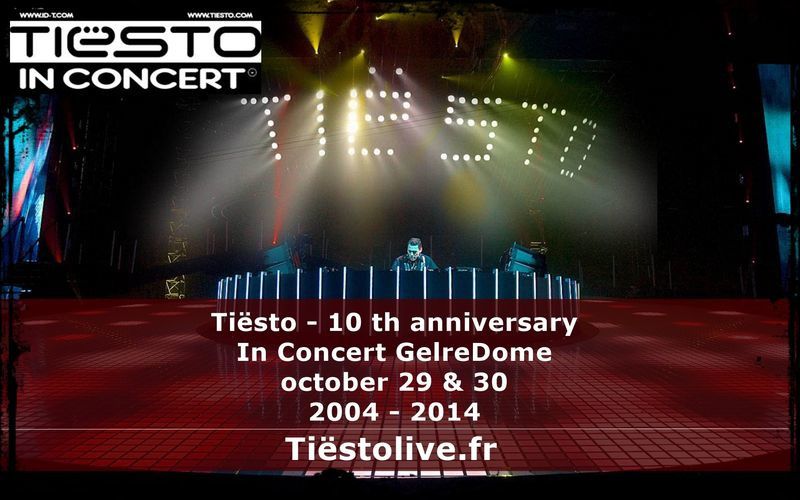 "Once again in 2004, Tiësto has left his mark on the history of dance music when he returned with a new series of Tiësto In Concert. This time he has outdone himself by doing 2 shows in Arnhem, Holland(October 29th and 30th) and a show in Hasselt, Belgium (November 6th), sharing his music and vision with over 70,000 fans. The theme of the 2004 shows is Magik, a word which has become sort of a trademark for the 3-time-in-a-row winner of DJ Magazines Top 100 list. All sorts of 'Magik' were incorporated into the shows, complimenting Tiëstos sounds with visual entertainment and grandeur. Also several guest performers showcase their talents by performing with and alongside Tiësto during the night, such as Matt Hales from Aqualung and violin player DJ Mason to name a few, not forgetting the unique images of Micha Klein, the Bulgarian Children of Orpheus choir, loads of fireworks and more...
This 3-hour spectacular shows you Tiësto In Concert 2004 in a way a dance-event never before has been captured, showing you the event from all corners of the stadium, and lets you relive as if you're a part of the audience. It's simply Magik!"

"Une fois de plus en 2004, Tiësto a laissé sa marque sur l'histoire dans la dance music quand il est retourné avec une nouvelle série de Tiësto In Concert. Cette fois, il a lui-même dépassé en faisant deux spectacles dans Arnhem, Pays-Bas (de 29 et de 30 Octobre) et un spectacle à Hasselt, Belgique (6ème Novembre), le partage sa musique et sa vision avec plus de 70.000 fans.
Le thème des spectacles 2004 est Magik, un mot qui est devenu une sorte de marque de commerce pour le 3 fois n°1 du top 100 Dj mag. Toutes sortes de «Magik» ont été incorporées dans les spectacles, complimentant Tiesto's sons avec animation visuelle et la grandeur. Également plusieurs artistes invités
présentant leurs talents en jouant avec et aux côtés de Tiësto au cours de la nuit, comme comme Matt Hales de Aqualung et le joueur de violon DJ Mason pour ne citer qu'eux, sans oublier l'exceptionnel images de Micha Klein, les bulgares Enfants de chœur Orphée, les charges de feux d'artifice et plus ...
Ce 3-heure spectaculaire vous montre Tiësto In Concert 2004 dans un chemin une dance-événement a jamais été capturés, vous montrant le cas de tous les coins du stade, et vous permet de revivre comme si
vous êtes une partie de l'auditoire. Il est tout simplement Magik! "
2 nights were sold out in less then 1.5 hour

Tickets: 40€ / VIP 88.25€ presale august 28, 2004
Tiësto:'I was really aware of what was going on, the music was just right - a mix of all my big tunes and new tunes, everything just felt perfect that night. I played for nine hours straight, and it was my favourite gig ever.'

Tiësto: «J' étais très conscient de ce qui se passait, la musique était juste - un mélange de tous mes grands airs et de nouvelles mélodies, tout juste parfait ce soir-là. J'ai joué pendant neuf heures d'affilée, et il a été mon concert préféré "
Live In Concert
Gelredome october 29, 2004
PreParty
01. Way Out West - Killa
02. Ozgur Can Feat Nick Beman - Not Even Winds (Dub- Mix)
03. Nathan Fake - The Sky was Pink (James Holden Remix)
04. Delerium - Innocente (DJ Tiesto Remix)
05. The Beloved - Sweet Harmony (Kosmas Epsilon & Zorz' Northern People Mix)
06. Interstate - I Found U
07. Gabriel & Dresden - Arcadia
08. Oliver Moldan - Beauty In LA (Main Mix)
09. De Nuit - All That Mattered (Junior Jack Dub)
http://dfiles.eu/files/pkqtattaq
Concert
01. Tiesto - Forever Today [Live Electric Guitar Performance]
02. Armin vs M.I.K.E. - Pound
03. Vercetti - In Control
04. Hemstock & Jennings - Crimson Soil (John O'Callaghan Remix)
05. Kyau & Albert - Made of Sun (Kyau Hard Dub)
06. Daniel Wanrooij & Robin van de Wiel pres. Progression - Ocean Green
07. Ridgewalkers feat. El - Find (Andy Moor Remix)
08. Carl B - All Day
09. Primolux - The Wall
10. Dark Alliance - Vibration (edit)
11. ID
12. Lolo - Why?
13. Terry Bones vs Fred Baker pres. Water Planet - Introspection
14. Luke Chable pres. Quest - The Shepherd
15. Portishead - Roads (Sultan & The Greek Mix)
16. Tiesto & Josh Gabriel - Walking on Clouds [Live performance by Bibi]
17. Tiesto - Sweet Mysery [Live performance by Bibi]
18. Tiesto - Breda 8PM (Montana Edit)
19. Tiesto - Ancient History
20. Thomas Datt - 2v2 (Robert Nickson Remix)
21. Ferry Corsten - Sweet Sorrow (The Thrillseekers Remix)
22. BT - The Great Escape (Arctic Quest Remix)
23. Tiesto - Euphoria [Live Violin Performance]
24. Primer - Everlast (Original Mix)
25. John O'Callaghan pres. Mannix - Mercury
26. Mojado feat. Mr. Sam - El Toro
27. Aqualung - Easier to Lie [Live performance by Matt Hales]
28. Tiesto - UR (Live Vocals Performed By Matt Hales)
29. Tiesto pres. Allure - Eastern Magik
30. Fred Baker vs Nyram - Confirmation
31. DJ Ernesto - Stop 9.5 (Phynn's Salvation Remix)
32. Randy Katana - One Solid Wave (Sam Sharp Remix)
33. Rob Rolefes - Mel Percuetek
34. Tiesto feat. BT - Love Comes Again (Original Mix)
35. ID
36. Tiesto - Traffic (Montana 12" Edit)
37. Nickelson - Yin (Solid Globe Remix)
38. M.I.K.E. pres. Plastic Boy - Twixt 2004
39. Phynn -- Lucid
40. Albert Vorne - A Leaden Day (M.I.K.E. Remix)
41. Tiesto - Suburban Train (Original Mix/Edit)
[Live Performance By The Children Of Orpheus Choir]
42. ID (Riley & Durrant track)
43. Remy & Roland Klinkenberg - Till Ya Drop!
44. Tiesto - Heroes
45. Darren Tate - Prayer For A God
46. Tiesto - Just Be (Antillas Remix) [Live Performance By Bibi]
47. Schiller - Das Glockenspiel (Humate Remix)
48. The Prodigy - Smack My Bitch Up (Original Mix) /w DJ Tiesto -
Flight 643 (Original Mix)
49. Tiesto - Lethal Industry (2004 Mix) [Live Violin Performance]
50. Tiesto - Magikal Circus
51. Tiesto - Goldrush (DJ Montana Edit)
52. Sander van Doorn - Dark Roast (Original Mix)
53. Michael Burns - Forwards
54. Plastikman - Spastik [Live Percussion Performance]
55. Tiesto - Adagio for Strings
56. Jesselyn - Omnia (Techtrance Mix)
57. Kay D Smith & Marc Tall pres. Passive Resistance -
Praiseworthy Tunes (Hoipolloi Mix)
58. Joop - The World
59. Vadik - Fate
60. Marcos - Just for a Day
61. Miller & Fijneman - San Pedro
62. Dark Alliance - Vibration
63. Paul Vernon - Mind Decay
64. Matti Laamanen - Live (Original Mix)
65. M.I.K.E. pres. Push - Universal Nation (Edit)
Live In Concert
Gelredome october 30, 2004
Warmup

01. Way Out West - Killa
02. Portishead - Roads (Sultan & Tonedepth Remix)
03. The Ambush - Everlast
04. Christian Smith & John Selway - Bahamas
05. Interstate - I Found U
06. Oliver Moldan - Beauty In L.A. (Main Instrumental Mix)
07. Sienna - La Differenza
Concert

08. Tiësto - Forever Today
09. Tiësto - Olympic Flame
10. Kyau & Albert - Made Of Sun (Kyau Hard Dub)
11. Inbox - Freelancer
12. Fred Baker vs Nyram - Confirmation
13. Armin van Buuren vs M.I.K.E. pres. Electric Movement - Pound
14. Mannix - Mercury
15. Salt Lake - Sunset Highway (Mark Norman Remix)
16. Passiva - Serenity (Filo & Peri Remix)
17. Fred Baker - Total Blackout
18. Photon Project - Illusions
19. Tiësto - Breda 8pm (DJ Montana Edit)
20. Michael Burns - Forwards
21. Mojado - El Matador
22. Tiësto - Walking On Clouds (Live Vocals by Bibi)
23. Tiësto - Sweet Misery (Live Vocals by Bibi)
24. Wirefly - The Verdict
25. Thomas Datt - 2v2 (Robert Nickson Remix)
26. DJ Ernesto - Stop 9.5 (Phynn's Salvation Mix)
27. Primer - Everlast
28. Ridgewalkers feat. El - Find (Andy Moor Remix)
29. Fractal Structure - Lost Sequence
30. Primolux - The Wall
31. Tiësto - Euphoria (Live Violin Performance by Mason)
32. Octagon vs Whirlpool - Alaska (Filo & Peri Remix)
33. Electrovoya - Effervesce
34. Tiësto - Athena
35. Oddysee - Evolution
36. Ferry Corsten - Sweet Sorrow (The Thrillseekers Remix)
37. Aqualung - Easier To Lie (Live Vocals by Matt Hales)
38. Tiësto - UR (Live Vocals by Matt Hales)
39. Tiësto pres. Allure - Eastern Magik
40. Phynn - Lucid
41. Tiësto pres. Allure - The Loves We lost
42. Remy & Roland Klinkenberg - Till Ya Drop!
43. Rof Rolefes - Mel Percuetek
44. Tiësto feat. BT - Love Comes Again
45. DJ Danjo & Rob Styles - Duende (Signum Remix)
46. Jochen Miller & Cor Fijneman - San Andreas
47. Rank1 - Beats@Rank1.com
48. Re:Locate - Typhoon
49. Children Of Orpheus Choir - Open Your Heart (Live Performance by The Children Of Orpheus Choir)
50. Tiësto - Suburban Train (Edit) (Live Performance by The Children of Orpheus Choir)
51. M.I.K.E. pres. Push vs Globe - Tranceformation
52. Nephilim - Synchronized
53. Tiësto - Just Be (Antillas Club Mix)
54. Tiësto - Adagio For Strings
55. DJ Tiësto - Lethal Industry (2004 Mix) (Live Violin Performance by Mason)
56. Tiësto pres. Allure - Spastik (Live Drum Performance by André Hoekstra and Marnix Stassen)
57. Tiësto - Heroes
58. Tiësto - Magikal Circus
59. Tiësto - Goldrush (DJ Montana Remix)
60. Tiësto - Traffic (DJ Montana's 12" Edit)
61. Passive Resistance - Praiseworthy Tunes (Hoilpolloi Mix)
62. Jesselyn - Omnia (Tech-Trance Mix)
63. Joop - The World
64. Marcos - Just 4 A Day
65. Matti Laamanen - Live
66. Vadik - Fate
67. Riley & Durrant - Feels Like Home (Instrumental Mix)
68. Darren Tate - Prayer For A God
69. Nu NRG feat. Gate 4 - Astralis
70. M.I.D.O.R. & Six4Eight - No Man's Land
71. Paul Vernon - Mind Decay
72. ATN - Miss A Day
73. Avanto - The Flute (Airbase Remix)
74. Tiësto - Coming Home
75. Dark Alliance - Vibration

Request hour

76. M.I.K.E. pres. Push - Universal Nation
77. Ferry Corsten & Tiësto pres. Gouryella - Gouryella
78. Paul Oakenfold - Southern Sun (DJ Tiësto Remix)
79. Tiësto & Benno de Goeij pres. Kamaya Painters - Endless Wave
80. Yahel & Eyal Barkan - Voyage
81. BT - Mercury & Solace (12'' Mastermix)
82. Ferry Corsten & Vincent de Moor pres. Veracocha - Carte Blanche
83. Delerium feat. Sarah McLaughlan - Silence (DJ Tiësto's In Search Of Sunrise Remix)