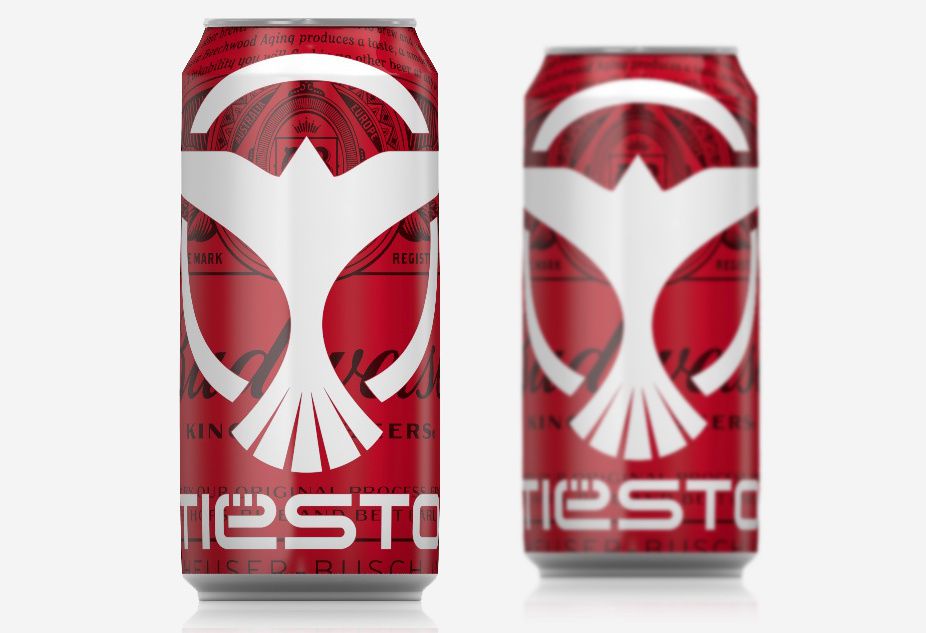 Tiësto and Budweiser
Collaboration for
new Beer and Exclusive track
Budweiser has released a limited-edition brew in collaboration with Dutch DJ and producer Tiësto.
The beer was debuted at the Belgian music festival Tomorrowland, which saw Tiësto and Budweiser unleash a surprise set including the launch of an exclusive track by Tiësto. The set celebrated a three-year global partnership between the beer brand and Tomorrowland, and two years of collaboration between Budweiser and Tiësto.
The limited-edition batch will feature brand new packaging inspired by the Tiësto performance and go on sale in selected Asda and Spar outlets across the UK from mid-August, offering music-lovers a chance to try the exclusive Budweiser brew.
Tiësto said: "I always want my shows to feel like a once-in-a-lifetime experience. I want to give fans the biggest spectacle and most memorable moment of the whole festival. Budweiser makes that possible by helping me amplify my live experience and giving festival-goers a night full of surprises they won't soon forget."
Steph Okell, marketing manager for Budweiser UK, added: "We wanted to bring the epic Tomorrowland experience back to fans in the UK with a limited-edition brew that truly captures the passion of music lovers and the energy of Tiësto's music in every can.
"This limited-edition brew reflects our incredible collaborations with both Tiësto and Tomorrowland, which have come together in such an epic way this summer."
Budweiser also ran nationwide UK competitions in the lead-up to the festival, offering fans the opportunity to join the Budweiser tour bus as it journeyed to Tomorrowland. Once there, the Budweiser guests experienced the festival at its best, including Tiësto's surprise performance.
Budweiser a publié une bière en édition limitée, en collaboration avec le néerlandais DJ et producteur Tiësto.

La bière a fait ses débuts au festival de musique belge Tomorrowland, qui a vu Tiësto et Budweiser libérer un ensemble surprise y compris le lancement d'une piste exclusive par Tiësto. L'ensemble a célébré un partenariat mondial de trois ans entre la marque de bière et Tomorrowland, et deux années de collaboration entre Budweiser et Tiësto.

L'édition limitée lot mettra en vedette la marque emballage nouvelle inspirée par la performance Tiësto et mis en vente dans une sélection de points de vente Asda et Spar à travers le Royaume-Uni à partir de la mi-Août, offrant aux mélomanes une chance d'essayer la bière exclusive Budweiser.

Tiësto a dit: "Je veux toujours mes spectacles à se sentir comme une expérience unique dans une vie. Je veux donner aux fans le plus grand spectacle et le moment le plus mémorable de l'ensemble du festival. Budweiser rend cela possible en aidant me amplifie mon expérience en direct et en donnant aux festivaliers une nuit pleine de surprises qu'ils ne seront pas près d'oublier. "

Steph Okell, directeur du marketing pour Budweiser UK, a ajouté: «Nous avons voulu apporter l'expérience Tomorrowland épique retour aux fans au Royaume-Uni avec une bière en édition limitée qui capte vraiment la passion des amateurs de musique et l'énergie de la musique de Tiësto dans chaque boîte.

"Cette édition limitée brew reflète nos incroyables collaborations tant avec Tiësto et Tomorrowland, qui se sont réunis dans une telle manière épique cet été."

Budweiser a également couru concours nationaux du Royaume-Uni dans le cadre des préparatifs de la fête, offrant aux fans la possibilité de rejoindre le bus de tournée Budweiser comme il se rendit à Tomorrowland. Une fois là, les invités Budweiser ont connu le festival à son meilleur, y compris la performance surprise de Tiësto.
traduction google...