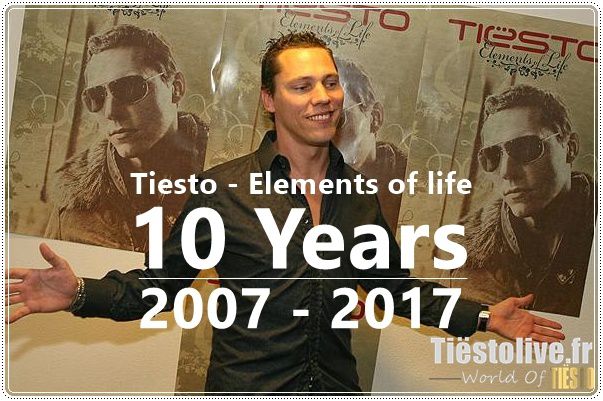 Tiesto Album
Elements of life
| 10 Years |
April 06, 2007 - 2017
The album was nominated in the category "Best Electronic/Dance Album" at the 50th Grammy Awards.[6] In April 2007 the album moved 72,000 units according to Nielsen SoundScan. The album also received gold certifications in Belgium, Hungary, Netherlands and Romania.[7]
Tiësto ( april 2007)

"I am very excited about my new album and the new single from the album called "In The Dark". It's a very experimental piece of work and combines the style of rock with trance and electronic. The vocals are done by Christian Burns who I met through MySpace. This is the first time that I have combined these different genres, I have always liked rock music so it made sense."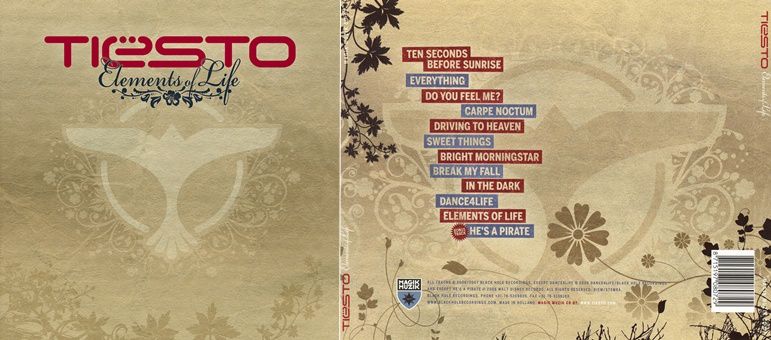 1. Ten Seconds Before Sunrise
2. Everything
3. Do You Feel Me
4. Carpe Noctum
5. Driving To Heaven
6. Sweet Things
7. Bright Morningstar
8. Break My Fall
9. In The Dark
10. Dance4Life
11. Elements Of Life
12. He's A Pirate (Tiesto Remix)
Tiesto - Elements of Life
Album Remixed - Extended Mixes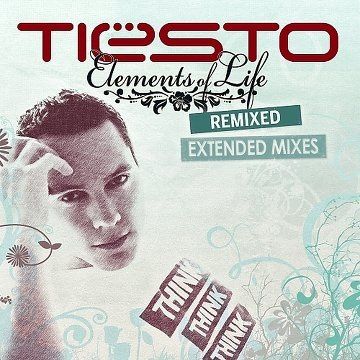 01. Tiesto - Ten Seconds Before Sunrise (First State Remix)
02. Tiesto Feat. Jes - Everything (Cosmic Gate Remix)
03. Tiesto Feat. Julie Thompson - Do You Feel Me (Roger Martinez Remix)
04. Tiesto - Carpe Noctum (Fire Element Mix)
05. Tiesto - Driving To Heaven (Mat Zo Remix)
06. Tiesto Feat. Charlotte Martin - Sweet Things (Tom Cloud Remix)
07. Tiesto - Bright Morningstar (Andy Duguid Remix)
08. Tiesto Feat. Bt - Break My Fall (Richard Durand Remix)
09. Tiesto Feat. Christian Burns - In The Dark (Dirty South Remix)
10. Tiesto Feat. Maxi Jazz - Dance4life (Fonzerelli Remix)
11. Tiesto - Elements Of Life (Alex Kunnari Remix)
12. Tiesto Feat. Blue Man Group - No More Heroes
13. Tiesto - Ten Seconds Before Sunrise (First State's A Global Taste Remix)
14. Tiesto Feat. Jes - Everything (Andrew Bennett Remix)
15. Tiesto - Carpe Noctum (Dj Preach Remix)
16. Tiesto - Carpe Noctum (Spencer & Hill Dub)
17. Tiesto Feat. Bt - Break My Fall (Jerry Ropero Vs. Nbg Afterhours Mix)
18. Tiesto Feat. Bt - Break My Fall (Airbase Remix)
19. Tiesto Feat. Bt - Break My Fall (Adam Kay + Pettigrew + Soha Remix)
20. Tiesto Feat. Christian Burns - In The Dark (Shiny Toy Guns Club Mix)
21. Tiesto Feat. Christian Burns - In The Dark (Tiesto's Trance Mix)
22. Tiesto Feat. Christian Burns - In The Dark (Carl B. Remix)
23. Tiesto Feat. Maxi Jazz - Dance4life (Global Experience Remix)
24. Tiesto Feat. Maxi Jazz - Dance4life (Sander Van Doorn Remix)
25. Tiesto - Elements Of Life (Airbase Remix)
Vinyl Edition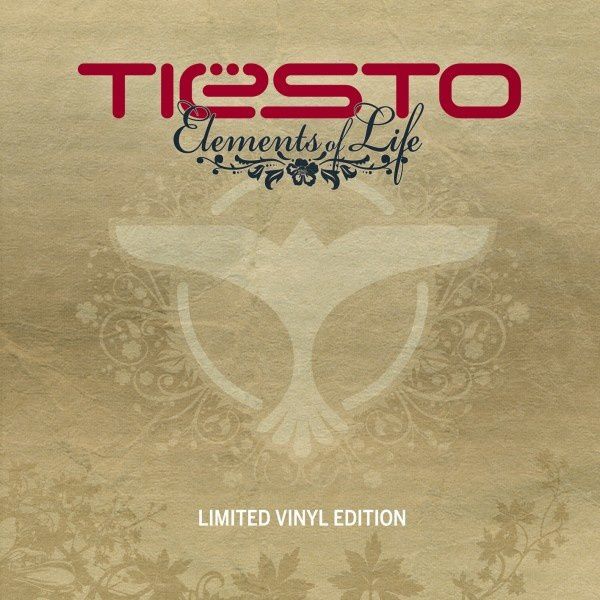 A: Ten Seconds Before Sunrise
B: Everything
C: Carpe Noctum
D: Bright Morning Star
E: Break My Fall
F: Dance 4-Life
G: Elements Of Life
H: He's A Pirate - Tiësto Remix
Source - BBC


Dutch trance don Tiesto has achieved more than his fair share of 'firsts' in recent times. He's the first DJ to play the Olympics; the first to get a house record broadcast on North American daytime radio (his remix of Delerium's "Silence"); and the first to sell out a solo stadium DJ gig to 25,000 people, two nights in a row.

He's also the first producer in 23 years to score an instrumental number one in Holland, with his hit single "Traffic".

It's unsurprising, given this stream of lofty accomplishments, that Tiesto's third album Elements Of Life is both confident and ambitious.

Following on fluently from his previous albums, Elements Of Life contains all of the tried and tested Tiesto signature sounds: namely, epic melodic trance hooks combined with melancholic introspection and moody cinematic bridges.

But there is a broader, more song-based approach evident too, underlined by the array of guest vocalists; BT, Julie Thompson, Jes, and newcomer Christian Burns among them. Further, Tiesto has opened up his sound to incorporate splashes of minimal techno, house, film soundtracks - even rock.

Lead single, "In the Dark", arguably one of the best tracks on the album, features a searing dance-rock atmosphere topped with a superlative vocal performance from Burns. Matching this standout is another vocal track, "Sweet Things", which combines Charlotte Martin's sultry, soaring voice with a driving rhythm and an ecstatic techno- trance floor-slayer.

The moody, infectious Everything, featuring Motorcycle's Jes is also top-notch.

"Do You Feel Me?" (which features the ethereal vocals of Julie Thompson) and Break My Fall (with BT), don't hold the attention for quite so long, while the anti-AIDS campaign track "Dance4Life" (with Maxi Jazz) is derivative and sounds somehow out of place here.

The instrumentals fare worse than the vocal tracks. "Driving to Heaven" and "Bright Morning Star" are cliched and the remix of "He´s A Pirate" boasts little in the way of either charm, subtlety or originality.

Underground or unique Elements of Life is not. But, for what it's worth, it's as technically accomplished and accessible an album as you'd expect from one of the world's most commercially successful DJ/producers.


Source - skiddle.com

His next moves are all connected to the latest addition to the Ti6sto oeuvre, Elements of Life, his third studio album, and one that will be promoted with a year-long world tour. The album extends Ti6sto's musical palette towards other territories - house, techno, German minimalism - without forsaking his trance roots or his innate ability to excavate memorable hooks. "It's just going back to basics," Ti6sto reveals. "People are so caught up in the Internet life and everything is so fast nowadays. So it's going back to the elements: earth, wind, fire, and water. Back to the old ancient elements of life from where everything comes. It's definitely deeper than the first album."

You can hear it, too. "German minimal was definitely the inspiration for some tracks on my album. I do get influenced a lot by other DJs and music styles. I think that's good; it's the only way you can keep yourself fresh. If I was still playing the same sounds as I did in 1998 then the music would have lost a lot of its charm."

While Elements of Life is a progression, it's still a Tiesto creation. He is the master of minor key symphonies; one-note basslines that stick like porridge on a toddler's bib. Sweet Things, which features Charlotte Martin on vocal duties, contains a deep house keyboard attack yet still retains that trademark sound, melancholic and yet strangely uplifting; Julie Thompson's voice soars and dives like a swallow at spring on Can You Feel Me, the musical accompaniment little more than percussion and bass; but the effect lingers. There are also established favourites, like Dance4Life his moving collaboration (with Faithless'Maxi Jazz) to the AIDS cause and He's A Pirate, the contribution to the Pirates of the Caribbean soundtrack, with its circular keyboard patterns endlessly fizzing into the ether.

DVD Live Elements of Life Tour
Disc 1
01. Tiësto - Ten Seconds Before Sunrise
02. Deadmau5 - Not Exactly
03. Tiësto featuring JES - Everything (Cosmic Gate Remix)
04. Allure featuring Julie Thompson - Somewhere Inside
05. Tiësto - Carpe Noctum
06. Unity Street - Say Ho!
07. James Doman vs. Red Carpet - Alright
08. Imogen Heap - Hide And Seek (Tiësto In Search Of Sunrise Remix)
09. Signalrunners - Recoil2 (Mat Zo Remix)
10. Tiësto - Bright Morningstar
11. Miko - Muzaik (Marcus Schössow Remix)
12. Pascal Feliz - From Inside The Speaker (Part 1)
13. Starkillers - Killer
14. Randy Boyer & Eric Tadla - Stemcell
15. Tiësto - Elements Of Life
16. Breakfast - The Horizon
17. Oliver Smith - Tomahawk
18. Carl B. - Life Can Wait
19. Steve Forte Rio - A New Dawn (Extended Version)
20. Jedidja - Dancing Water
21. D'Alt Vila - Breathing
Extra features only on dvd
TV Commercials
01. Jes Imagination (Copenhagen Music video Edit)
02. TV Commercial Dance4Life
03. TV Commercial Elements of Life
04. TV Commercial In search of Sunrise 6 - Ibiza

Disc 2

The Sound Of Tiësto
01. Tiësto featuring Maxi Jazz - Dance4Life (Freedom Mix)
02. Tiësto - Traffic
03. Tegan & Sara - Back In Your Head (Tiësto Remix)
04. Tiësto featuring Christian Burns - In The Dark
05. Tiësto featuring Charlotte Martin - Sweet Things (Tom Cloud Remix)
06. Tiësto featuring BT - Love Comes Again
07. Tiësto - Flight 643 (Richard Durand Remix)
08. Tiësto - Lethal Industry
09. Delerium featuring Sarah McLachlan - Silence (Tiësto In Search Of Sunrise Remix)
10. Tiësto - Adagio For Strings
11. Klaus Badelt - He's a Pirate (Tiësto Remix)
12. Bart Claessen - First Light (Original Dub Mix)
13. Cold Blue & Del Mar - 11 Days (Sebastian Brandt Remix)
14. Sean Tyas - Lift (Sean Tyas Rework)
15. First State - Sierra Nevada
16. Airbase - Medusa
17. Simon Patterson - Bulldozer
18. Gareth Emery - More Than Anything (Stoneface & Terminal Remix)
19. Nenes & Pascal Feliz - Platinum
20. Cass Fox - Touch Me (Mike Koglin vs Jono Grant Remix)

Disc 2 Bonus
Extra features only on dvd
On the road, Tracklisting
Music Video