Amnesty International not
happy with Tiësto in Saudi Arabia
BREDA - Amnesty International is not pleased with a performance given by Tiësto on Thursday in Saudi Arabia. The Breda DJ can be seen on Thursday and can mainly be heard at the King Abdullah Economic Center in the Saudi city of Jeddah. The performance was announced this weekend.
WRITTEN BY
Christel van der Meer
Amnesty International does not want to speak of a boycott. "We will never say that, for example, a DJ should not perform anywhere, but we do think that he should consider whether he is not part of a major PR campaign by the Saudi prince," said Emile Affolter spokesperson for Amnesty International.
"It's worse than ever with human rights, we're worried about women's rights, and human rights activists are being thrown into prison and mistreated," he says. "We would like to inform him about this."
Critical note
Tijs Verwest, as Tiësto is really called, could, according to Amnesty International, pay attention to the violations of human rights during his visit to the country. "There is always some way to do that, he can put a critical note during his performance", the spokesperson says.
The human rights organization has not had any contact with the management of the DJ. "It was only recently announced that he would perform there, and normally we would send an invitation if a DJ or organization wants to go to such a kind of country." According to the spokesman, this also happened with the announcement of the World Cup in Russia (2018) and Qatar 2022.
According to the spokesman, it is rare for Dutch artists to go to Saudi Arabia to perform there. The manager of Tiësto was not available for comment on Monday.
Multi source
omroepbrabant.nl / hln.be / Telegraff.nl / nu.nf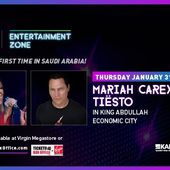 Tiësto date | KAEC The Venue | Jeddah, Saudi Arabia - January 31, 2019 - TiestoLive - News Tiësto
Tiësto date | KAEC The Venue | Jeddah, Saudi Arabia January 31, 2019 Time: Mariah Carey 08:00 PM Time: Tiësto 09:30 PM Tickets G.A 295.00 SAR Tickets Golden Circle 795.00 SAR Tickets Gandstand ...
http://www.tiestolive.fr/2019/01/tiesto-date-kaec-the-venue-jeddah-saudi-arabia-january-31-2019.html