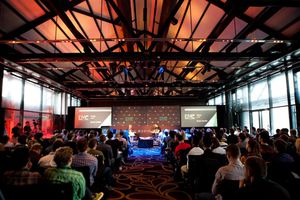 Article 27 novembre 2012, rapport de la conférence Tiësto:
Tiësto à parlé pendant 45 minutes
"I'm a natural born DJ, I know how to rock a crowd"

"Je suis un DJ né, je sais comment balancer une foule"
Tiësto est revenu sur sa collaboration avec Deadmau5.
"I was in the studio with Deadmau5 in Toronto once,
but the track was only okay so we didn't release it"
Nous étions ensemble en studio à Toronto, mais le single
une fois fini etait juste passable nous ne l'avons pas sortie
Tiësto va se concentrer sur New york en 2013
Ville en plein essort au niveau de la Dance Music.
il parle de rêve Americain
"It's the American dream" - Tiësto

Il annonce aussi en finir avec le r&b il laisse ce style à
David Guetta et Calvin Harris :
"That's up to David Guetta and Calvin Harris.
I don't mean that in a bad way, they did amazing things for the scene.
But I'll always be more of an indie guy. "
"C'est à David Guetta et Calvin Harris. Je ne veux pas dire que,
dans une mauvaise voie, ils ont fait des choses étonnantes
pour la scène. Mais je serai toujours plus un gars indie. "
Tiësto emploie 35 personnes à temps plein et
écoutes une centaine de promo chaque semaine
The man born Tijs Verwest employs
35 people full-time, but still listens to around 100 promos per week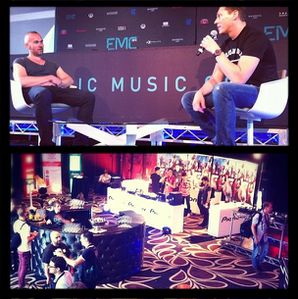 ---
article 10 octobre2012:
EMC 2012 - Sydney
27 and 28 november 2012

There are three streams at EMC, with over 30 sessions over two days.
The Main Room will feature keynote interviews and panels covering a wide range of topics.
The Loft will host round-table discussions and debate about issues important to the
Australian dance music community, and the EMC Bar and EMC Exhibition Space will hold
production masterclasses and demonstrations.

il ya trois courants chez EMC, avec plus de 30 séances réparties sur deux jours.
La salle principale vous propose des entrevues d'honneur et de panneaux couvrant un large
éventail de sujets. Le Loft tiendra des tables rondes et des débats sur des questions importantes
  pour la communauté Dance Musique Australienne, et le EMC Bar et   EMC  l'espace  
d'exposition tiendra masterclasses de production et de démonstrations.

Keynote Address: Tiesto
Discours d'ouverture : Tiësto

The world's number 1 DJ sits down with Grant Smillie for an in-depth
discussion about his career, production, Australia and the future.
Le Numéro 1 mondiale s'assoit avec grant Smillie pour une discution en profondeur
à propos de sa carriére, production, l'Australie et l'avenir
Speakers List
Tiesto, artist (NL)
Diplo, artist (USA)
Patrick Moxley, Ultra Music (USA)
David Boyle, Senior Vice President of Insights, EMI Worldwide (UK)
Tommy Trash, artist (AUS)
Gary Richards/Destructo, artist, Hard Events / Live Nation (USA)
Ash Pournouri, At Night Mangement (SWE)
Mike Brown, Director of International Market Development, Twitter (USA)
Steve Levy, BPM / Moonshine (USA)
Richie McNeill, Totem Onelove (AUS)
Ken West, Big Day Out (AUS)
Neil Ackland, CEO, Sound Alliance (AUS)
Seth Combs, Chief Marketing Officer, Sol Republic (USA)
Dan Rosen, CEO, ARIA (AUS)
Brett Robinson, Future Entertainment (AUS)
Dror Erez, Totem Onelove (AUS)
Andy Vance, Brand Partnerships Manager –
 Music & Lifestyle, Carlton United Breweries (AUS)
Mark Poston, Chairman, EMI (AUS)
Hamish Pinkham, Director, Rhythm Group (NZ)
Sudeep Gohill, CEO, Droga5 (AUS)
John Curtin, Marketing Director, Totem Onelove (AUS)
Brandon Roque, Marquee Sydney (US)
Grant Smillie, Neon Records (AUS)
Adam Zammit, CEO, Big Day Out (AUS)
Tim Duggan, Content Director, Sound Alliance (AUS)
Jason Ayoubi, Future Entertainment (AUS)
Tim Hardaker, Partnerships Director, Sound Alliance (AUS)
Scott Horscroft, Vice President of A&R, EMI (AUS)
John Course, Vicious Recordings (AUS)
Jane Slingo, Young Strangers (AUS)
Jack Tregoning, Editor, inthemix (AUS)
Bev Malcolm, EMI / BPM Originals (AUS)
Ben Suthers, Big Day Out (AUS)
Andrew Jackson, Manager, Milton Archer (AUS)
Dayna Young, Archery Club (AUS)