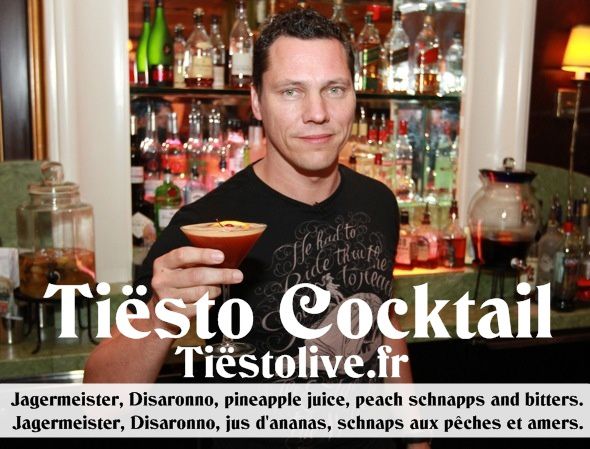 Superstar DJ Tiësto stopped by Society Café at Encore Las Vegas on Friday night,
where he sipped on a new Jägermeister-based cocktail named "The Tiesto."
While the tasty new cocktail isn't on the menu, it is available for those in the know
at the restaurant and Encore Beach Club and Surrender Nightclub, where he is a resident deejay.
The Tiesto cocktail:


1 ounce Jagermeister
1 ounce Disaronno Liqueur
1 ounce Pineapple Juice
½ ounce Peach Schnapps
2 dashes Bitters
Shake over ice and serve chilled in martini glass. Garnish with a cherry.
Superstar DJ Tiësto arrêté par Café Society à Encore Las Vegas le vendredi soir,
où il sirotait un cocktail à base de Jägermeister nouvelle nommée "La Tiesto."
Alors que le cocktail savoureux nouvelle n'est pas dans le menu, il est disponible
pour ceux dans le savoir au restaurant et Encore Beach Club et  
Discothèque Surrender, où il est un deejay résident.
---
Le Tiesto cocktail
 
3 cl Jagermeister
3cl de liqueur Disaronno
3cl  de jus d'ananas
1.5 cl Schnapps aux pêches
2 traits Bitters

Agiter sur de la glace et servir frais dans un verre à martini. Garnir d'une cerise.