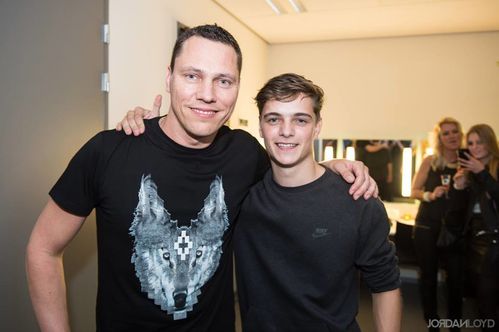 Tiësto 
Martin Garrix
one track coming soon !
Martin Garrix annonce travailler en collaboration avec
Dimitri Vegas & Like Mike et avecTiësto mais pour ce dernier
ils doivent encore se rendre en studio mais c'est en projet.
Plus potentiellement avec Hardwell
Martin Garrix a eut envie de devenir Dj quand il a vu Tiësto au JO de Gréce en 2004.
Dj Mag: You've had a very fast rise to fame…
Martin Garrix:
'Yes, it's gone really fast. I was a little bit afraid that it went too fast, cos when
I made 'Animals' and it became big so quickly I was like, 'Oh shit, this has
happened really fast', and I didn't have any other tracks ready to release yet.
That was a really shitty feeling, thinking I had to come up with something that
was on the same level as 'Animals'. At that point I was like 'Oh, shit, I don't
want to be like a one-hit dude', but now I've got five or six new tracks ready.
I have some really big collaborations with some of the biggest in the world…
I can tell you one, it's with Dimitri Vegas & Like Mike, and there's another
name that I can't actually tell you but you probably know it…"


Dj Mag: Tiësto?
Martin Garrix:
"Yeah. There is no track yet, but we're going to do a studio session really soon.
Tiësto's been my biggest inspiration for six or seven years — he's somebody I
really look up to. He invited me to play my new track at Zigga Dome during ADE,
and he's really been supporting everything I do. Every time I have a new track I send
it to him, and he is so humble and down to earth and nice. And there's another collab
with another very big name coming soon, but it's not there yet so we…"
Dj Mag: Hardwell?
Martin Garrix: "Maybe."
Martin Garrix -- Animals (Official Video HD)