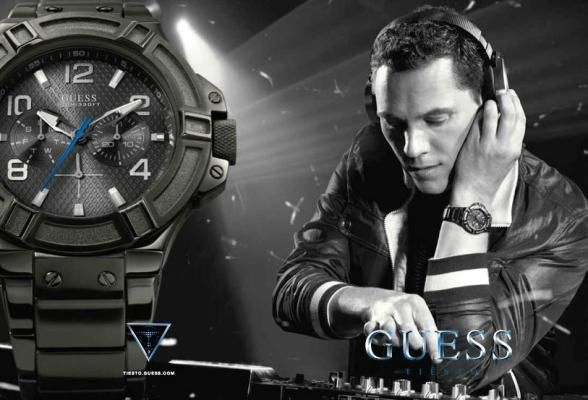 ---
News Tiësto / Guess
and Capsule collection click here
---
Photo Tiësto for GUESS, photo here
Tiësto new partnership with GUESS
2012-2013 
shop, 1 compil' club life, date concert 2013
Tiësto will extend his reign as the world's most sponsored dance music
star via a new partnership with GUESS, Billboard.com has learned.
Tiësto va prolonger son régne en étant le plus parrainer dans le monde
de la dance music par l'intermediaire d'un nouveau partenariat avec GUESS

The internationally renowned DJ/producer will lend his style and name to a limited
edition GUESS capsule collection, including men's and women's clothing and accessories.
He'll also tour under the GUESS sponsorship banner (on select dates) into 2013.
Le producteur DJ de renommée internationale / apportera son style et le nom
d'une édition limitée GUESS Capsule collection, comprenant des  vêtements pour hommes
et femmes mais aussi accessoires et il va couvrir quelques date en 2013 sous le nom Guess
Paris, Milan, Las Vegas, Dubaï et Sydney... and more

1ére date 23 juillet: IBIZA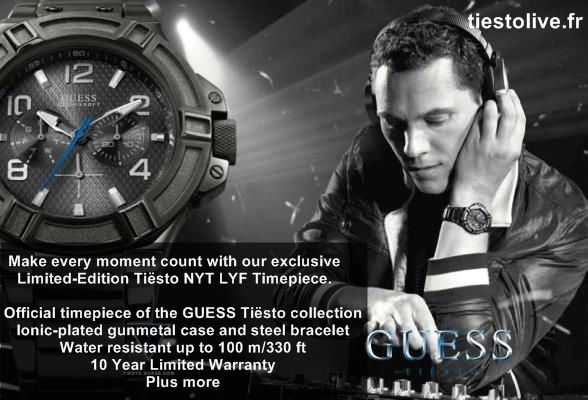 "I've had GUESS clothing in my wardrobe for years,"
«J'ai eu GUESS vêtements dans ma garde-robe depuis des années,"
Tiësto told Billboard.com exclusively. disait il à Billboard en exclusivité

"GUESS is young, sexy and adventurous, and electronic dance music also shares
these qualities. Tiësto was the natural choice to connect GUESS with our customers'
lifestyle," said GUESS CEO and Creative Director Paul Marciano.
"Guess est jeune, sexy et aventureux, et la musique électronique de danse partage également
ces qualités. Tiësto était le choix naturel pour GUESS au style de vie de nos clients»
a déclaré chef de la direction de GUESS et le directeur créatif de Paul Marciano.


The cobranded collection -- which has its own Tiësto/GUESS logo, in black and electric blue
La collection cobrandées - qui a son propre Tiësto / GUESS logo, en noir et bleu électrique

kicks off in August, with a new "multifunctional," limited edition 
 for $165, will be available everywhere Guess watches are sold.

Coup d'envoie dés août 2012 avec montre bracelet multifonctionnel en edition limité
pour 165$ (134€ environ) vendu par Guess
 
The apparel will follow in October, a 22-piece line inspired by not only Tiësto
(right down to the graphic prints on the T-shirts, said to resemble the lights and
video projections at his shows), but electronic dance music (EDM) culture at large.
In addition to T-shirts, it includes skinny-fit jeans in black and indigo treatments
with zipper detailing, and leather and coated twill moto-jackets.
The apparel collection, retailing from $32 to $368

En Octobre va suivre les vêtements inspiré par Tiësto et au couleur de la dance music
un total de 22 piéces comprenant tee-shirt, jeans noires, veste moto...
La collection de vêtements, commerce de détail de 32 $ à $ 368 (26€-300€)
 
The partnership, which will run for one year, will also include a dedicated microsite
with product details and click-to-buy, performance schedules, and a global sweepstakes. It also leverages Tiësto's massive social footprint (nearly 12.5 million Facebook likes and 1.2 million Twitter followers): The artist will announce the partnership Tuesday morning via his social channels, and use the hashtag #guesstiesto throughout the campaign. Tiësto will also create a new Club Life compilation in both digital and CD formats, available for sale exclusively in GUESS stores and online at guess.com.
Le partenariat, qui se déroulera pendant un an, comprendra également un microsite dédié,
avec les détails du produit et de click-to-buy, les horaires de performance, et un tirage
au sort mondial. Il s'appuie également sur Tiësto l'empreinte sociale massive
(près de 12,5 millions aime Facebook et 1,2 million de followers sur Twitter):
L'artiste annoncera le matin de partenariat mardi par l'intermédiaire de ses canaux
sociaux,et d'utiliser le hashtag #guesstiesto tout au long de la campagne.
Tiësto sera également créer une compilation Club life dans des formats
numériques et CD, disponible à la vente exclusivement dans les magasins GUESS et en ligne à guess.com.