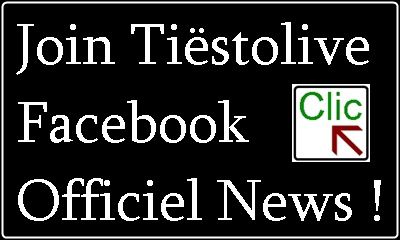 15 september 2011
Tiësto at Madison
11111111111111111
mini Vidéo Officiel Tiësto
---
16 september 2011
Tiësto at Ypsilanti
mini Vidéo Officiel Tiësto
---
17 september 2011
Tiësto at London
mini Vidéo Officiel Tiësto
---
18 september 2011
Tiësto at Syracuse
interview Tiësto and Porter Robinson
  mini Vidéo Officiel Tiësto
---
19 september 2011
Tiësto at amherst
mini Vidéo Officiel Tiësto
---
20 september 2011
Tiësto at Kingston
mini Vidéo Officiel Tiësto
---
21 september 2011
Tiësto at Norfolk
mini Vidéo Officiel Tiësto
Tiësto at Winston Salem
mini Vidéo Officiel Tiësto
---
23 september 2011
Tiësto at Mt Pleasant
mini Vidéo Officiel Tiësto 
24 september 2011
Tiësto at Thallahassee
mini Vidéo Officiel Tiësto
---
25 september 2011
Tiësto at Athens
mini Vidéo Officiel Tiësto
---
26 september 2011
Tiësto at Gainesville
mini Vidéo Officiel Tiësto
---
28 september 2011
Tiësto at Baton Rouge 
canceled / annulé
---
29 september 2011
Tiësto at  Cedar Park
mini Vidéo Officiel Tiësto 
02 octobre 2011
Tiësto at San Diego
  mini Vidéo Officiel Tiësto 
---
03 octobre 2011
Tiësto at Fresno
  mini Vidéo Officiel Tiësto 
---
04 octobre 2011
Tiësto at Davis
  mini Vidéo Officiel Tiësto 
---
05 octobre 2011
Tiësto at Avila Beach
  mini Vidéo Officiel Tiësto 
---
06 octobre 2011
Tiësto at Santa Barbara
---
08 octobre 2011
Tiësto at Carson
HOME DEPOT CENTER
upload live Tiësto Home depot center here
Video 8 minutes final show !
Tiësto à donc rempli le stade de 26000 personnes,
de 20h30 à 23 heures certains ont eut du mal
avec les "juste" 2h30 de show (Tiësto)
mais faut dire qu'il y avait Diplo, dada Life et
Porter Robinson
Le concert à été comparé par l'indentique d'Eurodisney.
Durant le single de tegan & sarah, un groupe de fille à ténté en vin
d'accéder à la scéne avec un gros brouillard de fumé comme complice
mais les vigilles on mis fin a cette tentative !
Tiësto à expimé c'est quelques mots:
"Bonjour à Los Angeles, aujourd'hui est un jour très spécial.
Vous et moi faisons partie de l'histoire maintenant.
C'est le jour que nous allons tous nous rappeler que la Dance music
est plus grand que toute les autres chose dans le monde,
je vous remercie pour ça! Donc nous allons célébrer et faire la fête! "
L'article de la journaliste fini ainsi:
Comme l'a prouvé samedi, il ya une raison à ce que Tiësto
soit  l'un des meilleurs DJ au monde.
English article:
The Home Depot Center in Carson was massacred by 26,000 colorful
and exuberant people, all who came to dance their asses off to the legendary
Tiesto. Known for his entrancing light shows and remix's that are more
popular than the originals, he gave what the Home Depot Center needed,
LIFE!  Saturday's performance for some started when Dada Life walked
on stage, for others it's when Tiesto spun the tracks. Starting at 8:30,
Tiesto ended his set at 11, which disappointed some, but then again this wasn't a rave.
I say the 2 and- a- half hours was just enough to let loose, to be one
with the music and go absolutely bananas. It all started with William
Naraine's "If I Could Fall," and Tinie Tempah's "Pass Out." One of Tiesto's
most famous remix started a roar of cheers from the crowd "Silence" by Sarah McLachlan .  
His performance was like being at Disneyland. Pyrotechnics and fog
machines theatrics set a whole new standard for techno artists. Oasis's
"Wonderwall" remix was sung by just about everybody and through
every song the excitement and energy gained intensity and grew contagious.
During Tegan and Sara's "Feel it in my Bones" remix, the fog had
sealed the whole stage under a cloud, at which point a couple of
clever girls decided to hop the barricades. But their plan was soon
foiled by the security guards who weren't completely blinded by the
fog as they thought. Even while being escorted out of the area they
danced and sang with just as much enthusiasm as before. 
"Dr. Gonzo" peaked as pink and green firecrackers illuminated
the night sky. Tiesto rocked out many times with a curtain of
pyrotechnics falling behind him. The head-bobbing DJ took the
time to speak to the crowd towards the end of the night. 
"Hello Los Angeles, today is a very special day. You and me are
part of history now. This is the day that we'll all remember that dance
music is bigger than anything else in the world, I thank you
for that! So let's celebrate and party!"  
And party we did. White streamers sprayed out to Eurythmics's
"Sweet Dreams," and the classic Robin S song, "You Got To Show Me Love."
Confetti showered the audience while fireworks and
pyrotechnics moved the night to its ending. 
Tiesto say one last good-bye to the enamored fans,
"This is the last track and we have the world so we
have to go maxima crazy!"
He left the audience hanging at the very peak of The Pretty Reckless's
  song "Everybody Wants Something From Me." Leaving the
drop of the bass to our imaginations. 
The crowd was still electrified for a long time after Tiesto left the stage,
and the static of the performance followed everyone home.
As proved on Saturday, there's a reason why he's one of the top DJs in the world.