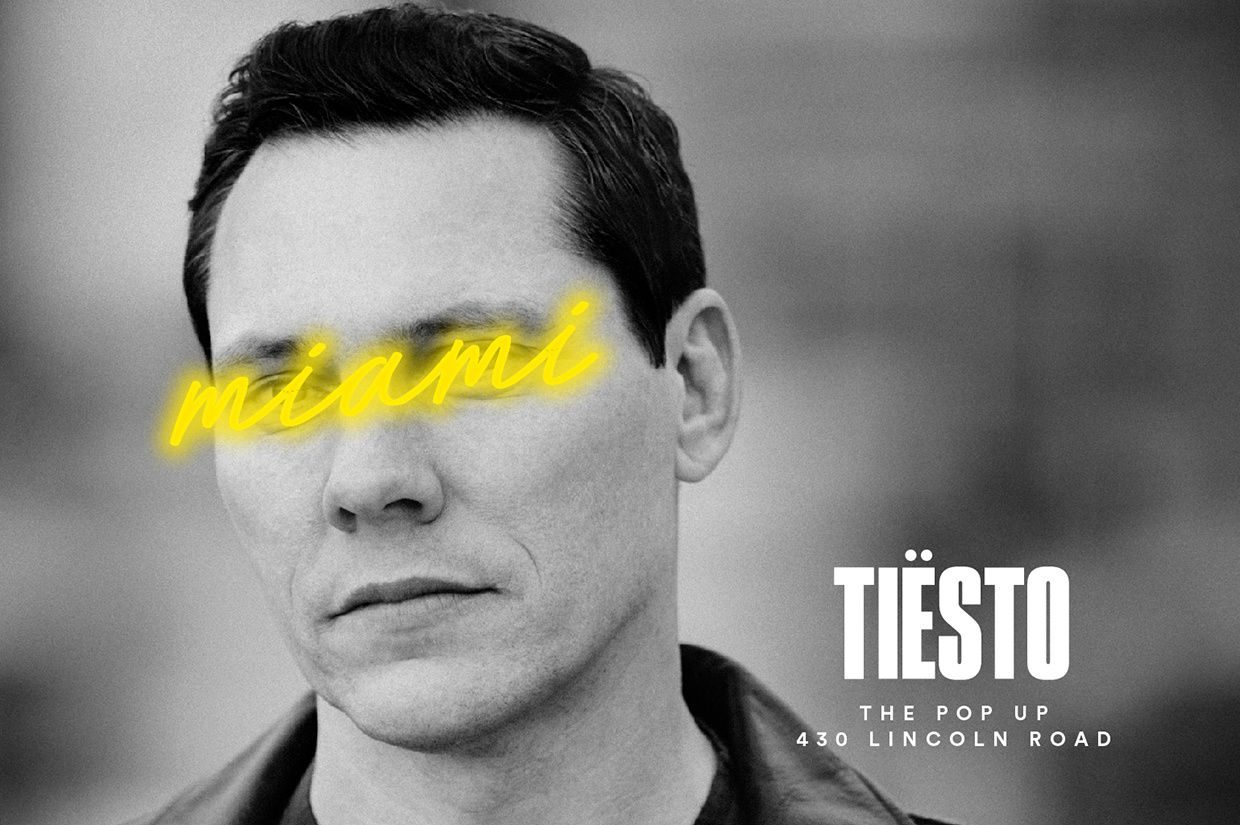 Tiësto, will open the first
Pop up Shop at UMF 2017, Miami
Ever wish you could shop in Tiesto's closet? He's a man of subtle taste, a believer in the classics, if you will. Comfort and style are synonymous when you're racing 'round the world, throwing your hands up for crowds of thousands day in and out. Don't you want to look a little more like him?

Dance fans descending on Miami Music Week will have the rare chance to grab some Tiesto-approved digs, as the superstar producer announces the first in a series of pop-up shops premiering at Miami's open-air South Beach shopping hub Lincoln Road.

He's teamed with Fancy for the occasion, along with designers Westward Leaning, XD Design and Grand AC. Tons of designer Tiesto apparel, sunglasses, and even anti-theft backpacks are on the merch menu. The spot will also be decked out by murals from iconic Miami artists Atomik and GG Gimenez, while Brian Butler of Upper Hand Art will read the crowd and live-tag the shop as it opens its doors.

Nighttime dance programming comes presented by Tiesto and T-Mobile. The shop opens to the public Thursday, March 23, from 11 a.m. to 5 p.m., and remains open throughout the weekend from noon to 9 p.m., Friday through Sunday.
Souhaitez-vous acheter dans le placard de Tiesto? C'est un homme de goût, un croyant dans les classiques, si vous voulez. Confort et style sont synonymes lorsque vous êtes en course autour du monde, en jetant vos mains vers le haut pour des foules de milliers jour dedans et dehors. Tu ne veux pas ętre un peu plus comme lui?

Les amateurs de dance qui descendent à Miami Music Week auront la rare chance de s'emparer de quelques fouilles approuvées par Tiesto, alors que le producteur de superstar annonce le premier d'une série de boutiques pop-up qui se produiront au Lincoln Road.

Il a fait équipe avec Fancy pour l'occasion, avec les designers Westward Leaning, XD Design et Grand AC. Des tonnes de vêtements designer par Tiesto mais aussi, lunettes de soleil, sacs à dos..... Le spot sera également décoré par des peintures murales des artistes emblématiques de Miami Atomik et GG Gimenez, tandis que Brian Butler de Upper Hand Art lira la foule et live-tag de la boutique comme elle ouvre ses portes.

Les programmes Nighttime Dance sont présentés par Tiesto et T-Mobile. La boutique ouvre au public le jeudi 23 mars de 11h à 17h et reste ouverte tout au long du week-end de midi à 9h du vendredi au dimanche.