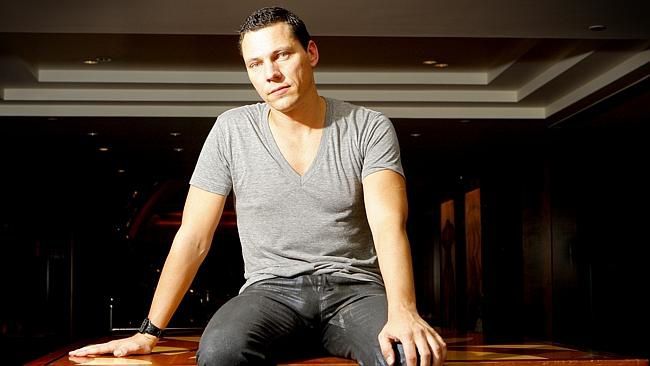 Tiësto donates 100,000 euros
to charities in Breda
Jelle's Army / De Nieuwe Meidoorn / Speel- en sportterrein Boykes Speelhoeve /
Tiësto donates 100,000 euros to charities in Breda

BREDA - Tijs Verwest, better known as DJ Tiësto, donates 100,000 euros to eight charities in his hometown of Breda. The dj reports that to BN DeStem. It is the amount that Tiësto would receive for his performance on 22 December at Breepark in Breda.

The DJ has chosen the Yellow Army football projects, his former football club SAB, the DJ School Breda, the care institution Thebe Lucia, SMO and Visio. Verwest also donates money to community center De Nieuwe Meidoorn and play and sports area Boykes Speelhoeve. The latter are in the Tuinzigt district, where his parental home was. The donations range from ten to fifteen thousand euros per goal.

Grateful
Verwest says in the newspaper that he would like to give something back to the city where he grew up. "I am happy and grateful for what I have been able to achieve as a Bredase boy," he says
Dj Tiësto fait don de 100 000 euros à des associations caritatives à Breda

BREDA - Tijs Verwest, mieux connu sous le nom de DJ Tiësto, fait don de 100 000 euros à huit associations caritatives dans sa ville natale de Breda. Le DJ rapporte cela à BN DeStem. C'est le montant que Tiësto recevrait pour sa performance le 22 décembre au Breepark de Breda.

Le DJ a choisi pour les projets de football de l'Armée jaune, son ancien club de football SAB, la DJ School Breda, l'institution de soins Thebe Lucia, SMO et Visio. Verwest donne également de l'argent au centre communautaire De Nieuwe Meidoorn et à la zone de jeu et de sport Boykes Speelhoeve. Ces derniers sont dans le district de Tuinzigt, où se trouvait son domicile parental. Les dons vont de dix à quinze mille euros par objectif.

Reconnaissant
Verwest dit dans le journal qu'il aimerait donner quelque chose à la ville où il a grandi. «Je suis heureux et reconnaissant de ce que j'ai pu réaliser en tant que garçon Bredase», dit-il.
Tiësto doneert 100.000 euro aan goede doelen in Breda

BREDA - Tijs Verwest, beter bekend als dj Tiësto, doneert 100.000 euro aan acht goede doelen in zijn thuisstad Breda. Dat meldt de dj aan BN DeStem. Het is het bedrag dat Tiësto zou krijgen voor zijn optreden 22 december op Breepark in Breda.

De dj heeft gekozen voor de voetbalprojecten Yellow Army, zijn vroegere voetbalvereniging SAB, de DJ School Breda, zorginstelling Thebe Lucia, SMO en Visio. Verwest geeft ook geld aan buurthuis De Nieuwe Meidoorn en speel- en sportterrein Boykes Speelhoeve. Laatstgenoemden staan in de wijk Tuinzigt, waar zijn ouderlijk huis was. De donaties variëren van tien- tot vijftienduizend euro per doel.

Dankbaar
Verwest zegt in de krant dat hij graag iets wil terugdoen voor de stad waar hij is opgegroeid. "Ik ben blij en dankbaar voor wat ik als Bredase jongen allemaal heb mogen bereiken", zegt hij.
Tiësto about the 8 charities
Jelle's Army
"Sport is something I have loved all my life. With NAC, of ​​course, as my club. But in the past we did not always have money to buy a track suit or football shoes. In BN DeStem I read about this association, which makes it possible for underprivileged children to exercise. In this way I hope to promote that a little more. "

The New Hawthorn
"The community center in my neighborhood in Tuinzigt. This was two minutes walk from my parental home in the Laurierstraat. The building is in need of improvement, so it's nice to make it possible in this way. "

Play and sports area Boykes Speelhoeve
"Also in Tuinzigt, a neighborhood that may have been less respected from time immemorial. But I am proud that I come from there. For me it has become a kind of fairytale, to come this far. It does not matter where you come from, if you are committed and working for your goal, anything is possible. "

Thebe Lucia
"I gave this nursing home a sound installation some years ago and then danced with the elderly. We sometimes want to forget our elderly in life. I think it's important to do something about it. Now the home can purchase a completely new garden furniture. "

Soccer club SAB
"I played football all my youth there. I was not very good, but I thought it was a great time. I still follow SAB on Twitter, and know that their youth team, which I've already helped with training suits a few times, has become champion again. When I heard that they needed money to renovate the cafeteria, I decided to help them with this too. "

DJ School Breda
"It could not be missed, of course. It is great that we have this, and I support it wholeheartedly. Finally all good DJs come from Breda! "

SMO (for homeless people) and Royal Visio (for the blind / visually impaired)
"I am aware that it can also walk to and unhappy in life. People can become homeless in the weirdest ways. Whether blind or visually impaired. I also found it important to help a foundation such as SMO and Visio. "


Tiësto over de 8 goede doelen
Jelle's Army
"Sport is iets waar ik al mijn hele leven van houd. Met NAC natuurlijk als mijn club. Maar vroeger hadden wij ook niet altijd geld om een trainingspak of voetbalschoenen te kopen. In BN DeStem las ik toen over deze vereniging, die het mogelijk maakt voor minderbedeelde kinderen om toch te sporten. Op deze manier hoop ik dat nog wat meer te bevorderen."

De Nieuwe Meidoorn
"Het buurthuis bij mij uit de wijk, in Tuinzigt. Dit was twee minuten lopen vanuit mijn ouderlijk huis in de Laurierstraat. Het gebouw is flink toe aan verbetering, dus mooi om dat op deze manier mee mogelijk te maken."

Speel- en sportterrein Boykes Speelhoeve
"Ook in Tuinzigt, een wijk die van oudsher misschien wat minder aanzien heeft. Maar ik ben trots dat ik er vandaan kom. Voor mij is het een soort sprookje geworden, om toch zo ver te komen. Het maakt dus niet uit waar je vandaan komt, als je je inzet en werkt voor je doel, is er van alles mogelijk."

Thebe Lucia
"Ik heb dit verzorgingstehuis een paar jaar terug al eens een geluidsinstallatie geschonken en daar toen met de bejaarden op gedanst. We willen onze ouderen nog weleens vergeten in het leven. Ik vind het belangrijk daar iets tegen te doen. Nu kan het tehuis een volledig nieuw tuinmeubilair aanschaffen."

Voetbalvereniging SAB
"Ik heb mijn hele jeugd daar gevoetbald. Heel goed was ik niet, maar ik vond het een te gekke tijd. Ik volg SAB nog steeds op Twitter, en weet dat hun jeugdteam, dat ik al een paar keer aan trainingspakken heb geholpen, weer kampioen is geworden. Toen ik hoorde dat ze er geld nodig hadden om de kantine op te knappen, besloot ik ze ook hiermee te helpen."

DJ School Breda
"Deze kon niet missen natuurlijk. Het is te gek dat we dit hebben, en ik support het van harte. Ten slotte komen alle goede dj's uit Breda!"

SMO (voor dak- en thuislozen) en Koninklijke Visio (voor blinden/slechtzienden)
"Ik ben me ervan bewust dat het ook heel naar en ongelukkig kan lopen in het leven. Mensen kunnen op de meest vreemde manieren dakloos worden. Of blind of slechtziend. Ik vond het dus ook belangrijk een stichting als SMO en Visio te helpen."