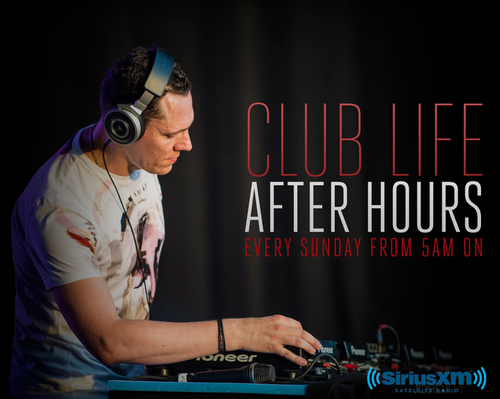 Tiësto
Club life After Hours
The 24-hour show !
Deep House

Tiësto va lancer à partir du 04 août 2013, un nouveau club life, le
"Club life After Hours"
Il ne remplace pas le club life existant, il se rajoute et sera exclusivement
diffusé sur SiriusXM tous les dimanches de 5h du matin pour finir le lundi
à 5 heures du matin, un radio show de 24h
Tiësto commencera le show et ensuite des invités viendront prendres le relais.
This Sunday (August 4), the superstar DJ/producer will launch "Club Life After Hours,"
a new weekly show on his "Club Life" Sirius XM Club Life Radio channel dedicated to house,
Billboard has learned. The 24-hour show will run from 5 a.m. Sunday to 5 a.m. Monday,
and while it won't feature him every week (special guest DJs will be invited to contribute)
, it will kick off with a house mix by Tijs himself.
Tiësto (mag code):

"J'aime vraiment la musique deep et les chaudes vocales house,
et c'est un ajout parfait à mon radioshow Club Life. C'est un excellent style à
écouter chez soi, dans la voiture ou un dimanche après-midi autour d'un barbecue.
C'est de la musique parfaite à écouter."
"It's a great sound to listen to at home, in the car or while having a
Sunday afternoon barbecue. It's perfect listening music."
Pour le moment Tiësto ne va pas intégrer ce style de musique dans ses sets:

"Au niveau du style, je ne pense pas que (les gens) soient près pour mes livesets
en ce moment, car j'aime jouer un peu plus énergique et uplifting, mais qui sait dans le futur ?
Pour l'instant, je souhaite expérimenter cela en radio et voir ce que les gens en pensent."
"Stylistically, I don't think [house is] ready for my live sets just yet because I like to play a little
more energetic and uplifting, but who knows in the future?" said Tiësto. "For now I want to
experiment with it on the radio and see what people think."



Tracks de ce dimanche à retrouver dans le podcast 
Tune in this Sunday to hear this and more play out.
    Destiny 's Child, "Say My Name" (Cyril Hahn Remix)
    Framewerk, «comme si»
    Phoenix, "Lisztomania" (Vanilla Bootleg)
    Singe Safari, "Salut Life" (Cheeky Bold)
    Hells exploit de cuisine. Irina Makosh, "je ferme la porte" (Walkboy Remix)
    Yoachim, «EHC» (Oliver Schories Remix)
    Miyagi, le "Pic Love Affair" (Sascha Braemer & Dan Caster Remix)
    Stefan Biniak, «Le Lire All About It Bootleg"
    Lui même Her, "Autant en emporte Too Long"
    Fatso, "empathie"
    Jan Blomqvist, «Je ne pense à toi"
    Fille, "Jeunesse" (Alle Farben Remix)
    Art Of Shades feat. Soukaina, "All Away"
    DSF, "Private Thoughts"
    Goldroom feat. Chela, "Quinze" (Rotkraft Remix)
    Finnebassen, «Vous n'êtes pas assez cool"
    Audiofly feat. Fiora, "6 Degrees" (Tale Of Us Remix)
    Fabo feat. Angela Sheik, "ne peut pas décider" (Flow & Zeo Remix)
    Vario Volinski, "Falling In Love"
    Luomo, "Good Stuff" (Dave DK Remix)
    Dinka, "Polarité" (DBMM Superlove Remix)
    Luis Leon, "Love Is A Lie"
    Fait pour bouger, "Lady parfait"
    Tube & Berger, "Impression Of Pleasure"
join Radio sirius XM: